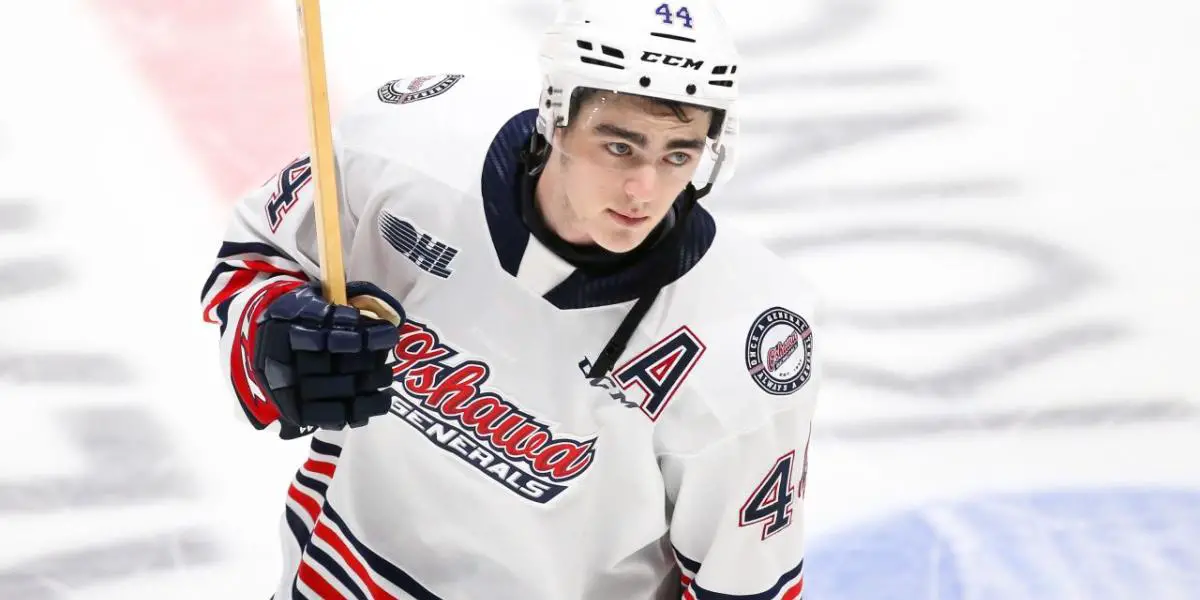 Brett Harrison was born on June 7, 2003, in London, Ontario, Canada. Harrison began his hockey career with an impressive first season with the Bronze Medal-winning London Jr Knights U-16 team, where he scored 42 goals with 21 assists in 33 games as a 15-year-old. His 42 strikes and 63 points were league-highs. Harrison totaled ten goals and 16 assists in 13 postseason games. The left-shot forward immediately joined the Oshawa Generals of the Ontario Hockey League the next season and posted 21 goals and 16 assists in 58 games. That season, the center played for Canada in the U-17 World Hockey Championships and scored two goals in six games. In the 2020-21 season, Harrison won a Gold Medal in the World Junior Championships, scored two goals in the tournament, and spent ten games with Koovee of the Finnish League on loan.
Brett Harrison Drafted 85th Overall by the Boston Bruins in the 2021 NHL Draft
The Boston Bruins selected Brett Harrison in the third round with the 85th pick in the 2021 NHL Draft. Harrison was the 25th center chosen. The Elite Prospects Draft Guide described Harrison as a player that "hunts pockets of space and loves to trail behind the play to receive drop passes and fire from the top of the circle. He can win most battles through his reach and stature. He is physical and active around the slot, engaging with defenders to win positioning for loose pucks".
During Harrison's draft year, the 6-foot-3, 185-pound forward had a terrific season with Oshawa, scoring 27 goals and dishing out 34 assists in 65 games. The left-shot sniper attended Bruins Rookie Development Camp in 2022 but could not play due to a shoulder injury.
The Boston Bruins Sign Brett Harrison To An Entry Level Contract
The Bruins thought enough of Harrison's skill level to sign the prospect to a three-year, $2.775 million entry-level contract on August 1, 2022. Harrison played 27 games with Oshawa this past season, totaling 33 points before being traded to the Windsor Spitfires for six draft picks. Harrison played 30 games for Windsor and registered 36 points. The Spitfires were upset in the first round of the playoffs by Kitchener.
Harrison was assigned to Providence of the American Hockey League on April 10, 2023, and will see time with the Bruins' affiliate before attending Bruins Rookie Development Camp again in 2023.
Season 2. Episode 37. It's Going To Be A Long Off-Season
–
Bruins Benders Podcast
The Bruins off-season will be longer than expected. We like some CHL rules changes. The Bruins defense needs to be nastier, not just bigger. Can this core going forward win a Cup? Plus Beauties and Benders and Rod Brind'Amour whines.