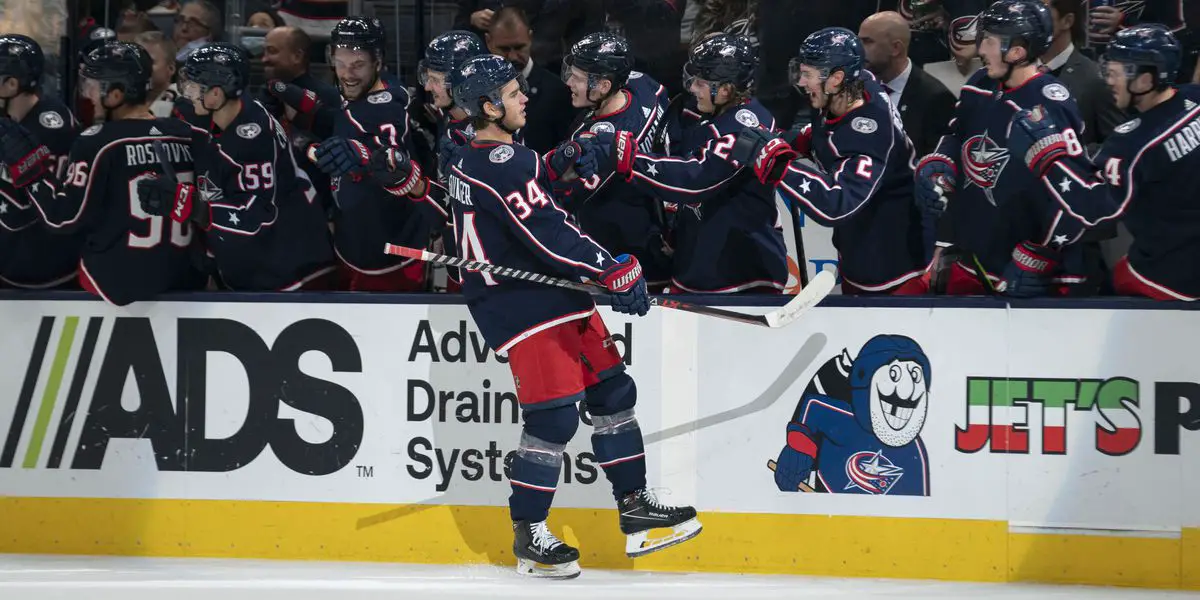 Can the team compete for a playoff spot?
The Columbus Blue Jackets scored a franchise-best 258 goals in the 2021-22 NHL season; unfortunately, the Blue Jackets gave up 300 goals last season, a franchise worst. The Blue Jackets finished last season one game below .500. In an offseason that saw general manager Jarmo Kekalainen add a defensive player (Erik Gudbranson) and help the team with a more physical presence in forward Mathieu Olivier, it seemed the team was finished signing free agents. That is until Kekalainen's phone rang and found out highly sought-after free agent Johnny Gaudreau wanted to sign with Columbus. One of the biggest shocks in recent free agent history.
With training camp opening, the city of Columbus is buzzing. But what are realistic expectations for the Columbus Blue Jackets this season? After all, giving up 300 goals is not going to gain a team entrance into the playoffs, and neither is Johnny Gaudreau's 40 goals and 100+ points if 300 goals are surrendered again.
The defense must improve for the Blue Jackets to move out of the sixth-place spot they ended last season. Adam Boqvist, who played his first full NHL season last year, gave a glimpse he can live up to his top six projection. Boqvist scored 11 goals and 11 assists with 22 points on the Blue Jackets' third line. His defense improved throughout the season. Jake Bean, who also played his first full season, saw his defense improve over the last ten games. It is being reported the Blue Jackets would like to give Boqvist time on the top line with Zach Werenski during the preseason. Andrew Peeke played much of last season on the top line but is better suited in the bottom six.
The defensive woes do not fall squarely on the defensive players, as the Blue Jackets forwards were simply not good at defending. Head coach Brad Larsen said the defense is going to be the main focus of training camp.
As pointed out, the Columbus offense was not bad last season. The offensive production should go with the arrival of Johnny Gaudreau. As soon as he signed, the thought of a top line of Gaudreau and Patrik Laine was the talk of hockey and not just in Columbus. Laine enjoyed a bounce-back season in 20211-22; the forward scored 26 goals and 30 assists with 56 points. Laine, who has one of the league's most elite shots, should see his number go with being on the same line with Gaudreau.
At age 18, Cole Sillinger had a very nice rookie season. 16 goals, 15 assists with 31 points on the Blue Jackets' third line. Sillinger feels like a player who can give more, and it sounds like he will be given the opportunity. Word is the Blue Jackets want to give Sillinger a look at the top-line center during preseason. If he can distribute the puck between Gaudreau and Laine, he could begin to steal minutes from Boone Jenner, who was the 1C last season.
Needing to get under the salary cap, the Blue Jackets traded Oliver Bjorkstrand and his 28 goals. It looks like the Blue Jackets are going to give 2018 second-round draft pick Krill Marchenko the chance to win the RW opening. Last year's fifth overall pick Kent Johnson is going to be one to watch. Johnson can play RW or center. The Blue Jackets view Johnson as a center and perhaps a top-line one at that.
The Columbus Blue Jackets need to be better between the pipes. Starting goalie Elvis Merzlikins was hot and cold most of the season, finishing with a 27 wins/23 loss season while giving up 3.22 GAA. Merzlikins must be more consistent in order to give his team confidence. Backup goaltender Joonas Korpisalo had his worst season to date. Seven wins and 11 losses with a 4.15 GAA before an injury ended his season.
The 2022-23 Columbus Blue Jackets will go as far as young players taking a step in their development, and defense will take them. The team should be better this season. The playoffs may have to wait until next year, though.
The boys are back after a long break but have plenty to talk about as the playoffs are in full swing. We go series by series, looking at how teams have fared so far and who will come out on top. Thanks for listening! Please rate and review our show on your favorite listening platform. Check out our partner's website at www.insidetherink.com for all your latest hockey news.