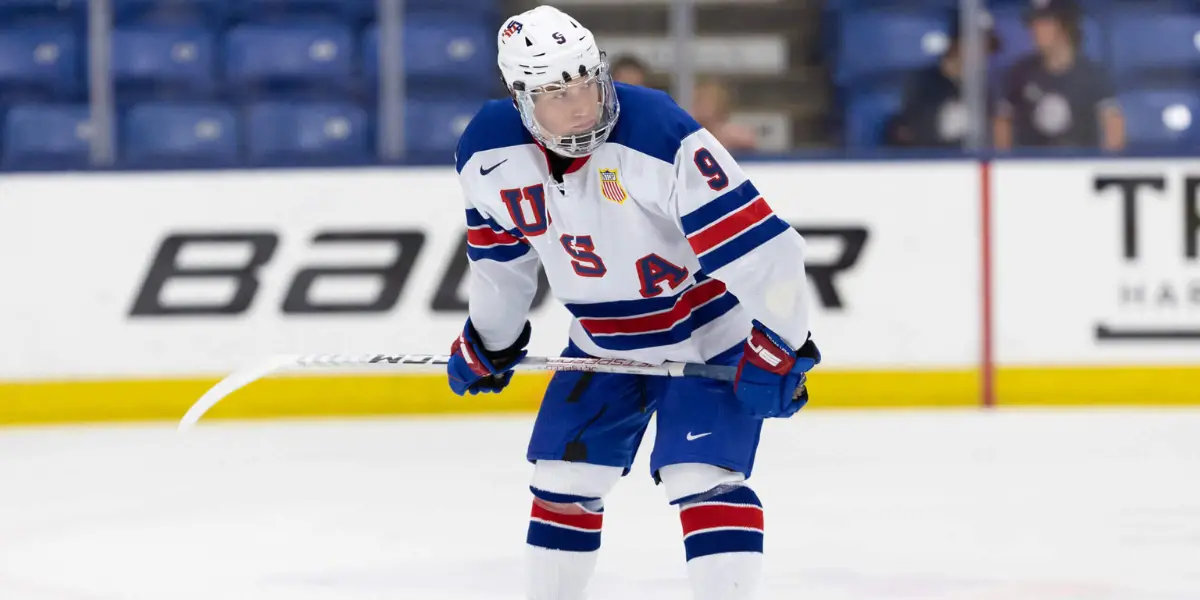 National Hockey League 2023 draft prospect Ryan Leonard was born in Amherst, Massachusetts, on January 21, 2005. The 18-year-old center is projected by some to be chosen in the top ten of this year's draft. Leonard is a 6-foot, 195-pound right-shot center who plays a hard game, wins puck battles, and has tremendous versatility that allows him to play all three forward positions well.
Ryan Leonard is ranked by many hockey evaluators in the top 10 in scouting reports, some ranking him within the top 15 of the upcoming NHL Draft. The following list will show the scouting rankings for Ryan Leonard:
Ranked #10 by Inside The Rink
Ranked #4 by NHL Central Scouting (NA)
Ranked #13 by TSN/Craig Button
Ranked #12 by The Hockey News
Ranked #14 by Recruit Scouting
Ranked #7 by Sportsnet
Ranked #10 by TSN/Bob McKenzie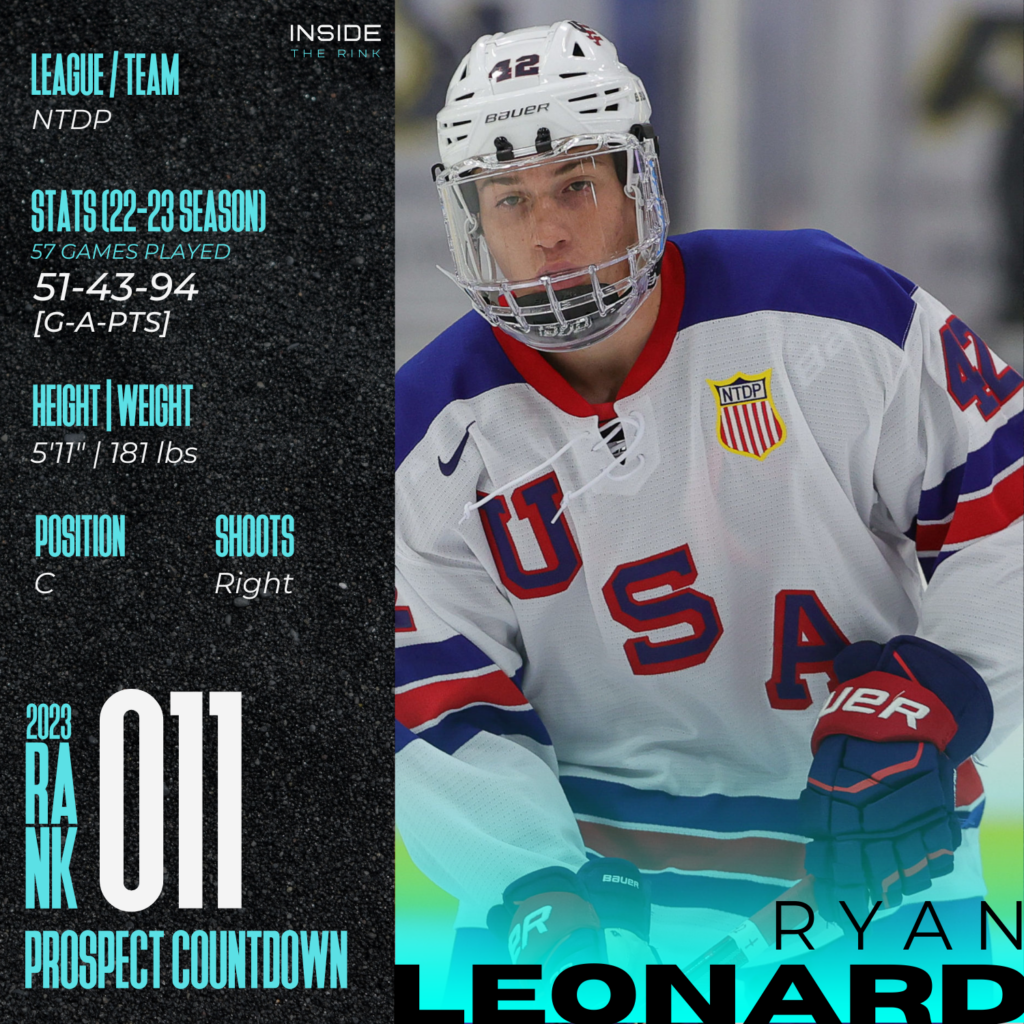 Ryan Leonard will most likely be drafted tenth overall, possibly to the St. Louis Blues in the 2023 NHL Draft. Leonard will attend Boston College for the 2023-24 season in the Hockey East Conference. The skilled forward is currently playing in the National Development Program but played two years of high school hockey for Pope Francis Preparatory School, where he scored 44 goals. Leonard joined the NTDP for the 2021-22 season, played 26 games with the U17 team, and totaled 20 points. He would then score 16 goals in 36 games with the U18 club and 10 goals with the junior team playing a USHL schedule. That season, the versatile forward made the U18 World Junior Championships team and scored five goals in six games as the United States took home the Silver Medal.
In the 2022-23 season, Leonard shot up the draft prospects board with a stellar season, scoring 51 goals with 43 assists in 57 games. This time as an assistant captain, Leonard would help lead the United States to a World Junior Gold Medal with 17 points in seven games.
Diving Deeper:
Some of Ryan Leonard's best attributes are his ability, versatility, and willingness to win puck battles. Let's take a deeper dive into Leonard's all-around game.
Offensive Game:
Alexander Annun from Dobber Prospects writes, "Leonard is a well-rounded and versatile forward with good instincts in all three zones. He has a decent first step and can accelerate quickly to create separation from his man to work himself into space to make a play, and he is strong on the puck to fend off anyone who chases him down."
But on top of his good skills and offensive awareness, Ryan Leonard has the desire to play hard and make plays through physicality. There is another element to his game that is not just skill related. Scott Wheeler says that "Leonard's got a motor, he's scrappy, he's competitive, and you can never question his energy level, but he's also got quick hands, some craftiness, a nasty shot, and fast crossover patterns."
Goal Scoring Ability:
Leonard possesses a hard and heavy wrist shot that contributed to many of his 51 goals last season and 11 goals against USHL teams. His hands are a great asset, leading to a quick release and excellent catch-and-shoot ability. Leonard can score in tight by having the willingness to go to the dirty areas and skate hard down lanes to the net. He's also had the luxury of playing with potential top draft picks Will Smith and Gabe Perrault, who will join Leonard at Boston College.
Final Thoughts:
Leonard should be a top-ten pick in the 2023 NHL Draft and is coming off a great season culminating in scoring the game-winning goal in the Gold Medal game. Leonard has an NHL-ready game now and should shine in the Hockey East Conference this winter. Don't be surprised if Leonard goes even higher in the draft, maybe seventh to the Philadelphia Flyers in this June's NHL Draft. The sky's the limit for Ryan Leonard.
Season 2. Episode 37. It's Going To Be A Long Off-Season
–
Bruins Benders Podcast
The Bruins off-season will be longer than expected. We like some CHL rules changes. The Bruins defense needs to be nastier, not just bigger. Can this core going forward win a Cup? Plus Beauties and Benders and Rod Brind'Amour whines.