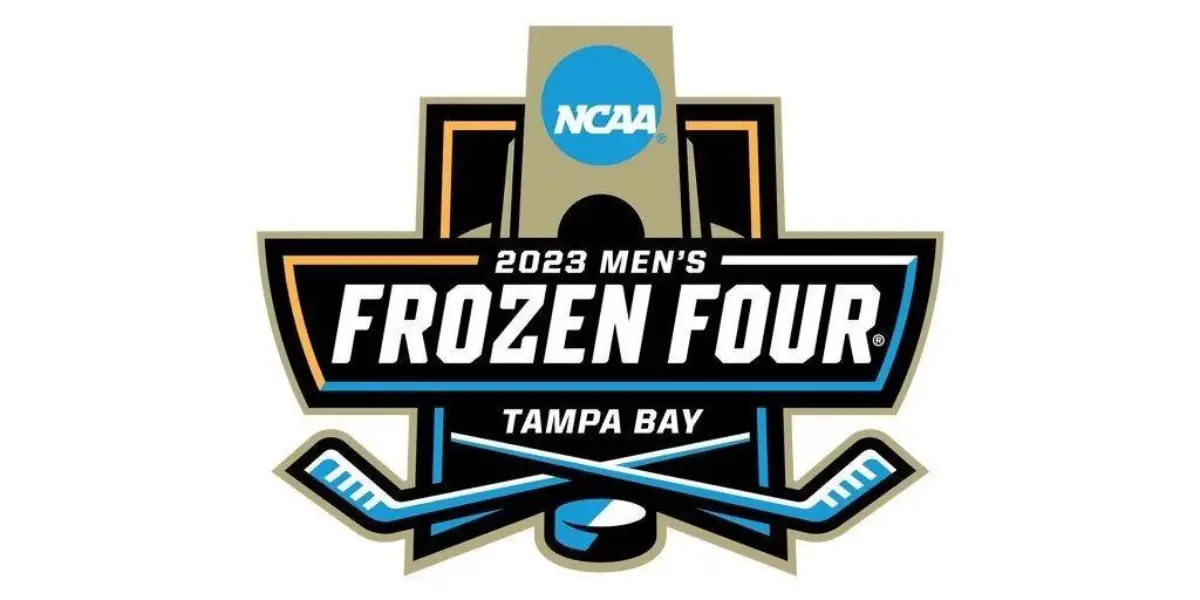 The 2023 NCAA Men's Frozen Four will take place this week/weekend at Amalie Arena in Tampa, Florida, home of the National Hockey League's Tampa Bay Lightning. If you aren't lucky enough to be attending the games in the Sunshine State, don't worry, you will be able to catch all the frantic action on ESPN2, and if you haven't been paying attention or just need to get caught up, we here at Inside the Rink have got your pregame coverage covered.

#1 Minnesota Golden Gophers vs. Boston University Terriers
5 PM EST, Thursday, April 6 ESPN2
The action kicks off with a classic Minnesota versus Boston matchup. Hopefully, we've all seen Miracle, and you don't need me to tell you this is a rivalry that goes back decades (even though I just did). While the game has and continues to grow across the United States, Minnesota, and Massachusetts continually crank out some of the best talents in the country, the former being the gold standard.
The Golden Gophers boast what could arguably be the top line in the country, I wouldn't argue it, but I know Michigan fans will have something to say about this. That said, we will get to them a little later. Logan Cooley, Matthew Knies, and Jimmy Snuggergud are all first-round picks who could find themselves playing in the NHL as early as next week. Cooley and Knies are also Hobey Baker finalists this season, no big deal.
Now, this isn't to say Minnesota is a one-trick pony. They boast incredible depth, with ten players totaling over 20 points, and their roster contains 14 NHL draft picks. The Golden Gophers have second-round picks Brock Faber and Jackson LaCombe anchoring the defense while being backstopped by senior netminder Justen Close. Close has been one of the better goalies in the country all season, and while undrafted, if he continues to play well, I wouldn't be shocked to see an NHL team come calling. With talent like this, it is no wonder Minnesota has been one of the top teams all year and has rightfully been ranked first overall in the country.
Even more impressive may be their talent behind the bench; Head Coach Bob Motzko is one of the best in the country and possibly the world. Motzko does, after all, have an IIHF World Junior Championship gold medal in his cabinet after leading Team USA thru an undefeated tournament in 2017. I would also like to mention Associate Head Coach Steve Miller, who is no slouch. He could be running his own collegiate program if he felt so inclined, considering he already has three national titles to his name. Loaded on the ice and the bench, who can stop this juggernaut?
The underdog of the Frozen Four, the Boston University Terriers will get the first crack at the Golden Gophers, and I am sure Minnesota isn't taking them lightly, and neither should you. It's funny, I call them an underdog, and I feel they aren't being given much of a shot here, but BU is the fifth-ranked team in the country. Led by first-year Head Coach Jay Pandolfo, the Terriers are no slouch and will be hungry as they go for their sixth national title. They are also currently the hottest team in the country and ride a nine-game win streak in Tampa, and confidence is key.
The Terriers are built a little differently than Minnesota. For BU, it starts in net with Junior goaltender and Chicago Blackhawks second-round pick Drew Commesso. Commesso was named Most Outstanding Player of the Manchester Regional after stopping 37 of the 39 shots he faced in the region. He will need to be just as sharp, if not sharper if the Terriers hope to advance.
On defense, BU has one of the most exciting players in the country in Freshman defenseman Lane Hutson. Hutson is doing things we haven't seen be done by a young defenseman since Cale Makar was ripping up the Hockey East before winning a Stanley Cup for the Colorado Avalanche. Lane leads BU with 15 goals and 33 assists, which is the most by a freshman defenseman in Hockey East history. He is dangerous every time he touches the ice, how he slipped to the Montreal Canadiens in the second round, I will never know, and as a former Bostonian, it breaks my heart to know he will one day play for the Habs.
Can Hutson and Commesso help propel the Terriers past the stacked Golden Gophers? Or will Cooley, Knies, and company overwhelm BU? Get your popcorn ready, this is going to be a good one.
#2 Quinnipiac Bobcats vs. #3 Michigan Wolverines
8:30 PM EST, Thursday, April 6 ESPN2
The second game of the night pits the second-ranked Bobcats of Quinnipiac versus the fourth-ranked Wolverines of Michigan. It is a strikingly similar matchup to BU/Minnesota, with Quinnipiac getting it done with veteran depth and solid goaltending, while Michigan brings the star power by the boatload. How did we get so lucky?
If Minnesota has a roster stacked with NHL-ready talent, so do the Michigan Wolverines. Michigan has 12 NHL draft picks on its roster, four of which came in the first round. This doesn't even include Freshmen phenom Adam Fantilli, who is expected to be a top-three pick in this year's NHL Entry Draft. Fantilli is also a finalist for the Hobey Baker Award and leads the Wolverines (and the country) in scoring with 64 points, 29 goals, and 35 assists. To say Michigan is stacked with talent would be an understatement, but they are young, with most of their players being freshmen and sophomores.
Speaking of sophomores, defensemen Luke Hughes is one of the best in the country and is second on Michigan in scoring. The smooth-skating blueliner has ten goals and 37 assists on the season, he could also find himself playing in the NHL next week for the New Jersey Devils after being selected fourth overall in 2021. If his name sounds familiar, that's because his brother Jack is already a star for the Devils, and his other brother Quinn is a Norris Trophy candidate for the Vancouver Canucks; talk about a royal bloodline.
The guy on the backend who gets to watch all this talent operate is Netminder Erik Portillo. Portillo was a third-round pick of the Buffalo Sabres but has since had his rights traded to the Los Angeles Kings. He may have found himself in the NHL next week as well, but after the Kings traded for Joonas Korpisalo at the deadline, they can afford to bring Portillo along slowly. Portillo is one of the more experienced players on this Michigan roster, and they will need that as they face a veteran Quinnipiac team, he was also the goalie last year when the Wolverines came up short of a national title, so he will be hungry.
At the other end of the ice stands the best goalie in the country, Sophomore Yaniv Perets, who will do everything he can to help the Quinnipiac shut down the talent-laden Wolverines. Perets has been a wall for the Bobcats this season, compiling a 32-4-3 record with a sparkling 1.46 goals against average and .932 save percentage. He was never drafted, and now at 23 years old will have to sign with an NHL team as an undrafted free agent. There will no doubt be a few teams calling Perets for his services after this weekend.
On offense, the Bobcats take a team approach and get contributions across the board. Sophomore Colin Graf leads the way with 20 goals and 36 assists, good for 56 points. He is followed by a whopping five players with 30 points or more. Ethan de Jong, Sam Lipkin, Jacob Quillan, Zach Metsa, and Skyler Brind-Amour have all eclipsed the 30-point plateau as Quinnipiac loves to get pucks on the net and then create chaos in the crease. It may not be pretty, but it has been effective, and also, at times, I guess it can be pretty. Check out this unbelievable goal from Christophe Tellier:
I mean, my jaw is still on the floor, and I've watched that replay 100 times. It could very well be the goal of the tournament when all is said and done.
Quinnipiac will also be leaning on the previous experience as one of the oldest teams in the country, and it also helps to have familiarity on the bench. Head Coach Rand Pecknold is in his 29th season at the helm of the Bobcats after being hired way back in 1994 (not to date myself, but I was eight years old). He ranks second among all active NCAA Division I coaches in career victories and is 10th all-time. Recknold also coached his 1,000th career game this year, becoming just the 19th coach in men's division one history to achieve that milestone. Quinnipiac will need his steady hand and calm demeanor now more than ever.
Two great games with four unbelievable teams! I feel like most years, there is always a team or two who squeaks through or maybe feels like they don't belong in the Frozen Four. In my opinion, that is not the case this year, and I am beyond excited to watch these two games between four powerhouse programs. Is it time for the puck to drop yet?
National Championship: TBD vs. TBD
8 PM EST, Saturday, April 8 ESPN2
Who do you think will be playing on Saturday night? Let us know in the comments below!