The Scouting Report:
Andrew Strathmann from Beach Park, Illinois, born on February 27th, 2005, is a prospect eligible for the 2023 NHL entry draft in Nashville. While he isn't the biggest defenseman on the ice, he has the most heart, listed at 5'11" and 190 pounds, Andrew Strathmann has used his size effectively for his playstyle. Strathmann is physically and offensively inclined, with three goals and 35 assists for 38 points in 56 games, Strathmann doesn't shy away from moving the puck lightning fast. The Youngstown Phantoms could play with their chests out a bit more, as Strathmann racked up an impressive 102 PIMS throughout the season. Strathmann will certainly have to tame his game a bit as he is committed to the University of North Dakota in the NCAA for the 2024-25 season. It's uncertain if Strathmann will return to the USHL for another year or find a place to play elsewhere, but his energy is highly valued in lineups, especially as a defenseman.
Related Story: 2023 NHL Draft – Nashville
Ranked #66 by Inside The Rink
Ranked #44 by NHL Central Scouting (NA Skaters)
Ranked #74 by TSN/Craig Button
Ranked #64 by DobberProspects
Ranked #39 by Recruit Scouting
Ranked #54 by Draft Prospects Hockey
Ranked #54 by Daily Faceoff
Ranked #51 by FCHockey
Ranked #54 by TSN/Bob McKenzie
Conrad Jack of Inside the Rink has Andrew Strathmann projected at 88th overall.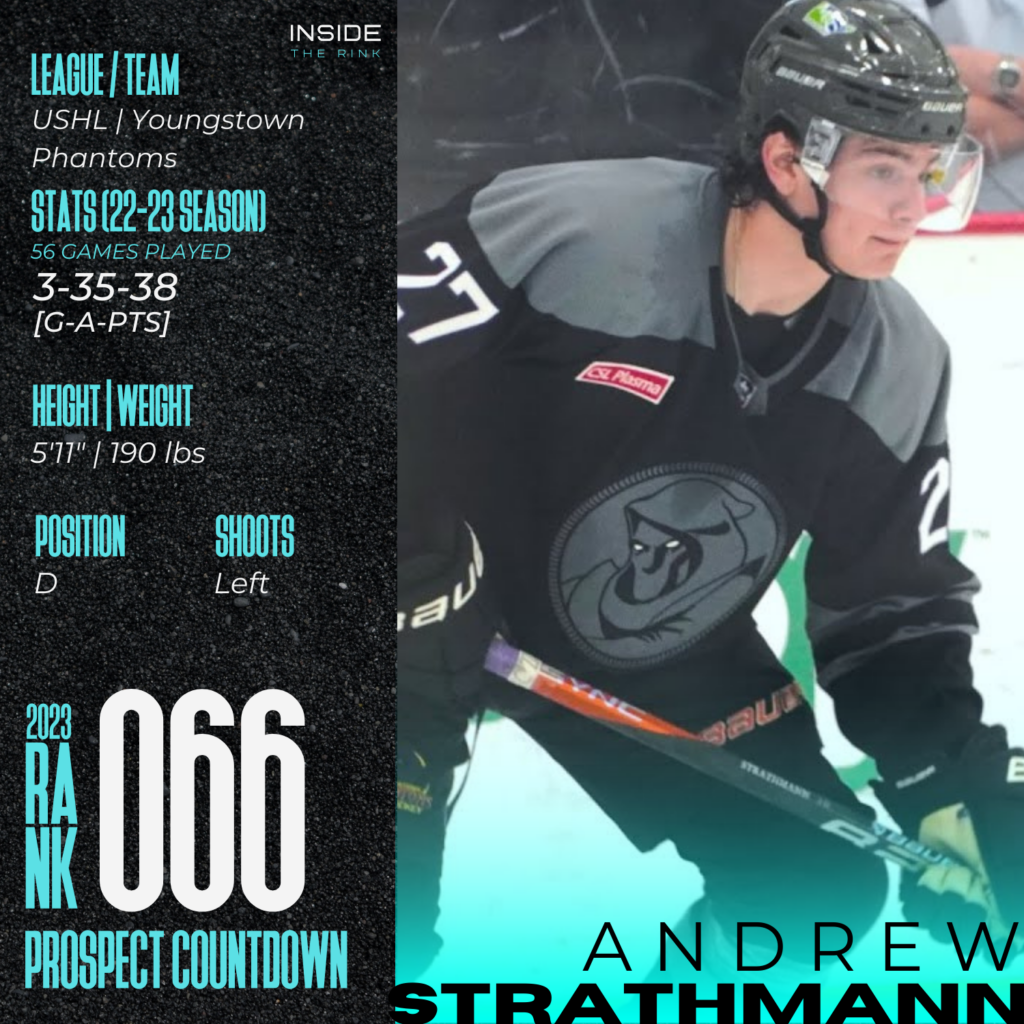 I do think Andrew Strathmann might jump up in the draft because he likes to play rough and move the puck around. I see teams who need some insurance depth pieces picking up Andrew Strathmann earlier rather than later.
Diving Deeper:
We've highlighted the physical side and the passing side of Andrew Strathmann's games, so let's take a deeper dive into Strathmann's attributes and areas for improvement.
Pass-First Mentality:
Andrew Strathmann can move the puck around the ice like no other player that I've seen in this draft class. His past-first mentality shows up with his 35 assists this season, but he also has a major flaw in his passing, which we'll cover in his areas for improvement. Strathmann has above-average skating and is creative when he is on the ice, which is a quality attribute to see in players heading into the draft.
Areas for Improvement:
Strathmann might be an excellent passer, but a ton of his passes lead to dangerous opportunities and turnovers. This is absolutely something that the creative defenseman needs to work on if he wants to make it as a rough-and-tumble NHL defenseman.
Prospect Potential:
You won't find many physically capable offensive defensemen in the NHL draft, let alone in this year's draft class. Being a pot stirrer is the bread and butter of Andrew Strathmann's game, and he can easily become a solid bottom-pairing NHL defenseman, given the right chances and development path.
Final Thoughts:
When Andrew Strathmann doesn't biff it and make a bad passing decision, he's doing everything you want in your pot-stirring players. I can't wait to see if Andrew Strathmann can transfer this playstyle to the NHL level one day.
Stats via Elite Prospects
Highlights via MyNHLDraft.com