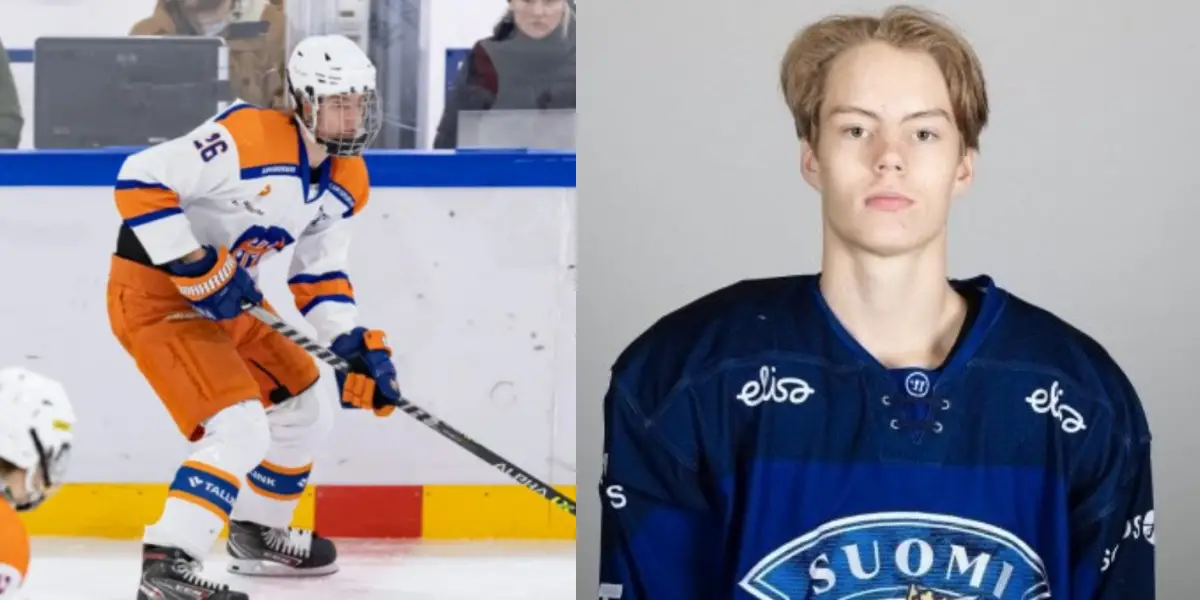 The Scouting Report:
Arttu Karki from Viiala, Finland, born on December 8th, 2004, is a top defense prospect eligible for the 2023 NHL entry draft. One of the standout defensemen in this draft class, Arttu Karki, has the versatility to play either defensive side and the work ethic to back it up. The Finnish defenseman is listed at 6'2″ and 176 pounds, and he plays like a true 6'2″ defenseman, both offensively and defensively.
Ranked #56 by Inside The Rink
Ranked #37 by NHL Central Scouting (EU Skaters)
Ranked #81 by FCHockey
Ranked #57 by Recruit Scouting
Conrad Jack of Inside the Rink has Arttu Karki projected at 90th overall.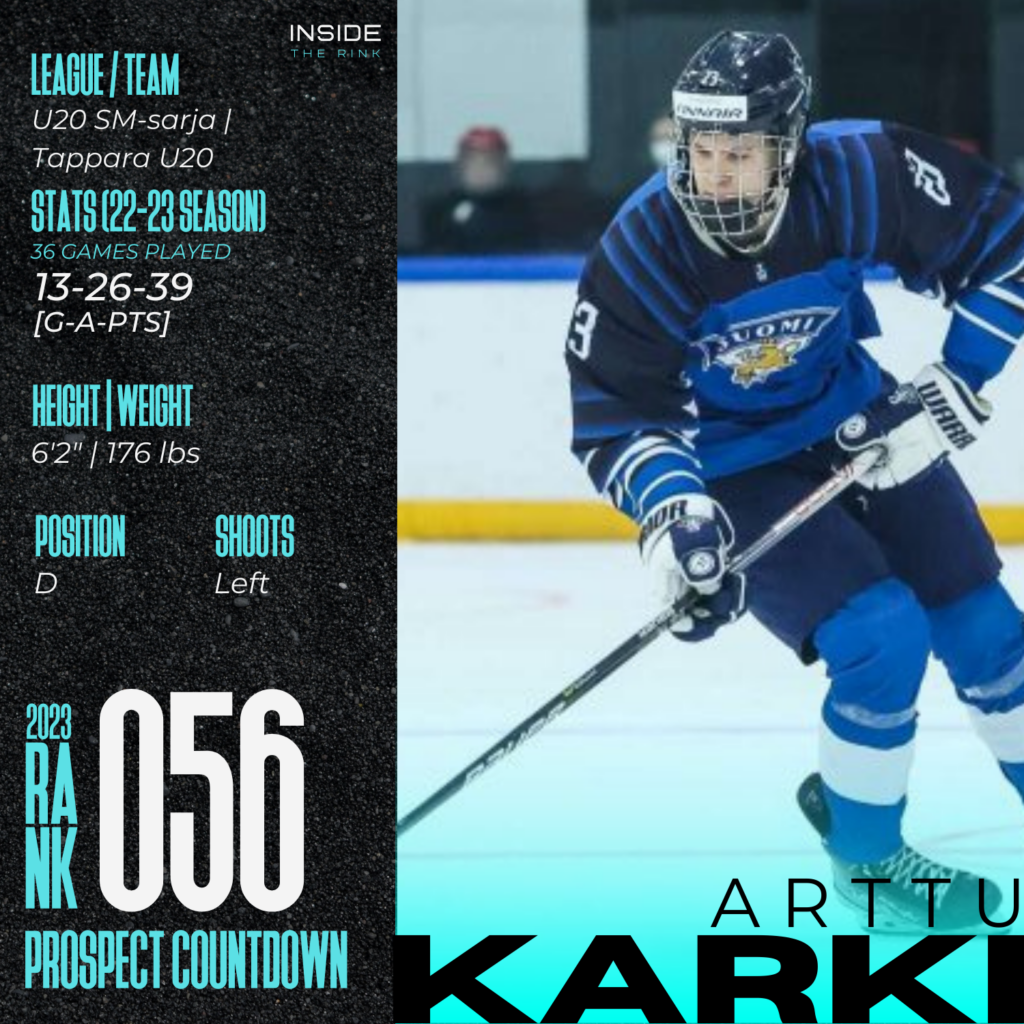 Any team should be scouting Arttu Karki for many reasons, Karki currently plays for Tappara U20 of the U20 SM-sarja league in Finland and is one of the best defensemen in the league. In Karki's second full season with Tappara U20, he posted an impressive 13 goals and 26 assists for 39 points in 36 games. To compliment that end of the stat line, Karki posted 24 PIMS and a plus/minus of plus 25.
Diving Deeper:
Arttu Karki is a highly sound player, both offensively and defensively; he's made himself known for his well-rounded play and extreme attention to detail. Let's take a deeper dive into Karki's best attributes.
Passing/Playmaking:
Arttu Karki is definitely a passer and a playmaker, which go hand-in-hand with each other. Karki is more offensive-minded, which has helped him create breakout plays and set his team up for success. His assist totals definitely show that Karki is a pass-first player, and when given the space, Karki will make a play that a defenseman usually wouldn't. Arttu Karki could definitely work on his puck-moving and controlling ability, but that shouldn't be an issue.
Kärki plays an offensive-minded game. He handles the puck well and plays especially well on the offensive zone blue line, where he can deke players and get shots through traffic. He can get to good top speed and isn't a bad skater by any means, but has a lot of room to improve in terms of foot quickness and explosiveness to improve his ability to retrieve pucks in the defensive zone.

Eetu Siltanen – DobberProspects – Dec. 2022.
On-Ice Abilities:
Arttu Karki is also incredibly patient with the puck, providing his teammates with more opportunities to create space on the ice and put pucks in the back of the net. When Karki isn't playing offense, he is pinching attackers on the boards, similar to Aaron Ekblad. Karki is incredibly strong at forcing turnovers by using his big frame to strip the puck off attackers in an instant.
Final Thoughts:
Arttu Karki has a decent offensive ceiling and a high defensive ceiling; both aspects of his game could use work, but you find that for any draft-eligible prospect. Arttu Karki is under contract until the end of the 2023-24 season, where he'll continue to develop into a strong defenseman. If Karki can become a more sound defenseman with Tappara U20 or wherever he plays in the 2023-24 season, he'll have no problem being a second or third-pairing defenseman in the NHL.
Stats via Elite Prospects
Highlights via MyNHLDraft.com
The boys are back after a long break but have plenty to talk about as the playoffs are in full swing. We go series by series, looking at how teams have fared so far and who will come out on top. Thanks for listening! Please rate and review our show on your favorite listening platform. Check out our partner's website at www.insidetherink.com for all your latest hockey news.