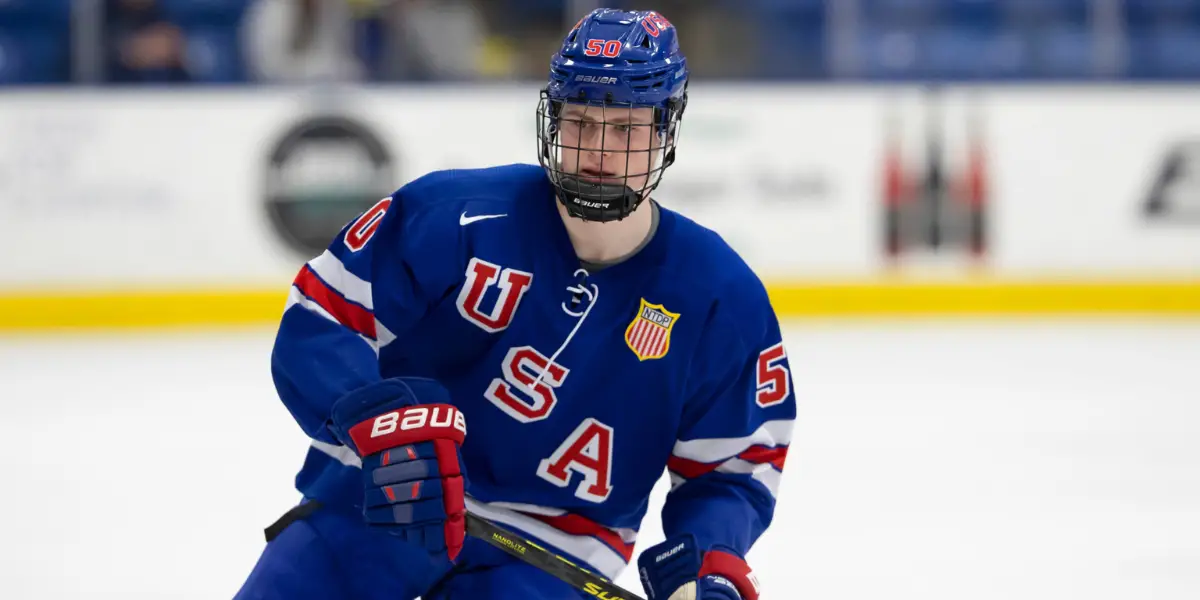 The Scouting Report:
Danny Nelson from Maple Grove, Minnesota, born on August 3rd, 2005, is an underrated power forward in the 2023 NHL entry draft. For Danny Nelson's size, listed at 6'3″ and 203 pounds, teams should be lining up for a player with his skillset come draft day. The former defenseman turned winger has it all going for him, one of the major things being his willingness to get into rougher situations. A really sound defender and even better forward, Danny Nelson's size and capabilities should make him a threat on the ice for any team that drafts him.
Ranked #51 by Inside The Rink
Ranked #22 by NHL Central Scouting (NA Skaters)
Ranked #28 by TSN/Craig Button
Ranked #53 by FC Hockey
Ranked #61 by Daily Faceoff
Ranked #34 by TSN/Bob McKenzie
Conrad Jack of Inside the Rink has Danny Nelson projected at 55th overall.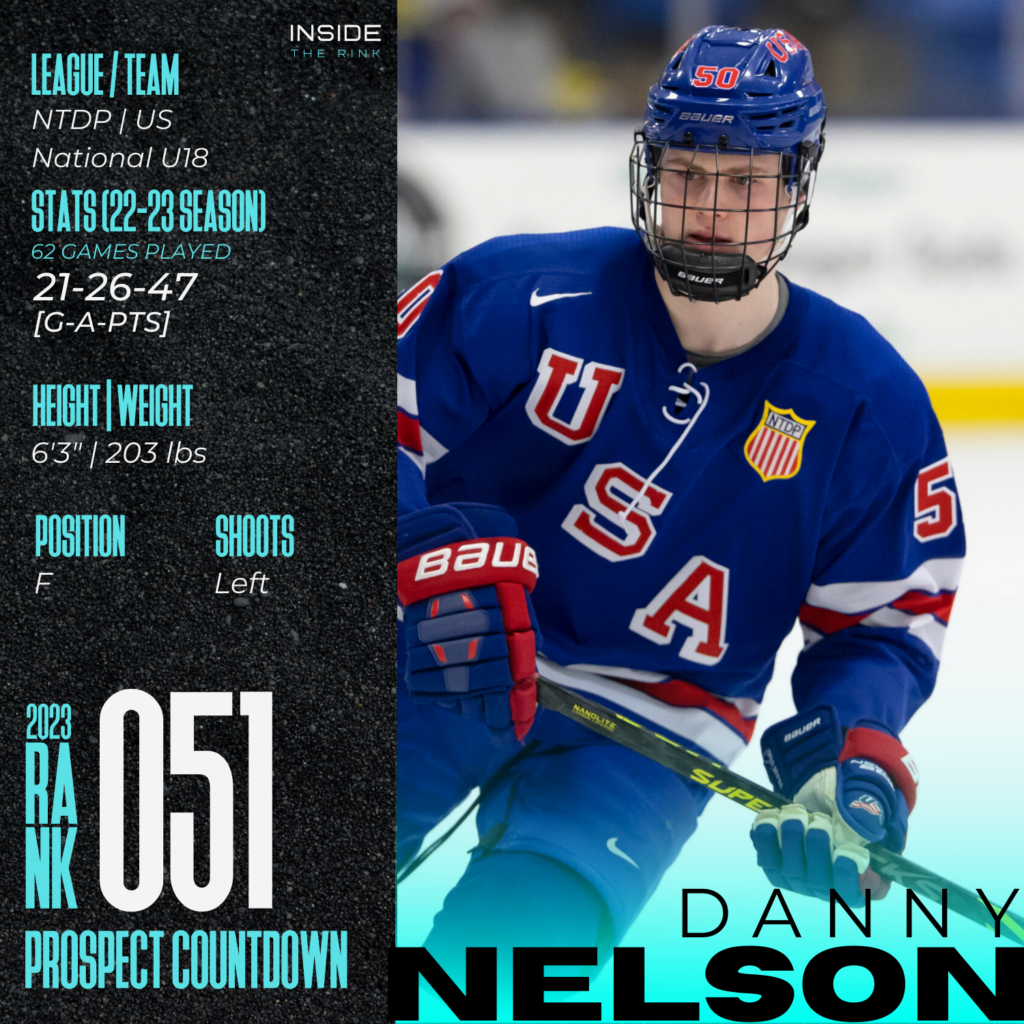 Danny Nelson comes as advertised, he plays a rough-and-tumble game and is always willing to stick up for his teammates. I don't see this forward dropping out of the second round.
Diving Deeper:
I've mentioned some of Danny Nelson's attributes, I want to take a deeper dive into his attributes and areas for improvement.
Mobility & Shooting Ability:
Danny Nelson is incredibly mobile for his size, he's a player who is 6'3″ but can skate like a smaller player. He has incredible edgework and uses it to his advantage to get by defenders and push play into his team's favor. Danny Nelson's skating abilities and his size combines for a great puck defender, and Nelson will use his big frame to keep the puck or forcefully get the puck with a big hit.
I also really like Danny Nelson's shooting abilities, currently playing for the US National Development Program U18 Team, Danny Nelson notched 21 goals and 26 assists for 47 points in 62 games. All things considered, Danny Nelson shoots the puck whenever he can, and he can shoot it hard. Whenever the puck isn't in the back of the net from Danny Nelson's shots, it most often creates a rebound that his teammates are able to capitalize on, allowing Nelson to add an assist to his point totals.
"Nelson's combination his big frame and being mobile enough to get around well is something I've yet to see in another draft eligible in this class… He's a player that scouts and general managers will fall in love with come draft time, there's not many I've seen like him. I think he can be a solid third line guy that can generate offense and possibly play up in the lineup when called upon. Nelson's floor is high and has some upside to his game as well. I'd look to take him late in the first round or early in the second in the upcoming draft"

Douglas Larson – FC Hockey – Nov. 11th, 2023.
Areas for Improvement:
While Danny Nelson is a strong skater, he needs to align his pace of play and speed into unison. Danny Nelson finds himself moving the pace of play past what his speed is capable of handling, which usually isn't a problem, it just costs his team in some odd situations.
Related Story: 2023 NHL Draft – Nashville
On-Ice Abilities:
Danny Nelson is incredibly sound as a defenseman turned forward, especially for where he's projected in the 2023 NHL entry draft. You typically don't see players switching positions so late in their developmental years, especially in their later teenage years. However, Danny Nelson has incorporated his knowledge as a defenseman into his game as a winger, and that is why he's so valuable in this year's draft.
Final Thoughts:
Players like Danny Nelson aren't available in the draft all that often, a defensively sound forward who plays a physical game, this should be a steal of a draft pick. I truly think that Danny Nelson will develop into a strong depth piece for any team that is willing to take him.
Stats via Elite Prospects
Highlights via MyNHLDraft.com