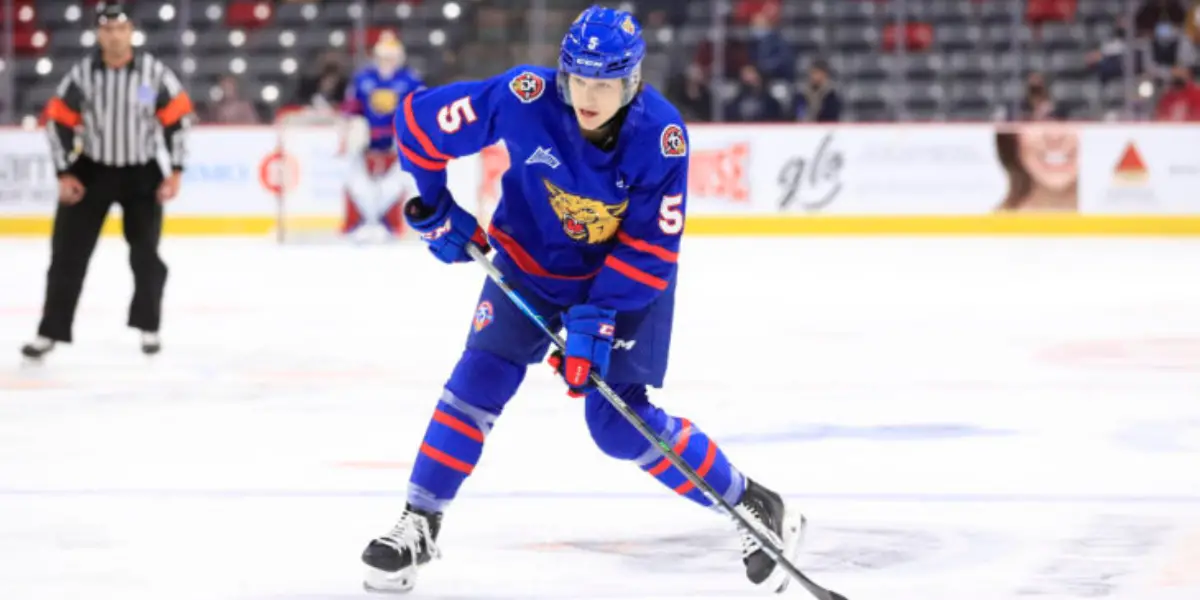 The Scouting Report:
Etienne Morin from Salaberry-de-Valleyfield, Quebec, Canada, born on March 9th, 2005, is a top defensive prospect in the 2023 NHL entry draft. No matter the situation, you can count on Etienne Morin to do whatever is put on him for defensive responsibilities. Standing 6'0″ and 183 pounds, Morin shows a promising future for a depth NHL defenseman. With the Moncton Wildcats of the Quebec Major Junior Hockey League, he averaged just under 21 minutes per game. This allowed Morin to post a stat line of 21 goals and 51 assists for 72 points in 67 games. Morin complimented his impressive stat line with 50 PIMS and a plus/minus of plus 29—a well-rounded and solid season for the physical Moncton Wildcats defenseman.
Ranked #55 by Inside The Rink
Ranked #19 by NHL Central Scouting (NA Skaters)
Ranked #55 by TSN/Craig Button
Ranked #57 by DailyFaceoff
Ranked #58 by Recruit Scouting
Ranked #63 by Draft Prospects Hockey
Ranked #60 by TSN/Bob McKenzie
Conrad Jack of Inside the Rink has Etienne Morin projected at 67th overall.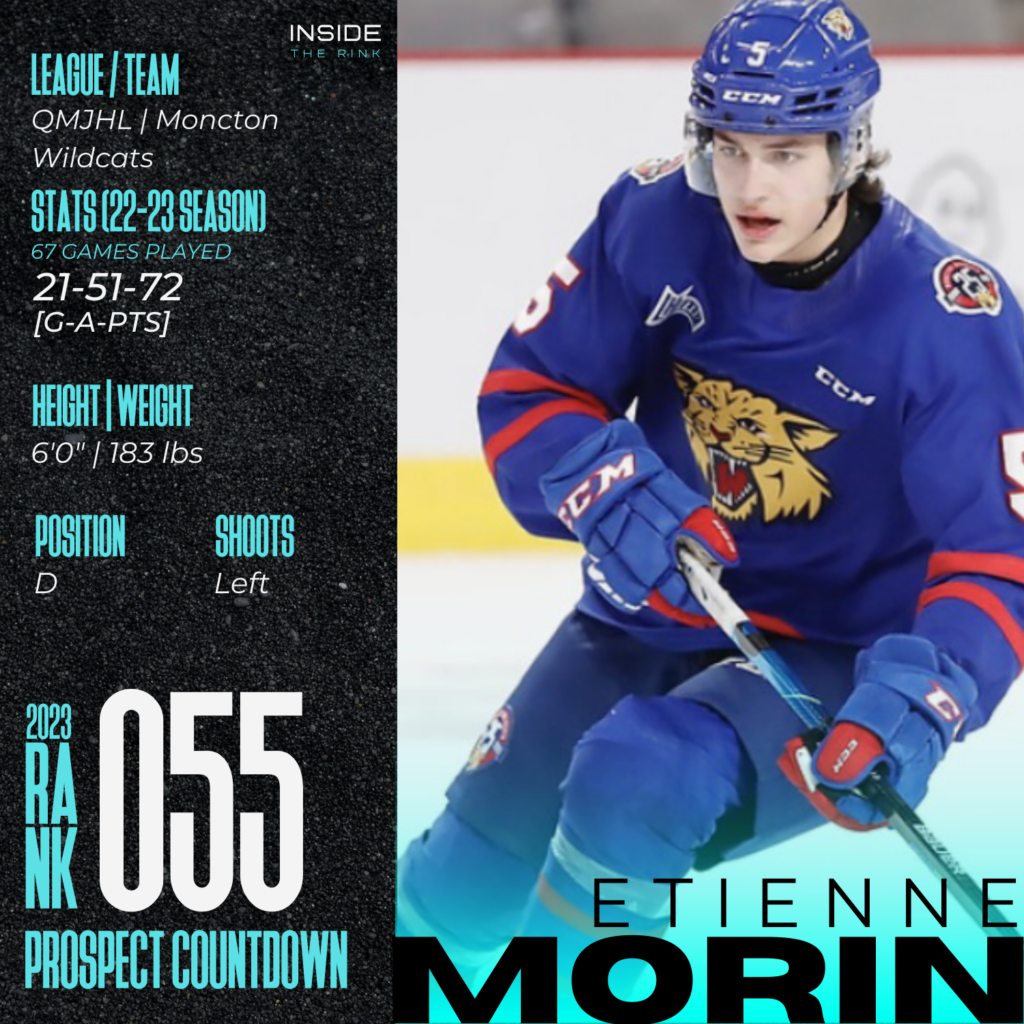 This is the kind of defenseman you want on your team, physical in nature, can score a ton of points, and is incredibly defensively sound. Coaches love well-rounded players, especially defensemen like Etienne Morin, all because Morin's style of play is so hard to come by at such a high draft position. Morin will likely be a hot commodity during day two of the NHL draft.
Diving Deeper:
Even though Etienne Morin is a left-shot defenseman, he still brings a lot to the table. Morin brings his own element to the game, let's dive deeper into Etienne Morin's attributes.
Skating:
Etienne Morin is a solid skater, and I don't hesitate to say that for his playstyle. He's super reliant on his skating for all of the good reasons, Morin closes the gap effectively and forces play forward incredibly fast. Being a strong skater and playing heavy minutes is critical, and Morin looks cool as a cucumber when playing these heavy minutes.
"He's a kid who deserves what he gets because he's a hard worker, and he's a great teammate. He works hard in practice, he's very mature in his approach, and he shows up looking to improve. He doesn't deflect anything towards others. He takes it on his own shoulders. He's like that in school. He's a good student. He's a guy who doubles down in everything he does," 

Moncton Wildcats Head Coach Daniel Lacroix – Post Game Interview – Date Unknown
Work Ethic:
To prove worthy of your draft positioning, being a hard worker is a good start. Etienne Morin goes above and beyond the expectations of his coaches and teammates. Morin is an unsung leader on and off the ice, Morin also makes sure the right people see the work that he does. This approach has definitely worked in favor of Morin, and he has utilized the opportunities he's worked for in a massive way.
Related Story: 2023 NHL Draft – Nashville
On-Ice Abilities:
With leadership, a solid work ethic, good skating, physicality, and a pass-first mentality, Etienne Morin seemingly does it all. On the ice and off the ice, Etienne Morin is incredibly valuable to his teammates and those around him, and he continues to create a valuable resume ahead of draft day.
Final Thoughts:
Etienne Morin has the potential to become a solid second-paring defenseman, he has incredible mobility and a pass-first mentality which coaches will love. However, Morin has to add strength and improve his foot speed if he wants to reach that potential. This is a solid draft pick for any team that is looking to add to their blueline.
Stats via Elite Prospects
Highlights via MyNHLDraft.com