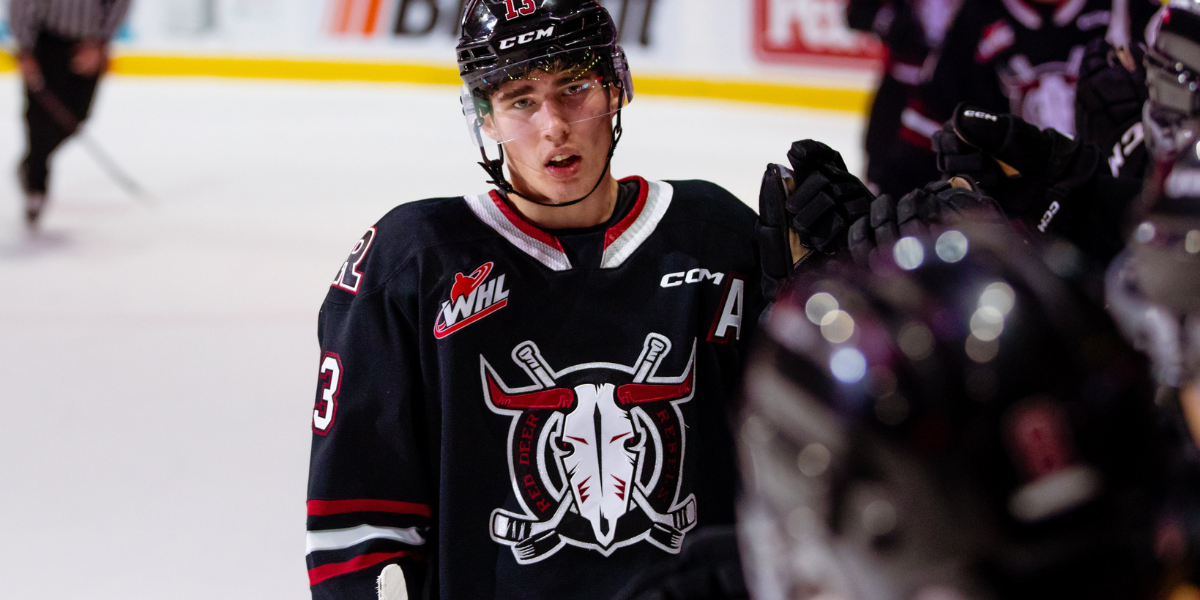 The Scouting Report:
Kalan Lind from Swift Current, Saskatchewan, Canada, born on January 25th, 2005, is a physical two-way player and top prospect eligible in the 2023 NHL entry draft. Kalan Lind has been a solid top-six forward for the Red Deer Rebels of the Western Hockey League for the past three seasons. In 119 total games for the Rebels, Lind has posted a stat line of 40 goals and 48 assists for 88 total points. Even more impressively, Kalan Lind has a plus/minus of plus 32 across 119 games. Kalan Lind is also not afraid to mix it up and step up for his teammates, posting 194 PIMS in three seasons. Kalan Lind is currently listed at 6'0″ and 154 pounds, a frame that he must fill out if he wants to continue his current playstyle.
Ranked #68 by Inside The Rink
Ranked #39 by NHL Central Scouting (NA Skaters)
Ranked #51 by TSN/Craig Button
Ranked #42 by Recruit Scouting
Ranked #31 by Sportsnet
Ranked #37 by TSN/Bob McKenzie
Conrad Jack of Inside the Rink has Kalan Lind projected at 53rd overall.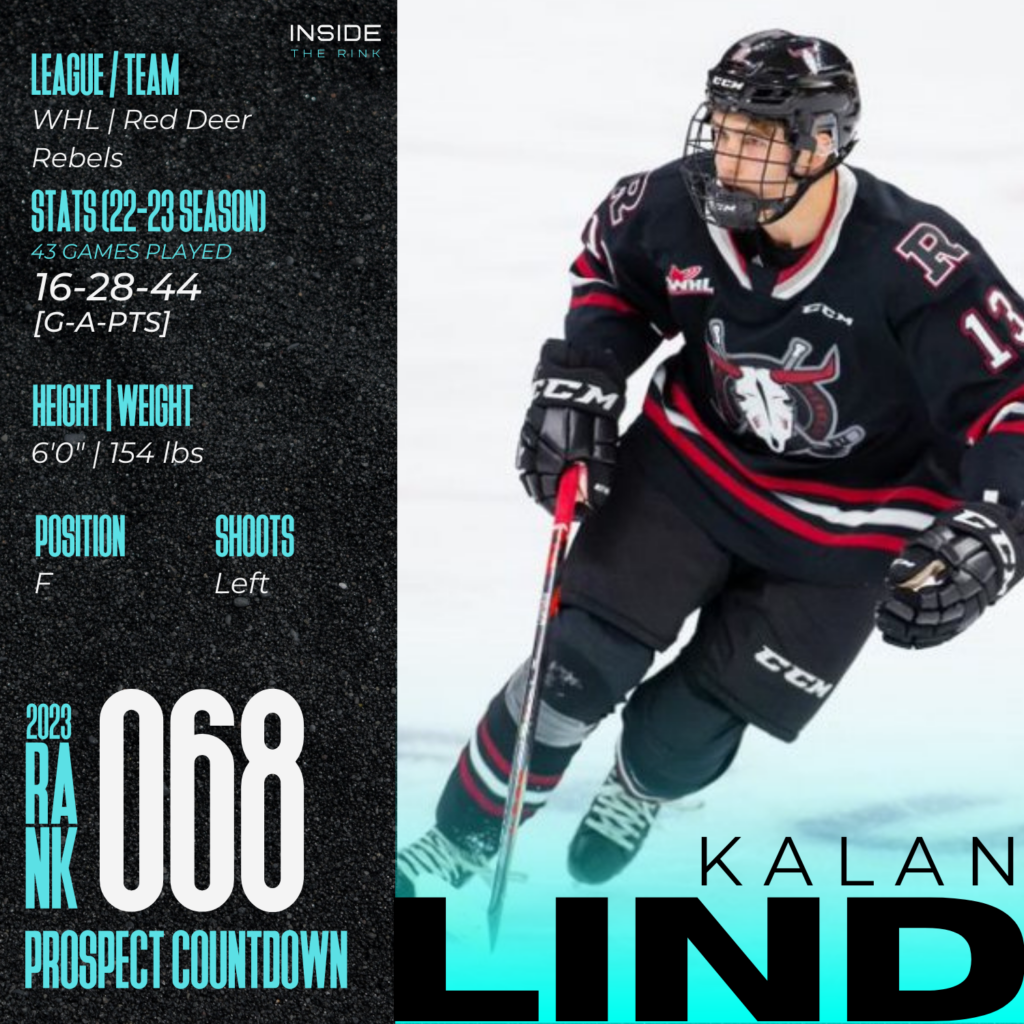 Kalan Lind is a team player, first and foremost. He plays with his heart on his sleeve and leaves it all on the ice. These are the kind of players that coaches love to inject into their lineup, and NHL teams should be lining up to get a player like Kalan Lind.
Diving Deeper:
Kalan Lind is a solid forward with every intention of becoming the best player he can be. Let's take a deeper dive into Kalan Lind's attributes.
Forechecking:
Kalan Lind is a ball of energy, he is always ready to launch into play at a high rate of speed, and he never seems to run out of energy. Lind is always driving play forward, looking to force turnovers, and finishing his checks in an effort to benefit his teammates. This makes Kalan Lind a nightmare to play against when he is killing a penalty. He will always empty the tank and manages to find more energy when he needs it.
"Kalan Lind was my favourite player in the game. His approach reminded me of Darcy Tucker in his prime. His infectious energy and compete was noticeable every time he rolled over the boards. He finished checks, attempted to get under the skin of opponents, created chances offensively, and defended with purpose."

Jason Bukala – Sportsnet – Jan. 26th, 2023.
Intensity:
Kalan Lind is so intense on the ice that it doesn't matter if it's the first five seconds or dying seconds of a game. He will play until that buzzer sounds. During the CHL Top Prospects Game, Kalan Lind took on Alex Pharand of the Sudbury Wolves, who is three inches taller and over 40 pounds heavier. When Lind isn't mixing it up with other players, he is skating at full speed right to the net. Driving the net and creating havoc in front of the goaltender is the bread and butter of Kalan Lind's game.
"A fierce competitor who you love having on your team, but despise playing against."

Sam Cosentino- Sportsnet – Dec. 14th, 2022.
Related Post: 2023 NHL Draft – Nashville
On-Ice Abilities:
On top of Kalan Lind's intensity and incredible forechecking abilities, he is also an incredible defender either at even strength or on the penalty kill. In Kalan Lind's top prospects game, he hit everything in a red jersey and was a nightmare to play against when he was out on the penalty kill. Lind also blocked a shot in the dying seconds of the game. Even though Team Red was winning, Lind wasn't done until that final buzzer sounded.
Final Thoughts:
Kalan Lind is certainly one of the most interesting players in this draft class, and he possesses so many qualities that an NHL organization looks for when drafting prospects. Kalan Lind will make for a solid bottom-six grinder on any team, and teams should be lining up to draft him as soon as possible.
Stats via Elite Prospects
Highlights via MyNHLDraft.com
The boys are back after a long break but have plenty to talk about as the playoffs are in full swing. We go series by series, looking at how teams have fared so far and who will come out on top. Thanks for listening! Please rate and review our show on your favorite listening platform. Check out our partner's website at www.insidetherink.com for all your latest hockey news.