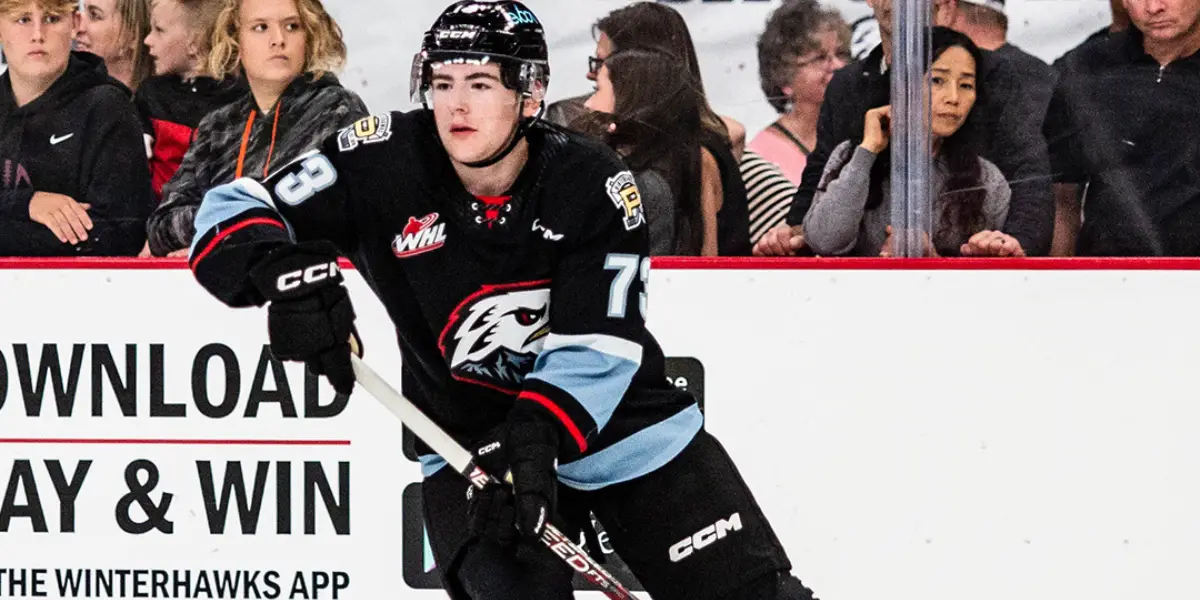 National Hockey League 2023 draft prospect Luca Cagnoni was born in Burnaby, British Columbia, on December 21, 2004. The 18-year-old defenseman is projected by some to be chosen in the second to third round in the 2023 NHL Entry Draft. Cagnoni is a 5-foot-10, 175-pound left-shot defenseman who has a high level of offensive awareness and looks to pinch and create offensive chances for teammates. Cagnoni will need to improve his physical game if he wants to elevate to a regular NHL defenseman.
Luca Cagnoni is ranked by many hockey evaluators in the top 50 in scouting reports, some ranking him within the top 35 in the upcoming NHL Draft. The following list will show the scouting rankings for Luca Cagnoni:
Ranked #52 by Inside The Rink
Ranked #35 by NHL Central Scouting (NA)
Ranked #35 by Elite Prospects
Ranked #74 by TSN/Bob McKenzie
Ranked #71 by Craig Button
Ranked #20 by Dobber Prospects
Luxa Cagnoni is rising up the draft prospect charts and is becoming an intriguing player. Cagnoni has gone from not being on the map as far as 2023 selections are concerned to being a possible choice in the late first round of the draft. This makes it hard to tell exactly where the left-shot defenseman will go in this year's draft.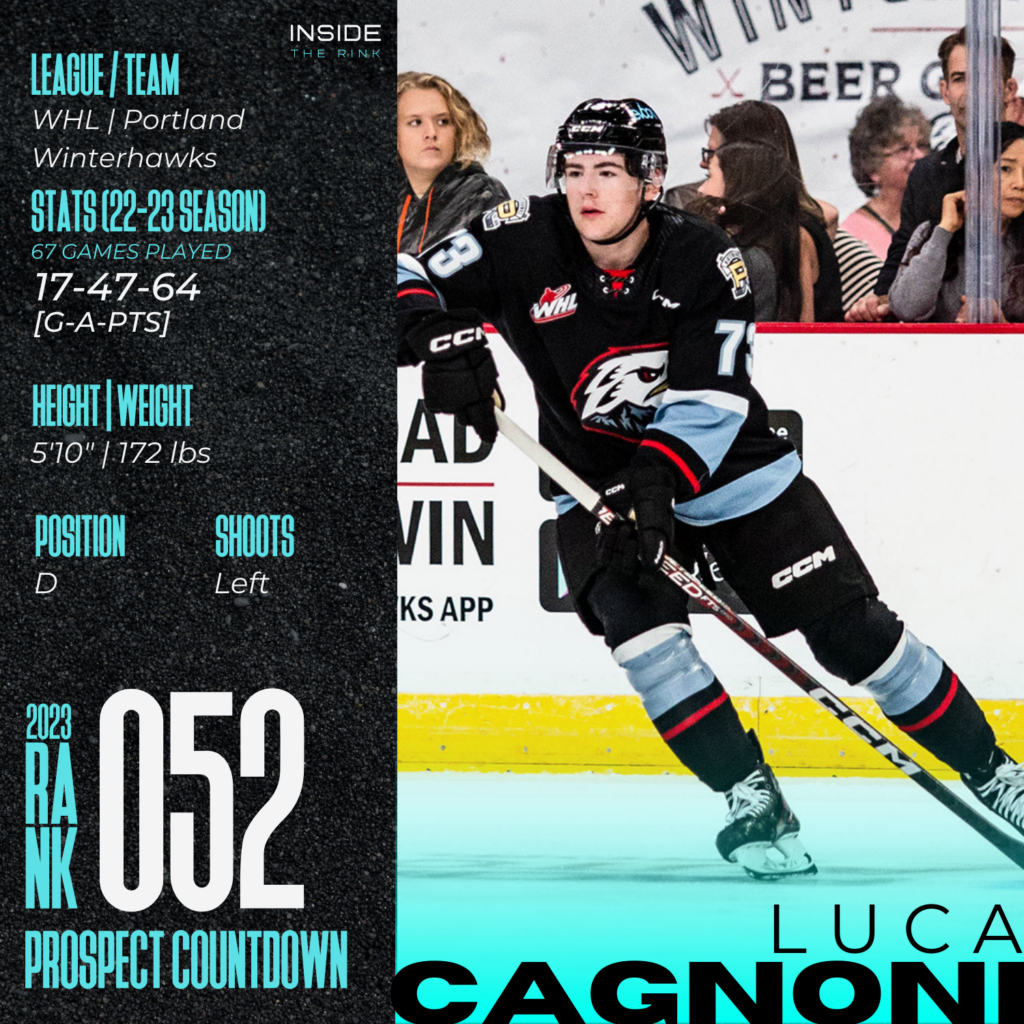 Diving Deeper:
Luca Cagnoni had a breakout year in his second full season with the Portland Winterhawks of the Western Hockey League in 2022-23. The blue liner scored 17 goals with 47 assists in 67 games. Last season in 63 games, Cagnoni scored nine goals with 27 assists. The Winterhawks lost in the second round to Kamloops, and Cagnoni registered seven points in nine postseason games.
Offensive Game:
Cagnoni exploded onto the draft scene with an impressive offensive season which helped him garner a second-team all-star selection in the WHL. Central Scouting is high on Cagnoni's ability by calling the skilled defenseman a "Gifted offensive defenseman with excellent skating ability … plays big minutes in all situations … high-end skill and playmaking ability … one of those players that appears to be playing a different game than everyone else … makes things look so easy at times … lacks size but makes up for it in skill, skating, and hockey IQ."
Related Story: 2023 NHL Draft – Nashville
Dobber Prospects also discussed Cagnoni's IQ in their scout of Cagnoni by calling him a "Highly intelligent two-way defenseman with advanced processing, awareness, and manipulation habits. Puck skills are only above-average in isolation but blend very well. Needs to add some strength and improve his skating, but could turn out to be a top-four defenseman at the NHL level".
Final Thoughts:
Luca Cagnoni is a wild card heading into the 2023 NHL Draft. His high-end hockey sense and offensive skill are intriguing NHL scouts, and Cagnoni could be picked higher than originally suspected. In today's NHL, skilled offensive defensemen are well sought after, and Cagnoni possesses great skill, even with a lack of size and physicality. The prediction here is for the Detroit Red Wings to select Cagnoni with one of their three consecutive draft picks (41, 42, 43) in the second round.
Season 3 Premiere! Bruins Prospect Challenge recap. Training Camp begins. The Bruins have a new captain. Jake DeBrusk contract negotiations beginning soon. The Bruins Historic 100 and new sweaters!  The Centennial season is here! DraftKings Sportsbook – Boston's hometown Sportsbook is LIVE right here in Massachusetts! Bet local on all your favorite sports from the comfort of your own home with DraftKings. To celebrate, ALL new customers will receive up to TWO HUNDRED DOLLARS in BONUS bets when you sign up for DraftKings Sportsbook using code ITR! You can now bet local on money lines, spreads, props, and more with one of America's top-rated Sportsbooks – DraftKings Sportsbook!  Download the DraftKings Sportsbook app and sign up with code ITR to get up to TWO HUNDRED DOLLARS in BONUS bets to use now that mobile sports betting is live in Massachusetts. That's code ITR only at DraftKings Sportsbook. If you or a loved one is experiencing problems with gambling, call 800 327-5050 or visit helplineMA.org to speak with a trained specialist, free and confidentially, twenty four seven. 21+. Physically present in MA. Eligibility restrictions apply. Subject to regulatory licensing requirements. Eligibility and deposit restrictions apply. Opt in required. Bonus issued as free bets. Terms at draftkings.com/MA.