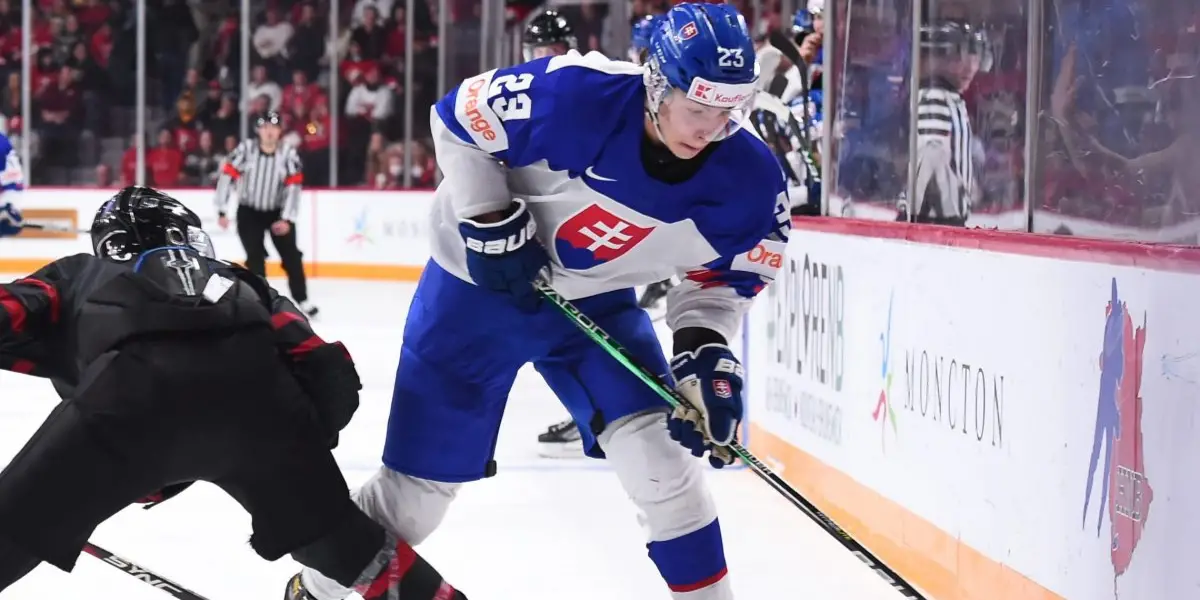 The Scouting Report:
Martin Misiak from Banska Bystrica, Slovakia, born on September 30th, 2004, is an NHL draft-eligible prospect for the 2023 NHL entry draft in Nashville. The big Slovakian center came to the USA after spending 29 games with HC Nove Zamky in the Slovakia league. The Youngstown Phantoms certainly felt Misiak's presence as he posted six goals and 11 assists for 17 points in 27 games. Misiak certainly took a few games to adjust to the new environment, but after that adjustment period, it was go time for Martin Misiak. Listed at 6'2″ and 198 pounds, Misiak isn't overly physical, but he does have a bit of a meaner side to him.
Related Page: 2023 NHL Draft – Nashville
Ranked #58 by Inside The Rink
Ranked #45 by NHL Central Scouting (EU Skaters)
Ranked #56 by DobberProspects
Ranked #95 by Draft Prospects Hockey
Ranked #58 by Smaht Scouting
Ranked #76 by TSN/Bob McKenzie
Conrad Jack of Inside the Rink has Martin Misiak projected at 73rd overall.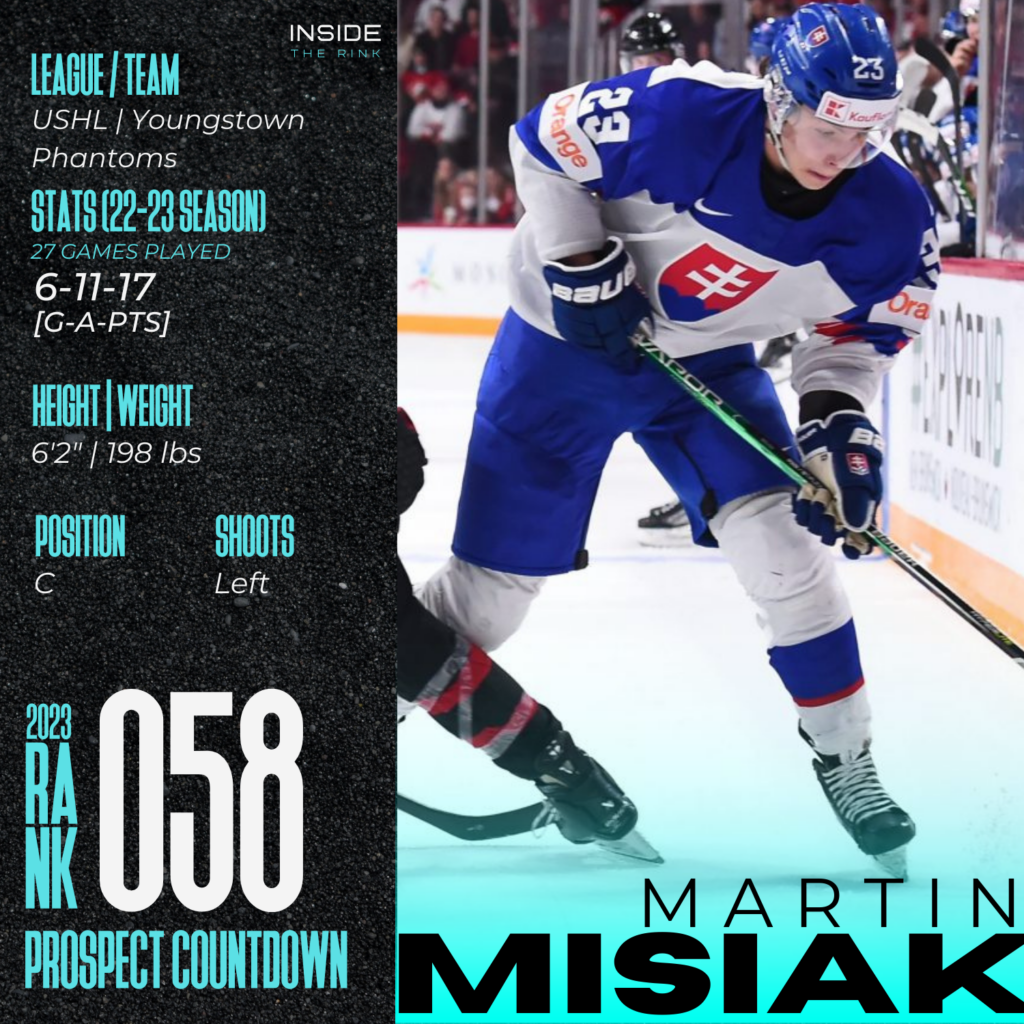 I can't see teams passing up on Martin Misiak past the third round, and I also can't see him going higher than the middle of the second. It will be interesting to see where and when Misiak is drafted and which team can snag him.
Diving Deeper:
I've briefly highlighted some attributes of Martin Misiak, let's dive deeper into Martin Misiak's attributes and areas for improvement.
Hockey Sense:
Martin Misiak is so incredibly aware and just has a sixth sense when he is on the ice. His drive and work ethic is what is serving him best, and it bleeds into his overall game. Misiak is almost always a step or two ahead of the game and just understands where he needs to be before the play unfolds entirely.
Areas for Improvement:
When watching some of Martin Misiak's highlights, he has strong skating, defensive play, speed, a great hockey sense, and can make a solid play or two. What he has in abundance, he lacks in strength, offensive consistency, and a major lack of relying on his lethal shot more frequently.
Martin Misiak is a threat offensively, and he needs to rely on his shot more, his release is far above the level of many players he plays with, and against that, it's surprising that he didn't have a higher goal total to end the season. Misiak should also get some more muscle added to his already large frame, as this would make it harder to defend him as a forward. Martin Misiak usually finds himself easily bumped off of pucks, and it's an easy fix. It's just up to Misiak to put in that extra work to make himself a more dominant player. If Martin Misiak can work out these parts of his game, he can easily be a dominant 20-30 goal scorer in the NHL.
Related Story: 2023 NHL Draft – Nashville
Prospect Potential:
As I previously mentioned, Martin Misiak could become a decent 20-30 goal scorer if he works out certain parts of his game. Any team could use a solid big-bodied player who has a cannon of a shot. There's also reason to believe that Misiak's production can explode prior to the draft, which may make him a lucrative option to draft. Given what we've seen in Martin Misiak's highlights, he could easily become a solid two-way second-line center who produces all over the ice and finds his way onto the scoresheet regularly.
Final Thoughts:
There is so much possibility surrounding Martin Misiak, and teams might say that he is a legitimate option that they must consider heading into draft day. He won't be the next Tage Thompson, but he could easily become a dominant forward, given the right development through the next few years.
Stats via Elite Prospects
Highlights via MyNHLDraft.com