National Hockey League 2023 draft prospect Theo Lindstein was born in Gavle, Sweden, on January 5, 2005. The 18-year-old defenseman is projected by some to be chosen in the second to third round in the 2023 NHL Entry Draft. Lindstein is a 6-foot, 180-pound left-shot defenseman who has smooth skating ability, a quick release, and a developing offensive game. Lindstein is considered a solid two-way blue liner who was considered a first-round talent last year.
Theo Lindstein is ranked by many hockey evaluators in the top 50 in scouting reports, some ranking him within the top 40 in the upcoming NHL Draft. The following list will show the scouting rankings for Theo Lindstein:
Ranked #62 by Inside The Rink
Ranked #13 by NHL Central Scouting (EURO)
Ranked #66 by Elite Prospects
Ranked #24 by The Hockey News
Ranked #40 by TSN/Bob McKenzie
Ranked #27 by Craig Button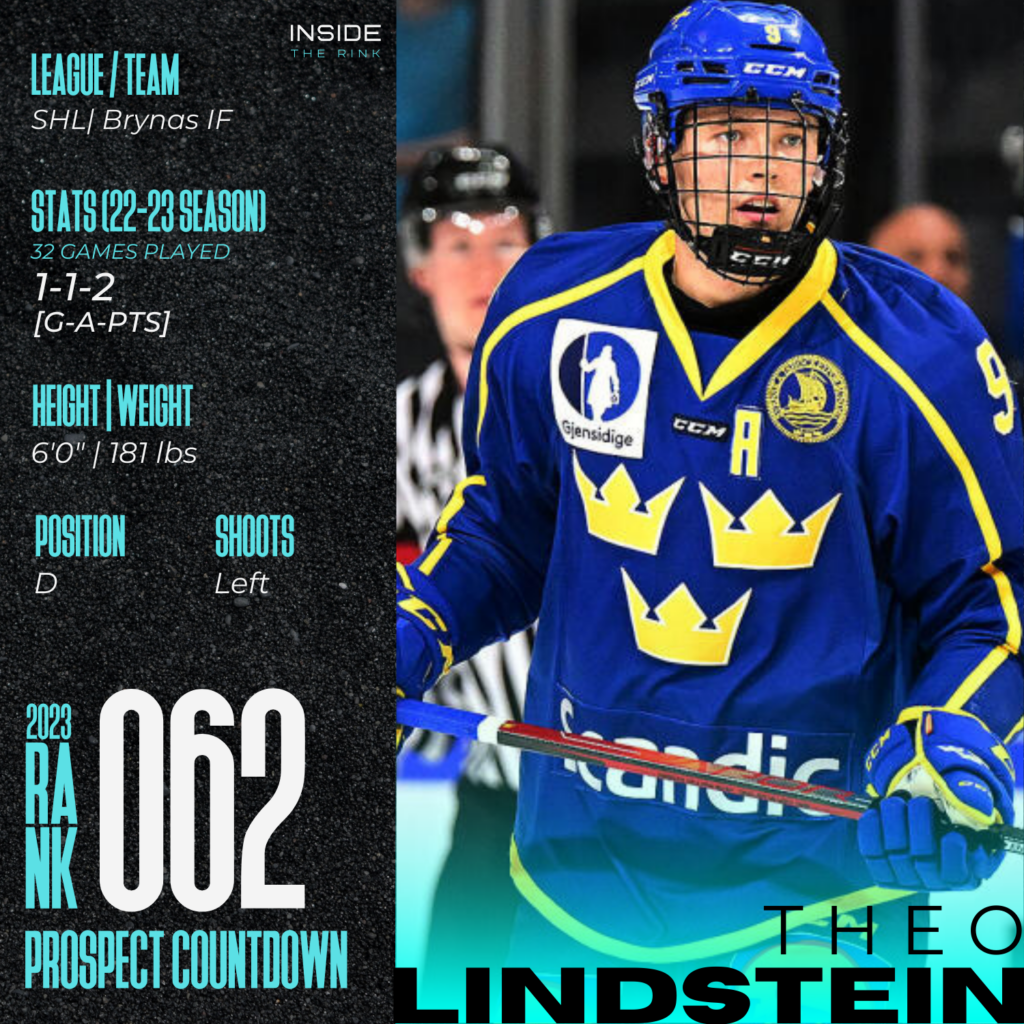 Theo Lindstein is an exciting prospect. Last summer, some projections had Lindstein picked in the late first round, but his stock has dropped off some. This makes it hard to tell exactly where the left-shot defenseman will go in this year's draft. Lindstein has played in the top junior league in Sweden and the SHL, which is widely regarded as a top league internationally. According to The Hockey Writers, Lindstein is "a powerful skater with a very smooth stride which allows him to backcheck effectively and makes him a dangerous player on the rush. His high hockey IQ makes him a great off-puck player, allowing him to find open ice in the offensive zone and anticipate certain plays well in his own end. Lindstein also has a really good shot for such a young defender, hard and accurate enough to be effective as either a goalscoring tool or as a playmaking tool".
In the SHL for Brynas Gavle, Lindstein recorded just one goal and one assist with a minus-3 in 32 games. The defenseman had some trouble with the pace of play in the Swedish League, which might have dropped his value some.
Diving Deeper:
Last August, Lindstein was considered the front-runner to be the first defenseman taken in the entire draft. He had already made his debut in the SHL as a 16-year-old, performing admirably against opponents who could be twice his age on any given night.
Offensive Game:
Lindstein's smooth skating, above-average passing skills, and accurate shot make him a candidate to be a potential top-4 defenseman in the NHL. Whether or not he can make plays and exit his own zone while under pressure remains to be seen. In his defense, the Brynas team had a terrible season and has been relegated for the first time since 1959-60.
Related Story: 2023 NHL Draft – Nashville
Next season in HockeyAllsvenskan:
Now that the team has been relegated, Lindstein should see improvement next season. Scouts will be looking for more offensive production and for Lindstein to stand out as one of the better players in the league.
Final Thoughts:
Look for Lindstein to slip out of the first round and be a selection within the first ten picks of round two. By selecting Lindstein, a team is projecting the young defenseman to improve his confidence level with the puck while adjusting to a better pace of the game. He could slip down the draft, but you would have to think that his prior upside is still enticing to teams looking for a solid two-way defensive prospect. The prediction here is that Theo Lindstein is chosen 37th overall by the Montreal Canadiens.
The Bruins Preseason has begun! Matthew Poitras, Johnny Beecher, and Mason Lohrei have stood out. Matt Grzelcyk expendable? Can the Bruins be more physical? And much more!DraftKings Sportsbook – Boston's hometown Sportsbook is LIVE right here in Massachusetts! Bet local on all your favorite sports from the comfort of your own home with DraftKings. To celebrate, ALL new customers will receive up to TWO HUNDRED DOLLARS in BONUS bets when you sign up for DraftKings Sportsbook using code ITR! You can now bet local on money lines, spreads, props, and more with one of America's top-rated Sportsbooks – DraftKings Sportsbook!  Download the DraftKings Sportsbook app and sign up with code ITR to get up to TWO HUNDRED DOLLARS in BONUS bets to use now that mobile sports betting is live in Massachusetts. That's code ITR only at DraftKings Sportsbook. If you or a loved one is experiencing problems with gambling, call 800 327-5050 or visit helplineMA.org to speak with a trained specialist, free and confidentially, twenty four seven. 21+. Physically present in MA. Eligibility restrictions apply. Subject to regulatory licensing requirements. Eligibility and deposit restrictions apply. Opt in required. Bonus issued as free bets. Terms at draftkings.com/MA.