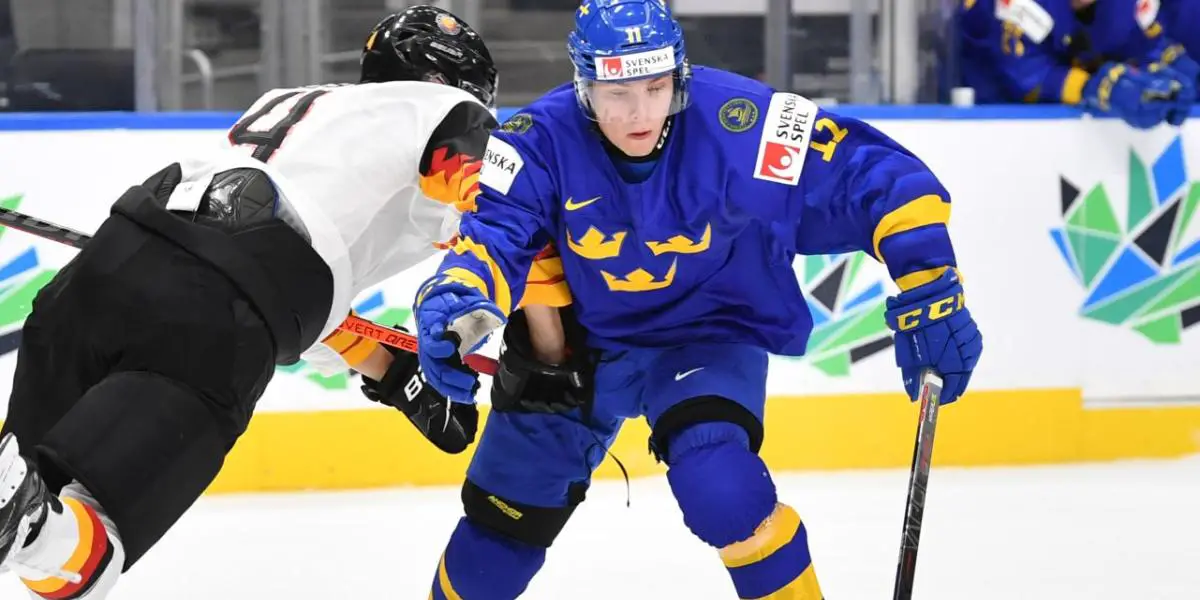 The future of Boston Bruins hockey has been on full display through the preliminary round at World Juniors as three of their prospects have been putting on a show. This year's World Juniors, being held in Edmonton, have showcased Bruins top prospect Fabian Lysell, Riley Duran, and 2022 fourth-round pick Dans Locmelis. For Bruins fans, they will get to continue to watch these prospects as the United States, Sweden, and Latvia all will continue their tournaments today as they get set for the quarterfinals.
Riley Duran, USA
From the jump, Duran has shown up for Team USA and has been a critical member in getting them to this stage. The Bruins' 2020 sixth-round puck is amid his first World Juniors where he has been anchoring a line wit Red Savage (DET) and Sasha Pastujov (ANA). In four games, the Providence College forward has two goals and three assists as Team USA gears up for a matchup with Czechia tonight at 10:30 pm ET.
Game 1: USA vs Germany
Duran got his scoring going during USA's first game against Germany as he buried the fifth and final goal during Team USA's 5-1 win to kick off the tournament.
Game 2: USA vs Switzerland
Duran didn't take long to get back on the board as he scored during Team USA's second game, this time against Switzerland. Duran had a wrist shot that found the back of the net, helping the USA to a 7-1 win. After showing his willingness to crash the net in Game 1, Duran showed off his stick handling before beating the goalie to bury his second goal of the tournament.
Game 3: USA vs Austria
While game three didn't feature any goals for Duran, it did show off his playmaking ability. In a 7-0 rout of Austria, Duran continued to contribute to his team's winning efforts, logging two assists in the first period. Duran has been contributing all over the ice, whether it be with goals, assists, and finishing his hits
Game 4: USA vs Sweden
This matchup was made for Bruins fans as it featured Duran going up against Fabian Lysell for a fight to finish in first place in Group B heading into the quarterfinals. While neither Duran nor Lysell factored into the scoring, Team USA was able to come away with a 3-2 victory locking them into the first place spot.
Fabian Lysell, Sweden
The Bruins' top prospect and the one-player fans are hoping to see crack the lineup this upcoming season did not disappoint. Lysell has been a highlight reel, especially with his top-shelf, short-side snipe that has all Bruins fans buzzing about the talent this 19-year-old possesses.
Game 1: Sweden vs Switzerland
Lysell and Team Sweden started the tournament with a 3-2 win that saw the young playmaker contribute an assist in the third period to help finalize the win. Lysell's ability to set up his teammates has been on full display since last season when he played for the Vancouver Giants.
Game 2: Sweden vs Austria
In a dominate 6-0 shutout, Lysell finally got on the board for his first of the tournament. He showed off his skills and net drive during the power play helping Sweden outshoot Austria 41-14. Lysell did miss a penalty shot in the third but a minute later was able to redeem himself with a complex angle snipe that left the fans wanting to see more.
Dans Locmelis, Latvia
The newest member of the Bruins organization has played an essential role for Team Latvia as he has helped them to a surprise run to the quarterfinals. The Bruins 2022 fourth-round draft pick has shown his strong ability to distribute the puck and beat players 1-on-1. The Bruins' 18-year-old center prospect is checking off all the boxes in his World Juniors run, showcasing the type of player this organization has been looking for.
Game 3: Latvia vs Solvakia
In a shootout loss, Locmelis was a bright spot as he started off strong for a Latvia team no one expected much from. He showed off his ability to be aggressive as he was in a scrum in front of the net that led to him scoring a power-play goal giving Latvia an early lead. At 6'0″ and 170 pounds, he isn't afraid to mix it up in the danger areas if it means scoring goals.
The boys are back after a long break but have plenty to talk about as the playoffs are in full swing. We go series by series, looking at how teams have fared so far and who will come out on top. Thanks for listening! Please rate and review our show on your favorite listening platform. Check out our partner's website at www.insidetherink.com for all your latest hockey news.