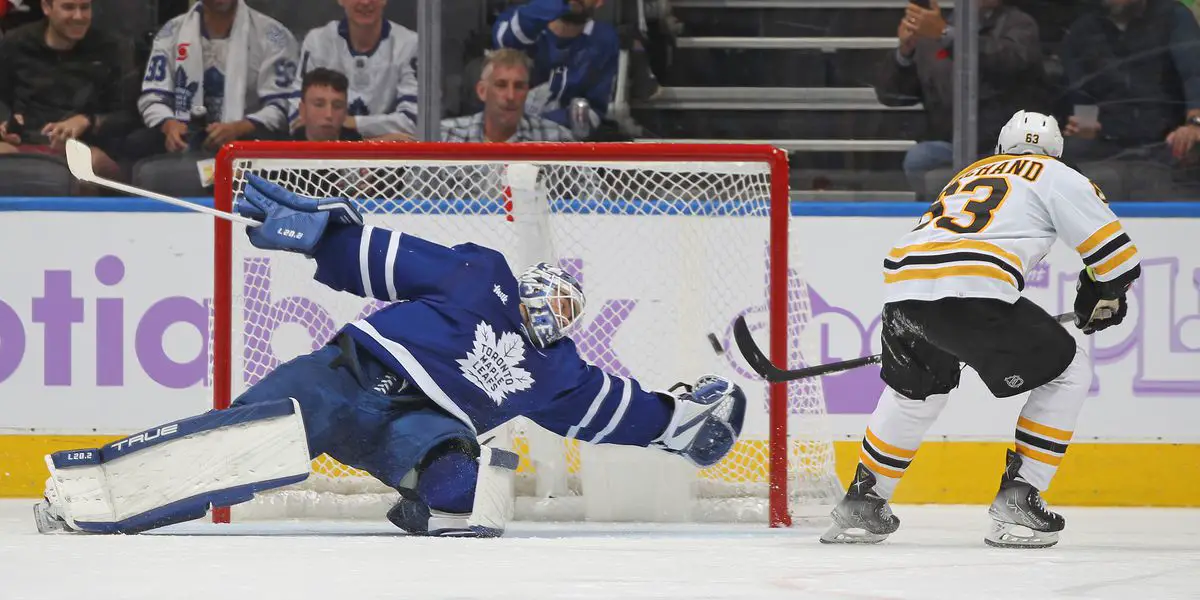 The Toronto Maple Leafs continue to be one of the best teams in hockey. With a record of 23-8-7 with 53 points in 38 games, that doesn't happen without strong goaltending. So far this season, Maple Leafs General Manager Kyle Dubas decision to go with Matt Murray and Ilya Samsonov as a tandem has paid off. However, recently a slip in play for both goaltenders has left some fans a little bit worried. Rightly so, after the season Jack Campbell had last year. From being a Vezina worthy contender and making the All-Star Game to his play completely falling off a cliff the rest of the regular season. With this situation, though, I still think it's a little premature to worry, and there are actually a few ways this Leafs goaltending cold stretch can be turned into a positive. 
1. Breaking Unrealistic Expectations
The first way this cold stretch can be turned into a positive is by destroying unrealistic expectations. Matt Murray and Ilya Samsonov were giving the Maple Leafs way more than expected. Playing like top-five goaltenders through much of the start, expecting them to remain potential Vezina winners, may have been a little too much. I'm not saying Samsonov and Murray can't be great, I love the idea of them as a tandem, but I don't think expecting them to give what they did at the start all season long is fair. Both goaltenders were let go by their respective franchises for basically nothing. I mean, the Ottawa Senators practically gave up Murray for free, including two draft picks for the Maple Leafs to take him. The move was primarily because of his contract situation and health, but Murray has given the Maple Leafs more than what the projections showed. As for Samsonov, Ilya was a 2015 1st-Round pick of the Washington Capitals. After three seasons with the NHL club, the Washington Capitals decided to part ways with the 25-year-old, which shocked many. After turning down a few other offers that offered more money and term, Ilya Samsonov decided to prove himself on a one-year deal in Toronto. Samsonov was magnificent to start the season and was a huge reason the Maple Leafs turned their slow start around. However, in the same situation as Matt Murray, expecting Samsonov to give Vezina worthy numbers all season long is a bit of a stretch. I think the Maple Leafs management expected good goaltending from the two, but I find it hard to believe they expected both to constantly give them Vezina worthy performances. 
2. Overcoming Adversity
The second way this Leafs goaltending cold stretch can be turned into a positive is by overcoming adversity. If you follow my Twitter, you will see that all season long, I have been praising the Maple Leafs for this. To become a Stanley Cup winner, you have to have a roster that can defy the odds and overcome tough situations when needed, both in-game and off the ice. So far this season, the Maple Leafs continue to win in different ways, which is a significant step forward for the group. However, now it's time for the goaltenders to do their part. In a situation like this, the Toronto media and fans are on your case. How does Matt Murray and Ilya Samsonov push through? How do the two goaltenders overcome the mental aspect of hockey and their on-ice play? Hockey is just as much a mental game as it is physically, especially as a goaltender. Going through the tough bumps of a long regular season right now is perfect! When the team is successful, everything surrounding this Maple Leafs group is about the playoffs. Well, having the ability to face adversity head-on in the middle of the regular season is perfect! The confidence both goaltenders could get from this is better long-term than any other victory could give. Facing adversity now will scream volumes in the postseason, especially as a goalie for a franchise like the Toronto Maple Leafs. 
3. Know What You Have
The third way this cold goaltending stretch can be turned into a positive is by knowing what you have. It's no question that General Manager Kyle Dubas took a gamble this offseason. Deciding to roll with two goaltenders that struggled last season after the constant first-round playoff eliminations. Kyle Dubas decided to trust in both and help the Maple Leafs overcome the one thing they haven't done in a long, long time. The luxury of having this situation right now is by seeing if either one of these goaltenders can turn it around before it's too late. As I said earlier, I feel like it's still premature to start panicking. However, if both goaltenders fail to regain form here, Kyle Dubas still has enough time to go out and make an addition. If this situation had happened a little later on, it could've been really ugly. Especially if both goaltenders remained perfect all season long, then completely fell off a cliff in the playoffs. 
Having a chance to see first-hand how Samsonov and Murray can overcome adversity is a positive. No matter how you flip it, the expectations for both were a little crazy. Samsonov is a good goaltender who's had a rougher stretch than Matt Murray here, and that's okay. I fully believe in both, and believe me, they will turn this around soon! Whether it's the next game, next week, or a longer period of time, I have no doubts about the two. The Maple Leafs next game will be at Scotiabank Arena, where they will host the Seattle Kraken.
Thanks for reading! For more hockey content, follow my Twitter at @ITR_Anselmo
WELCOME BACK TO LEAFS LATE NIGHT! Presented by Inside The RinkRoscoe / Galaxy Biehn – Dubas Out?!?- Remember All The Good Times We Shared- I Don't Love Our Options- Matthews Next Deal?- Keefe's Fate- AI MascotsSPORTS! IS FUNMERCH IS AVAILABLE!JOIN OUR DISCORD!Remember to follow us on Twitter @LeafsLateNight & IG @LeafsLateNightCheck out Mike, Josh, and Nathan's articles on the Leafs + many more! insidetherink.com