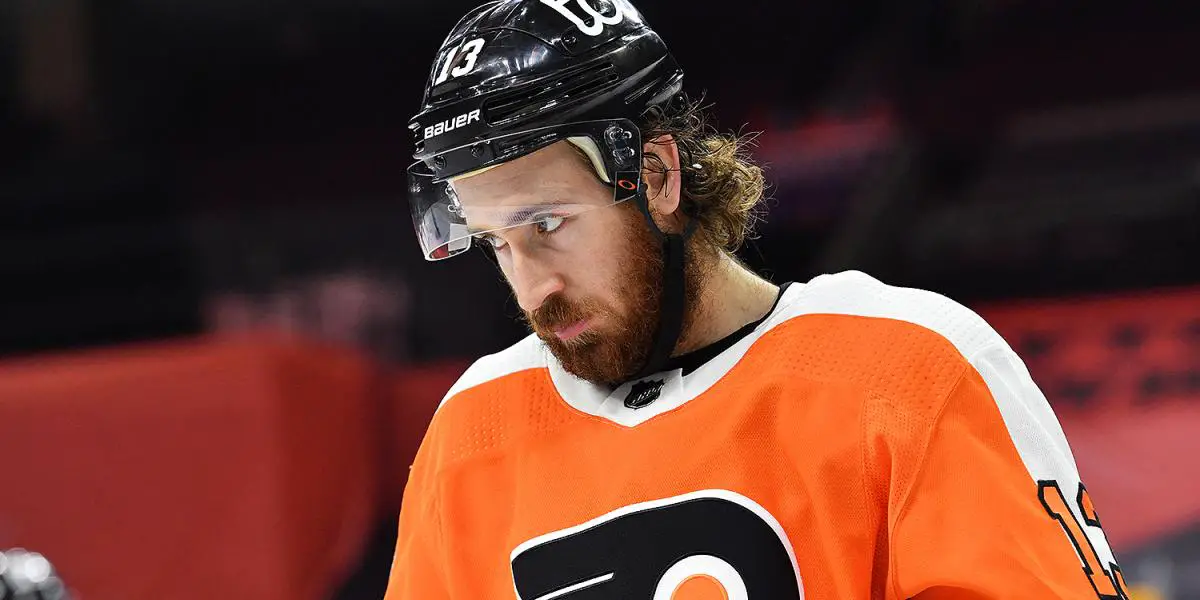 The 2022-23 season has already been a season Philadelphia Flyers fans won't want to remember.
From the very beginning, it has been a whirlwind with core players such as Sean Couturier, Cam Atkinson, and Ryan Ellis have been sidelined indefinitely. Due to the loss of these key players, the team has spent much time anchored to the bottom of the Eastern Conference.
Barring a complete reversal of fortune, they're going to miss the playoffs for the third straight season and the fourth time in five years.
In early December, Flyers general manager Chuck Fletcher said he and head coach John Tortorella are building a foundation for the future, per the Philadelphia Inquirer's Giana Han. Fletcher avoided using the word "rebuild," but he moved off from what he described last summer as his plans for an aggressive retooling of the roster.
No matter what Fletcher wants to call it, expect, the Flyers to become sellers when the March 3rd trade deadline comes around if the team is still out of playoff contention.
The Flyers are not short of talented veterans that could be moved, and the trade rumors have already started swirling around a few names. James van Riemsdyk and Kevin Hayes were the two big names that surfaced in media chatter leading up to the recent holiday roster freeze.
The question remains which players do Fletcher and Tortorella consider part of their foundation and which ones will be heading to the 2023 trade block? If they do trade a few veterans, what type of return could they hope to get? Here are four players that could be on their way out of Philly and what a possible win-win trade scenario would look like for the Flyers and their potential trade partners.
Kevin Hayes to the Dallas Stars
One of the most surprising and not surprising names to make the list is Kevin Hayes. Currently sitting second on the team in points, Hayes' future in the City of Brotherly Love is murky at best under head coach John Tortorella. In mid-December, Sportsnet's Elliotte Friedman wondered if the Flyers might buy out Hayes due to rising tension with Tortorella over his defensive play. This tension stemmed from the time earlier this season when Tortorella benched his star forward, who at the time had 29 points in 31 games.
Hayes' current contract runs through the 2025-26 season and carries an average annual value of $7.1 million. If the Flyers want to buy him out, it would cost a total of $16.6 million over six years. The better option would be to trade the forward and retain 50 percent of his cap hit. If they went this route, they would carry just $3.6 million annually for the next three years.
The Dallas Stars are atop the Central Division with plenty of teams behind them looking to take the top spot with a strong second half. The Stars could be a suitable trade partner as they are reported to be in the market for a top-six forward. On Nov. 29, TSN's Darren Dreger reported they're in the market for a top-six forward to skate alongside Tyler Seguin and Mason Marchment on their second line. Hayes' scoring abilities would make him a good fit, especially on a team that ranks third in the league with 139 goals for.
The Stars have some options on what to send back to Philly in return. One option is the Stars' 25-year-old winger Denis Gurianov who is a former 20-goal scorer. Gurianov might benefit from a fresh start with a new team once he returns from his current leave of absence. He is currently on an affordable contract as he carries a $2.9 million cap hit for this season and is set to become a restricted free agent in July. Another option would be for the Stars to include a draft pick or prospect in the deal. If the Flyers do retain the 50 percent salary, the Stars will most likely have to add a sweetener anyways.
Travis Konecny to the Detroit Red Wings
This move would be another example of Steve Yzerman playing chess while everyone else is playing checkers. The Detroit Red Wings could soon be faced with a decision on what to do with forward Tyler Bertuzzi, who is set to become an unrestricted free agent in July. There have been recent speculations that Yzerman could shop the 27-year-old by the March 3rd trade deadline rather than lose him for nothing in free agency.
If he does decide to move on from Bertuzzi, he has the opportunity to find his replacement right away in Konecny. The 25-year-old winger carries a $5.5 million annual cap hit through 2024-25, which is slightly higher than Bertuzzi's $4.8 million.
While Bertuzzi is known for his gritty style of play, and some may not want to lose that, they wouldn't have to worry about that with Konecny. The feisty playmaking winger has four seasons of 47 or more points on his resume, including career highs of 24 goals and 37 assists for 61 points.
He could be a good addition to the Wings if the Flyers are truly committed to heading for the rebuild and start to unload players at the deadline. The combination of his youth and contract would fit well into Detroit's long-term plans, while his skills and experience would positively impact the roster right away.
The Red Wings have plenty of young assets on their roster to get a deal done with the likes of Filip Zadina, Jonatan Berggren, and Elmer Soderblom, all good trade chips. They also have three players in their pipeline with, Marco Kasper, Simon Edvinsson, and William Wallinder, that would interest the Flyers. Yzerman could also include one of the Wings' two second-round picks in the 2023 NHL draft.
Ivan Provorov to the Los Angeles Kings
On Dec. 1, Sportsnet's Elliotte Friedman reported the Los Angeles Kings were looking for a left-hand shot for their blue line. He noted they had been linked to the Arizona Coyotes' Jakob Chychrun, but he doubted they'd pay the Coyotes' asking price.
If the Kings are exploring their options outside of Chychurn, Ivan Provorov could be a name for them to keep an eye on. Like the Coyotes defenseman, the 25-year-old Provorov is signed through the 2024-25 season. On the other hand, he is more expensive as he carries a cap hit of $6.8 million compared to Chychrun's $4.6 million.
What could make this deal work is offsetting the cap hit with other players. Friedman noted that the Kings have a surplus of right-side defensemen. The Kings could look to match salary to offset Provorov's high cap hit by sending either Matt Roy ($3.2 million cap hit) or Sean Walker ($2.7 million), who are signed through 2023-24.
The Flyers would obviously want more than Roy or Walker in a trade, but the Kings have some other options. LA could be reluctant to part ways with their 2023 first-round pick, but they may be more willing to send their second-rounder. They also have prospects Alex Turcotte, Samuel Fagemo, Jordan Spence, and Helge Grans to use as trade chips.
James van Riemsdyk to the Calgary Flames
After a strong regular season last year that saw the Flames finish third in the Western Conference, they now find themselves jockeying for a wild-card spot. They saw Johnny Gaudreau and Matthew Tkachuk pack their bags and replaced them with Jonathan Huberdeau and Nazem Kadri. Since those moves, the Flames' goals-per-game average has dropped from sixth overall in 2021-22 (3.55) to 21st (3.06) this season.
While they replaced their two 100-point stars with a 100-point star and an 87-point star, the outcome has not been the same. They were still missing a vital piece, and in mid-November, Sportsnet's Elliotte Friedman reported the Flames had been searching for a scoring forward since August. After his busy offseason, maybe Calgary general manager Brad Treliving will consider acquiring James van Riemsdyk from Philly.
On Dec. 17, Friedman's colleague Jeff Marek said the Flyers were making the 33-year-old winger available. He would simply be a rental as he will become an unrestricted free agent in July.
Van Riemsdyk has been a consistent goal scorer throughout his career has he's exceeded the 20-goal mark seven times and has netted 40 or more points eight times. The big-bodied 6'3″, 208-pound left winger did miss 20 games earlier in the season due to a broken finger but now has 15 points in 18 games for a low-scoring Flyers team. His combination of size and scoring ability would be the perfect mix to bolster the Flames' scoring and help their struggling power play.
By this year's trade deadline, the Flames will accrue $4.3 million in cap space, giving them some breathing room to make a deal. The Flyers would have to retain up to half of the remaining $7 million of Van Riemsdyk's cap hit.
In return, the Flames could offer up their 2023 second-round pick to help the Flyers replace the one they traded to Buffalo back in 2021 for Rasmus Ristolainen. There is always the option of bundling that pick with a prospect if that's what it takes to get the deal done.
Episode 54 is here and the boys break down the Bruins adding Tyler Bertuzzi, Taylor Hall and Nick Foligno Injury updates, and Pastrnaks contract extension. Followed up with a tour around the NHL and breaking down the MOUNTAIN of trades that happened since last episode.DraftKings Sportsbook – Boston's hometown Sportsbook will be LIVE – soon – right here in Massachusetts! Bet local on all your favorite sports from the comfort of your own home with DraftKings. To celebrate, ALL new customers will receive up to TWO HUNDRED DOLLARS in BONUS bets when you sign up for DraftKings Sportsbook using code insidetherink! Soon you'll be able to bet local on money lines, spreads, props, and more with one of America's top-rated Sportsbooks – DraftKings Sportsbook!  Download the DraftKings Sportsbook app and sign up with code ITR to get up to TWO HUNDRED DOLLARS in BONUS bets to use once mobile sports betting hits Massachusetts. That's code insidetherink only at DraftKings Sportsbook.  If you or a loved one is experiencing problems with gambling, call (800) 327-5050 or visit (https://helplinema.org/) to speak with a trained specialist free and confidentially twenty four seven. 21+. Physically present in MA. Eligibility restrictions apply. Subject to regulatory licensing requirements. Eligibility and deposit restrictions apply. Opt in required. Bonus issued as free bets. Terms at draftkings.com/ma.