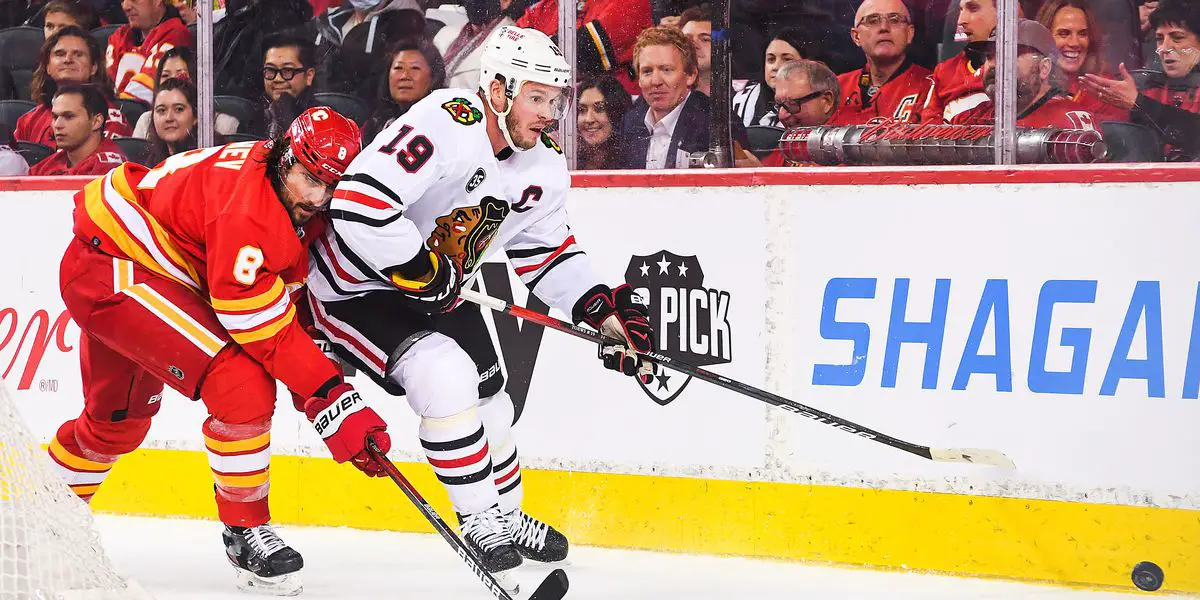 The Blackhawks would lose their second game in back-to-back nights to the Calgary flames 5-1.
King's Start/Sit decisions hurt the Blackhawks:
Reluctance to bench Gustafson is killing this team and on top of that, he decides to place him on the first power-play unit. A move along with a few other questionable decisions that were made by King. Why he would play Gabrel over an Entwistle or Carpenter eludes my mind.
2. Soderblom plays well in his first NHL start:
Soderblom wasn't tested early in the game, but he would be tested as Calgary would take over. Facing a total of 37 shots Soderblom would save 41 of them. Soderblom would also face his first penalty shot and would make it look easy. After a shaky night last night, Soderblom was calm and cool tonight. It wasn't perfect, and he will need more time in the AHL, but he showed why the Blackhawks management like him.
3. With that being said, Chicago needs their goaltenders back:
Delia was not ready for his chance the night before. Let's hope Fleury gets a practice or two in and is back for the Blackhawk's next game. The Blackhawks need elite goaltending to win games with the lack of firepower on the offensive side.
4. The post hates Patrick Kane:
In the third, Kane managed to hit both posts in a 15 second period… not his night.
5. Kubalik struggles continue:
Kubalik had a few good chances during the game, but he was not able to finish once again. His struggles are evident, and in a contract year, Chicago should look at potentially trading Kubalik at the deadline. Kub's has a total of six goals on the season.
6. Kurashev good play continues, but mistakes start to show:
Kurashev has been playing great since getting recalled from the Rockford Icehogs. He did have a dumb penalty tonight that cost the Hawks a goal, but overall he's playing hard and generating offense for the Hawks. Overall as long as he can clean up his game, Kurashev should be able to stay in the line-up and be an effective player.
7. Power Play struggles continue:
The power play was at least able to move the puck well versus the Preditors. This was not the case for the Blackhawks, who would have one okay power play versus the Flames. Otherwise, it was just trash, and they would not only give up a breakaway shorthanded but would also give up a shorthanded goal just following that breakaway. They would go 0-3 on the power play in the game. King decided to put Gustafson on the first unit, and it was the wrong choice. Over the last forty-eight hours, the Blackhawks would go 0-7 on the power play.
8. Chicago should start to sell:
After losing back to back after the holiday break, it's safe to say Chicago will be selling at the deadline. It's time for Davidson to cash in on the players with one year left. Anyone with a one-year deal should be on the block. Chicago should also think about moving on from a player like Kubalik as his struggles have continued, and he's already making 3.7 million and will want a pay rise in the offseason. If Fleury is willing to waive, they should trade him, and a veteran defense like DeHaan should be able to get the Blackhawks much-needed draft capital.