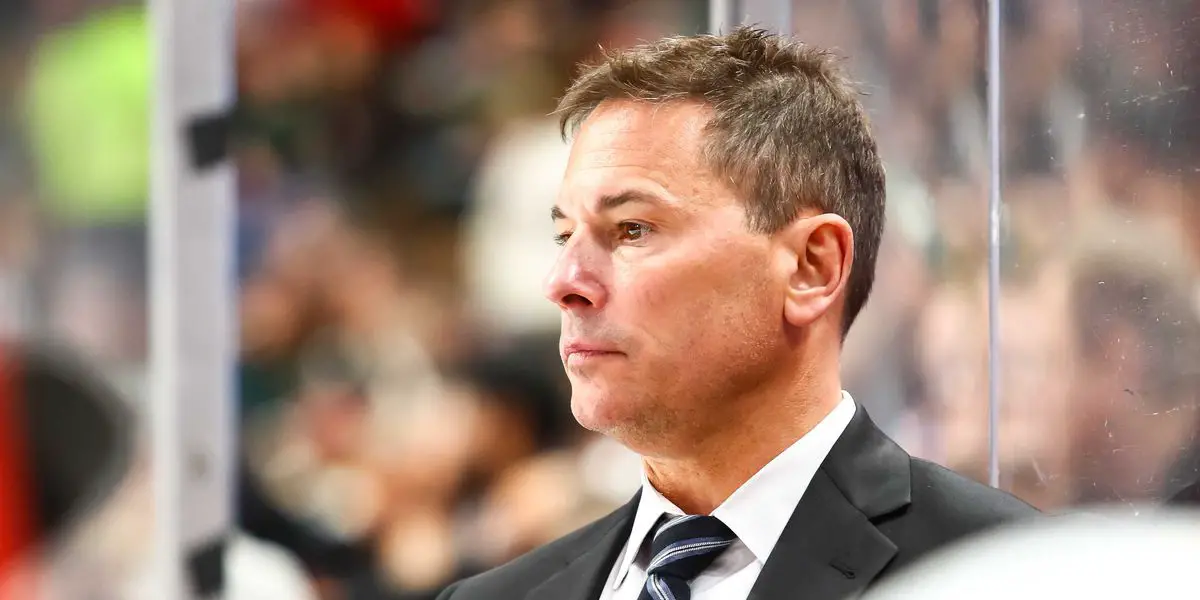 The Golden Knights had a 2-0 lead in a "tough place to play" against an excellent Calgary Flames team Tuesday night. As Head Coach Bruce Cassidy said, it was an opportunity to take two points against a team that plays well at home. Unfortunately, the 2-0 lead turned into a 3-2 loss, the first loss of the season for Vegas. It was a "measuring stick game" for the Knights, and the verdict was not good enough. The reasons could be too many penalties or defensive breakdowns, but one particular cause could be more concerning and an issue that haunted some of Cassidy's Bruins teams.
After the loss, Cassidy mentioned that the Golden Knights were not winning the "net-front battles" and that the Flames were harder on the puck in those areas. Vegas was unable to get those "greasy" goals teams need to get to beat good teams. Ironically, this was an issue many times over the six seasons Cassidy was at the helm for the Boston Bruins. Cassidy would comment over and over that the Bruins would need to be harder on the puck and get to the "dirty" areas to score, and almost habitually, the Bruins would lack in that area. On Tuesday night, the Vegas Golden Knights looked the same, and the Flames were able to squeak out a win and leave Vegas disappointed in their effort.
VGK free agency recap, Knights news and notes. UNLV roster update
–
The Vegas Fever Podcast
The Golden Knights wrap up free agency pretty quickly. The Reilly Smith trade to Pittsburgh was the toughest pill to swallow for us. The Golden Knights announce new additions behind the bench as well. UNLV basketball rounds out their 2023-24 roster while capturing their first commit of 2024. Thanks for checking us out! Please subscribe after you listen. Learn more about your ad choices. Visit megaphone.fm/adchoices
Cassidy, who is never one to pull any punches in postgame interviews, also called out the "skill" guys on the team and said the Knights needed more from them. The coach was disappointed and said that the skilled players were "quiet." Since leaving Boston, more reports have come out from players souring on Cassidy's approach and have been lamenting about Cassidy's no-nonsense handling of players. After the first loss of the season, it seems that Cassidy hasn't changed much. He benched Phil Kessel in an earlier game and has now been brutally honest about his team's performance in Calgary.
But the lack of net-front presence offensively might be more of a prolonged issue. The Golden Knights have talented forwards, but not many who will park themselves in front of the net and create chances. For Vegas to make the postseason after a one-year hiatus, the team will need to find more ways to score, ways that previous teams led by Cassidy were unable to replicate night after night.
The Golden Knights can take advantage of favorable scheduling on Thursday night when they host the Winnipeg Jets. The Jets play Wednesday in Colorado and then travel to Vegas for the second of a back-to-back. You can bet that Bruce Cassidy will be looking for a better effort for 60 minutes and some willingness to do what it takes to score goals. The honeymoon period in Vegas is ending rapidly if it hasn't already. How the Golden Knights respond against Winnipeg will say a lot about how they receive the message from their coach.
The Bruins Preseason has begun! Matthew Poitras, Johnny Beecher, and Mason Lohrei have stood out. Matt Grzelcyk expendable? Can the Bruins be more physical? And much more!DraftKings Sportsbook – Boston's hometown Sportsbook is LIVE right here in Massachusetts! Bet local on all your favorite sports from the comfort of your own home with DraftKings. To celebrate, ALL new customers will receive up to TWO HUNDRED DOLLARS in BONUS bets when you sign up for DraftKings Sportsbook using code ITR! You can now bet local on money lines, spreads, props, and more with one of America's top-rated Sportsbooks – DraftKings Sportsbook!  Download the DraftKings Sportsbook app and sign up with code ITR to get up to TWO HUNDRED DOLLARS in BONUS bets to use now that mobile sports betting is live in Massachusetts. That's code ITR only at DraftKings Sportsbook. If you or a loved one is experiencing problems with gambling, call 800 327-5050 or visit helplineMA.org to speak with a trained specialist, free and confidentially, twenty four seven. 21+. Physically present in MA. Eligibility restrictions apply. Subject to regulatory licensing requirements. Eligibility and deposit restrictions apply. Opt in required. Bonus issued as free bets. Terms at draftkings.com/MA.