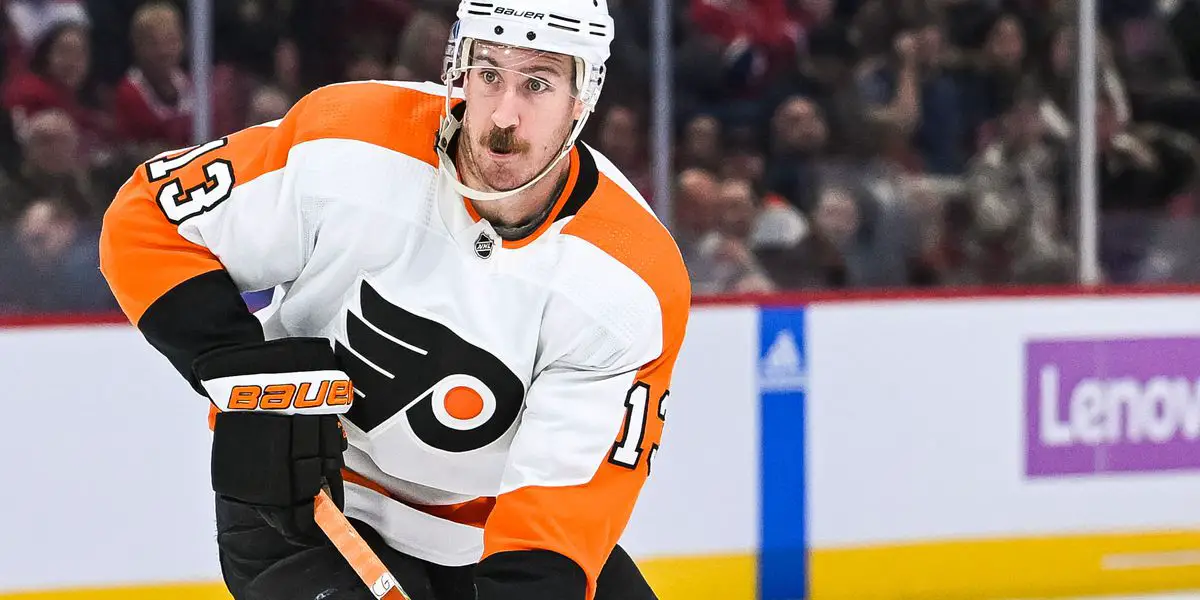 The Philadelphia Flyers have been a really tough team to figure out this season.
Some weeks, they look like the worst team in the league. It is during these weeks when they cannot put the puck in the net, does not play well defensively, and generally lose a lot of hockey games.
In other weeks, the Flyers look like world-beaters. Their best players do what they are supposed to do, they play well on both sides of the puck, and they end up winning more than they lose.
This is why the Flyers are where they are right now in terms of the standings. As of this writing (Monday, January 23), the team is sixth in the Metropolitan Division and seven points out of the second wild-card spot in the Eastern Conference with a 20-21-7 record.
While Flyers forward Travis Konecny has been the team's best player with 49 points, right behind him is forward Kevin Hayes. Hayes has 43 points in 47 games on 15 goals and 28 assists.
Hayes, 30, was great for the Flyers last week. He had five goals, including a hat trick against the Anaheim Ducks on January 17 and an assist for six points in five games.
With that said, this season has not come without struggles for Hayes. He has not played well defensively as he is a +/- – 9 this season and, since signing with the Flyers prior to the 2019-20 season, is a combined -40.
Flyers head coach, the fiery John Tortorella, is big on playing responsibly. Due to Hayes's poor play on the other side of the puck, Tortorella scratched him in a game against the Rangers back in mid-December, and this was after a game in which Tortorella benched Hayes for the third period in a 2-1 win over the New Jersey Devils.
Hayes, as every player should react, expressed his frustration with the scratching and benching to reporters back on December 19.
"I'm never going to say there's a benefit to being benched, I'm sorry," Hayes said. "I don't think I should have been benched, but it's not my decision. He's the coach, I'm a player. He makes the lineup, he wants the best team on the ice to ultimately win. That's what he went with that night.
"You can be benched and everyone writes about being better defensively. I try every night to be the best player I can be. Some nights it goes well for me and some nights it doesn't. I try to be consistent. He felt like I was doing worse for the team than better so he decided not to play me."
Clearly, Hayes was not happy with Tortorella. Despite that, however, he continues to produce for the Flyers, who are doing everything they can to stay relevant in the East.
That said, it might be better for all parties involved if the Flyers traded him at the deadline. There is a disconnect between Tortorella and Hayes, and due to this, that bridge has probably been burned.
On January 9, Anthony Di Marco of The Fourth Period said that the Flyers are open to moving Hayes. While it is going to be hard for the Flyers to move Hayes because of his full $7.142 million salary cap hit, a trade needs to be made.
Eric Duhatschek wrote on January 20 that the Colorado Avalanche might be a good fit for Hayes. Duhatschek also believes that the salary cap issue can be overcome.
In his article at The Fourth Period, Di Marco pointed out a few other teams that are worth looking at in terms of being interested in a player like Hayes.
"Other potential fits could include the Boston Bruins (his hometown), Dallas Stars, and Minnesota Wild, as all could use an upgrade down the middle ahead of the playoffs."
Hayes is having a great season offensively. If he can improve his defense from now until the trade deadline on March 3, there will certainly be teams out there that will be willing to take a chance on him in hopes that he could boost their roster for the Stanley Cup playoffs.
The boys are back after a long break but have plenty to talk about as the playoffs are in full swing. We go series by series, looking at how teams have fared so far and who will come out on top. Thanks for listening! Please rate and review our show on your favorite listening platform. Check out our partner's website at www.insidetherink.com for all your latest hockey news.