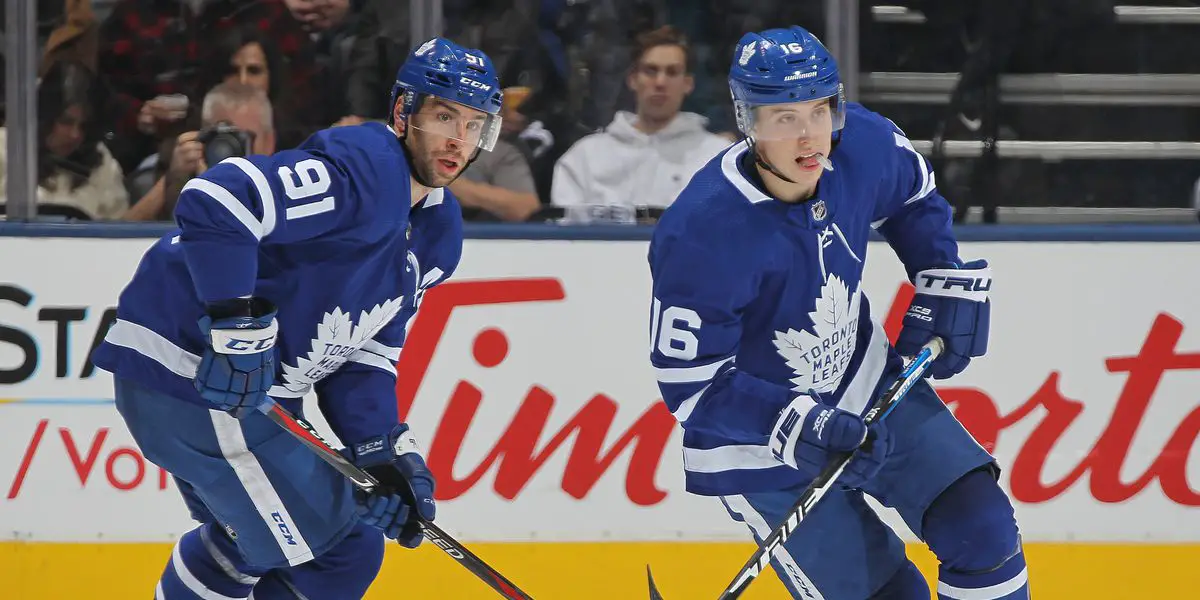 It's been almost a week since the NHL All-Star weekend wrapped up in Florida. Mitch Marner was busy setting an Atlantic Division record of six assists in a single tournament (two games) and eventually walking away with the 2023 Honda NHL All-Star Championship. While his teammates and Leafs Nation are not all that surprised by the star forward crossing off yet another record in the books, we are collectively patiently waiting for the return of Leafs hockey. As we head down the stretch of the last 30 games of the 2022-2023 season, let's press the rewind button for a minute and go back a couple of weeks.
PRE ALL-STARS
On January 28th, 2023, Easter Seals Ontario hosted its 43rd annual "SKATE WITH THE LEAFS" fundraising event. Easter Seals is an organization that provides various types of financial and emotional support for children with disabilities and their families. The organization assists with lifting financial burdens by providing funds for wheelchairs or other important devices. Funds raised for Easter Seals also provide the means for a child with a disability to attend a summer camp that is adapted to their needs. Each registered skater who raises a minimum of $300 can meet some Maple Leaf players. Now, given the tough 6-2 loss to the Ottawa Senators the night before, this was a great way to press the reset button. There were smiles and fun times, and laughs throughout the experience. Enjoyed by participants and players alike. Injured All-Star select Auston Matthews may have had to drop out of All-Star Weekend, but that wasn't going to stop him from seeing young fans' dreams come true. He was having just as much fun as the kids.
Long-time Leafs resident defenceman, Morgan Reilly, signed autographs, posed for selfies with kids, and received some tough inquiries. "When are you going to score?". Much to his surprise, he used these questions to fuel his game forward. Reilly hadn't scored since the 2021-2022 postseason. In the game following the event, which also happened to be Captain John Tavares's 1000th career game, the team put forth an amazing collective performance, where Morgan Reilly scored his first goal of the season in a 5-1 victory over the Washington Capitals.
With January in the books, it's time to open February with a game that every Leafs fan has circled on their calendars, a battle with the Boston Bruins. The Bruins were amid a losing streak, which the blue and white were looking to extend going into the All-Star nine-day hiatus.
It was very slow to get anything going for the Leafs in this game. It was a hard one to watch for the majority of the play. Mitch Marner and Calle Jarnkrok got the Maple Leafs on the board, and Ilya Samsonov kept the team afloat in his longest stretch of starts this season. Samsonov also recorded a point for an assist in this game. Goalies earning points always deserve a salute, no matter the outcome. The Maple Leafs lost 5-2 to end the Bruins losing streak.
THE ALL-STAR WEEKEND/ BREAK
The next morning, the players, having dusted themselves off after the loss, went their own ways to take a break. Some chose a hot, sunny, summery vacation, others opted for a Canadian Winter getaway. Some stayed close to Toronto to spend time playing with neighborhood kids at the MLSE Launchpad, and others chose to stay close by to get some extra work in.
Oh, we can't forget Mitch! From his red carpet style to media interviews, like announcing that the Maple Leafs would be host to NHL ALL-STAR WEEKEND 2024, to mingling with old friends and teammates on and off the ice, to coming home an NHL ALL-STAR CHAMPION, who broke records, I would say it's a time he, nor any of us will ever forget. 
BACK AT IT!!!
But… as they say… the show must go on! The Maple Leafs are now set to face the Columbus Blue Jackets in a back-to-back series of two games Friday and Saturday. This is the first match-up for the clubs this season. The Blue Jackets are on a three-game losing run. The Maple Leafs will duel this weekend without the injured Auston Matthews and Matt Murray. In their place, Forwards Pontus Holmberg, Alex Steeves, and AHL All-Star goaltender Joesph Woll have been called up from the Toronto Marlies. Also, Connor Timmons, a young defenseman who was acquired from Arizona in early December, has extended his contract by two years with the Maple Leafs.
In considering all of this, paired with the idea that most of the team is returning having rested for eight days, I am going to predict that the Maple Leafs come out hard, fast, and relentless. With one win being in overtime, I do predict back-to-back victories.
The Toronto Maple Leafs will finish out the weekend with an outdoor practice that will return to its annual occurrence post covid. The event takes place at Nathan Phillips Square and is a free interactive opportunity for all of Leafs Nation to participate free of charge! Fans will have the chance to meet players, win prizes and watch practice. There are also some very special guests scheduled to appear, so if you are in the GTA or surrounding area, check it out before you head home to watch the SUPERBOWL!
WELCOME BACK TO LEAFS LATE NIGHT! Presented by Inside The RinkRoscoe / Galaxy Biehn – Dubas Out?!?- Remember All The Good Times We Shared- I Don't Love Our Options- Matthews Next Deal?- Keefe's Fate- AI MascotsSPORTS! IS FUNMERCH IS AVAILABLE!JOIN OUR DISCORD!Remember to follow us on Twitter @LeafsLateNight & IG @LeafsLateNightCheck out Mike, Josh, and Nathan's articles on the Leafs + many more! insidetherink.com