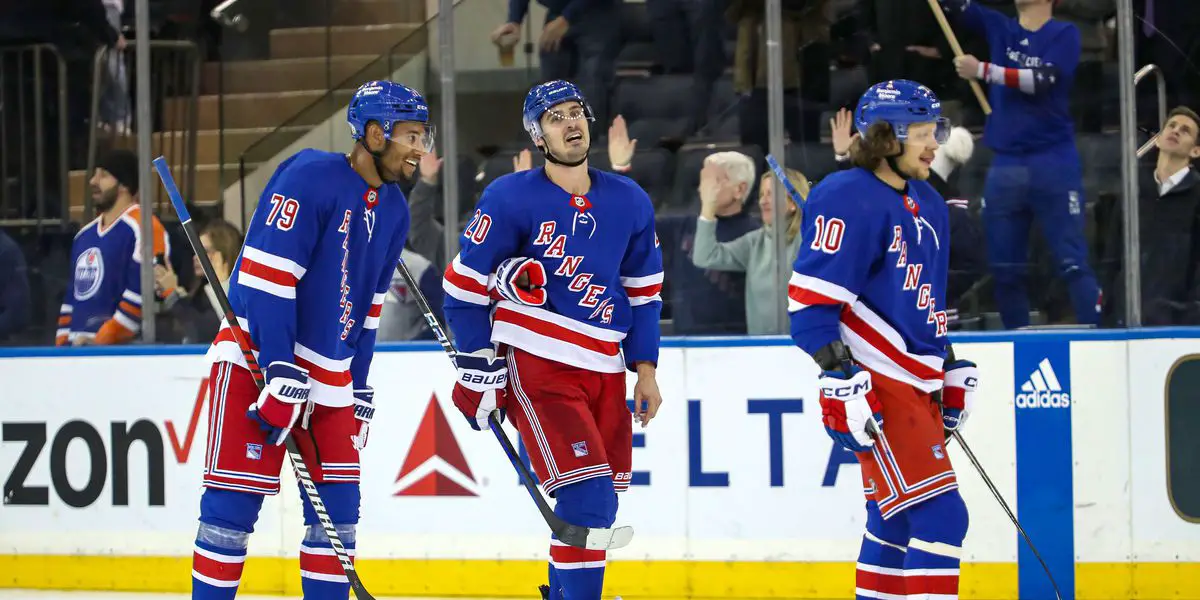 Well, they can't all be Picassos. Coming off a scintillating game against the Calgary Flames, the NY Rangers put forth a lackluster performance that was just enough to beat the Vancouver Canucks 4-3. There were some continued positive developments, so let's break down the good, the bad, and everything in between.
THAT'S GOOD
K'ANDRE MILLER
The trajectory for K'Andre's season mimics last year's path, which is beautiful. Perhaps a slower evolution than we all hoped to come off last year's campaign, but Miller has again turned into the all-around player we remember with a significant impact over the previous twenty-five games. He had three assists last night (and should have had a fourth) and was all over the ice on both ends. There are numerous factors for the Rangers' resurgence, but his name is right at the top of the list.
FIL AND THE KIDS
Chytil with another goal last night and should have an evergreen place in the Good section if this keeps up. However, it's worth pointing out his linemates that have continued to justify keeping this line together.
Lafreniere gets the benefit of being in the right place at the right time with a tip-in goal off a Trouba snipe, and that's in addition to his spirited play. Kaapo Kakko missed a crucial open net in the third period but again flashed his prowess battling on the boards when he won a puck battle in the second period that led to Chytil's goal.  
There's still some rawness to their union, but there's no denying the energy and spark the team gets whenever they hit the ice. If this type of production continues, it could lift this team to a different stratosphere.
THAT'S BAD
LAPSES
I'll summarize the bad into this one category. First, this game should never have been as nerve-wracking as it became. The Rangers never trailed, but at the same time, every time they secured what seemed like a solid lead, they would have an inexcusable lapse to let Vancouver hang around.
Name your lapse. It could be letting Quinn Hughes skate in the zone untouched with four Rangers surrounding him like some sort of blue forcefield and getting off the pass for the first goal. Lindgren with an awful turnover that led to the second goal. Or, even more inexplicably, letting the Canucks score eleven seconds after what should have been a comfortable 4-2 lead.
If it was just last night, you write it off. However, if there's one major flaw with this team, it's that their lapses ALWAYS seem to end up in the back of the net. We thankfully have found more of our offensive game, but we need to clean these up before the playoffs, where every goal is at a premium.
CAN I GO NOW?
Jacob Trouba had a very nice game with two assists. We all focus (and rightfully so) on his impactful hits, but last year we also got the offensive force we expected when we got him from Winnipeg. That hasn't happened enough this year, so it's encouraging when he contributes like this.
Great to see Mika stay hot with a beautiful deflection for his 25th goal.
Do the Rangers lead the league in "friendly fire" collisions that get us hurt? Thankfully Kreider came back after getting run into by Trocheck, but I'm still holding my breath that it's something that doesn't linger when he wakes up this morning.
To be fair, Trocheck and Kreider had a connection that didn't involve bodily carnage when they hooked up on the first goal. Trocheck beautifully lulled Spencer Martin to sleep before making a perfect pass to a streaking CK for the goal.
The best save of the night was by Jaroslav Halak. He just happened to be on the bench. Igor fired a puck wildly off the mark, and thankfully, Jaro had his glove with him like an embarrassing adult at a baseball game that's way too old to be wearing one. In this case, it worked out.
I thought Jimmy Vesey had another engaged game, but he is just snakebit at the moment. He's been robbed or had bad luck for the last few games. Have to love the effort, though.
The next game is Friday night against the Seattle Kraken before a back-to-back against Carolina the day after.
In this weeks episode we have on Rangers beat writer Colin Stephenson to discuss Training camp/preseason, Laviolette, players coming back and more.Thanks for listening! Please rate and review our show on your favorite listening platform. Check out our partner's website at www.insidetherink.com for all your latest hockey news.