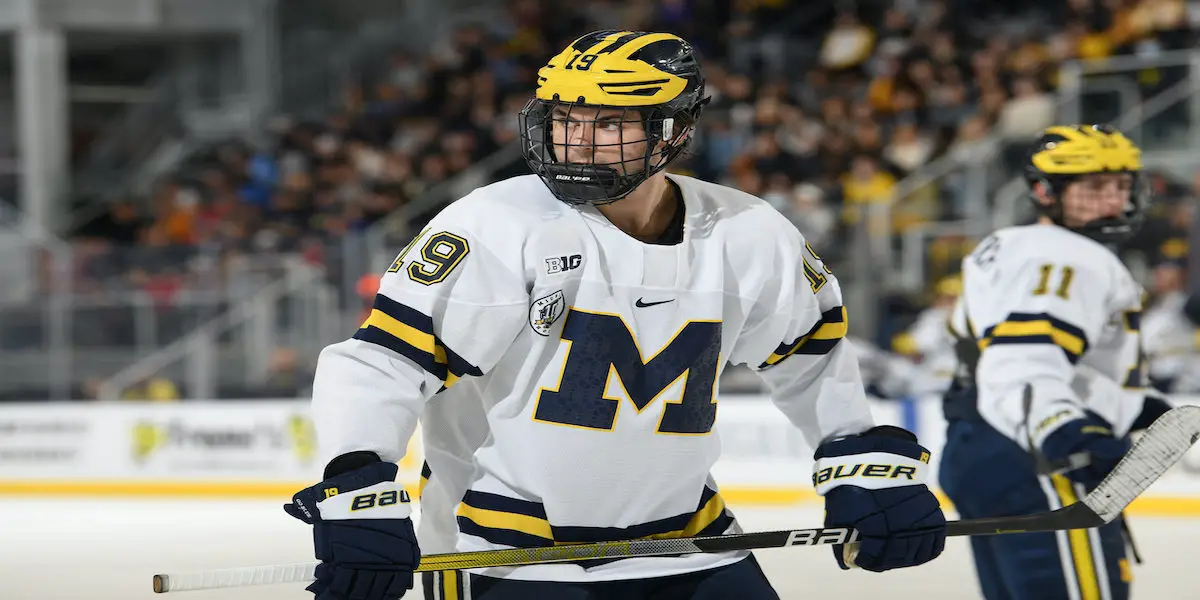 The Michigan Wolverines have been a dominant force in college hockey for a long time, and with that, they have produced some big names in the NHL. The University of Michigan has produced NHL stars Dylan Larkin (Red Wings), Andrew Copp (Red Wings), Quinn Hughes (Canucks), Matty Beniers (Kraken), Luke Glendening (Stars), Nick Blankenburg (Blue Jackets), Andrew Cogliano (Avalanche), Kyle Connor (Jets), JT Compher (Avalanche), and Thomas Bordeleau (Sharks). There's plenty more where that came from; also, that was just to name a few. Another batch of Michigan superstars is coming to the NHL, and among them is 6-foot-2, 18-year-old center Adam Fantilli. The young freshman center played a big role in the Wolverines' success this season, scoring 30 goals and collecting 35 assists for a total of 65 points in 36 games played. Ultimately, his Wolverines lost to Quinnipiac 5-2 in the Frozen Four. However, Fantilli didn't leave Tampa Bay empty-handed. Adam Fantilli was awarded the Hobey Baker Award, college hockey's top individual prize. Adam Fantilli is not only destined for the NHL, but he's also expected to be the 2nd choice of the draft. The Red Wings probably won't be picking there, but I believe that Steve Yzerman should, and will, trade up if he needs to to land Fantilli.
What makes Fantilli a perfect fit for the Red Wings
There are a few reasons why I believe Fantilli would be a perfect fit. First of all, keeping him home… He isn't any stranger to playing in Michigan, and he even visited Little Caesars to watch a Red Wings game earlier this year. Fantilli plays with an edge and is very aggressive, which I think fits what the Red Wings need. They lost their hard-nosed forward at the trade deadline this season when they traded Tyler Bertuzzi to the Boston Bruins. When Fantilli arrives in Detroit, if they can draft him, they will get the same type of aggression from him as they did Bertuzzi. Another reason I think he'd be a good fit is the fact the Red Wings are building a fantastic core of young offensive players who have the potential to star in the NHL.
Marco Kasper has already made his NHL debut, and he is only 18 years old. Even though he was playing with a broken kneecap, Kasper looked great in his debut. Another up & coming center is Amadeus "Ammo" Lombardi, who, as a 19-year-old, is absolutely dominating in the OHL as a Flint Firebird. Lombardi's Firebirds will be playing against their biggest rivals on Monday night when they take on the Saginaw Spirit in game seven of the opening round of the OHL playoffs. Carter Mazur is on the rise as a prospect; he was the Red Wings' 70th overall pick in the 2021 NHL draft. I think by now you get my point… Adding Adam Fantilli to this young offensive core would make the Red Wings far more dangerous in the upcoming years. They already have the pieces in place to have a strong defense; they must continue adding to their offense. Dylan Larkin, the Wings captain, got a big contract extension this season. Lucas Raymond is undoubtedly a big part of the future. Steve Yzerman is building a great squad, even though it's taken quite a bit of time. I think this off-season Yzerman and the Red Wings front office should look at this team as competitors, not saying Stanley Cup competitors, but at least competitive enough to make the postseason. If they decide to be in win-now mode this off-season, I don't see anything stopping them from moving up and getting the best guy
behind Bedard.
The boys are back after a long break but have plenty to talk about as the playoffs are in full swing. We go series by series, looking at how teams have fared so far and who will come out on top. Thanks for listening! Please rate and review our show on your favorite listening platform. Check out our partner's website at www.insidetherink.com for all your latest hockey news.