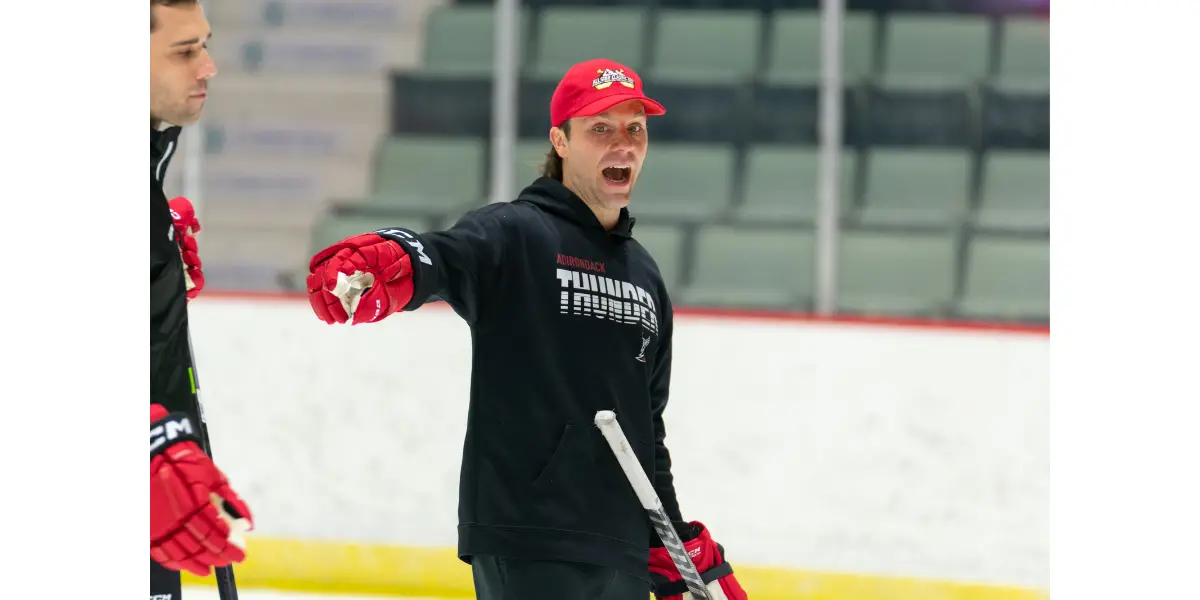 The 2022-23 season officially kicked off on Monday as the Adirondack Thunder opened up training camp at the Cool Insuring Arena. Adirondack invited 27 players to camp, consisting of 13 forwards, ten defensemen, and four goaltenders. Head Coach Pete MacArthur is still working on the transition from player to coach, "I was joking with a couple of guys that I left my house with my bag and a couple of sticks in my hand, so somewhere about halfway up the highway," said MacArthur when asked when he realized the transition from player to coach.
This is a big year for Adirondack as they finished dead last in the ECHL last season and now have a new head coach and captain. Forward Shawn Weller talked about how much this means to the city of Glens Falls. When asked if he's excited for the season to start after knowing how last season finished, Weller said, "Ya, for sure, we talked about it yesterday in the meeting, there are 27 teams in the league. We finished 27th it's not very good you can only go up from there, disappointing not what we want for the fans; I'm from the area it's a lot of hard-working people who care. If you're not gonna win games; at least put a good product on the ice and work hard and be competitive, but I don't think that's gonna be the issue with this group we're gonna win a lot of games". Shane Harper, the new captain mentioned how this is new territory for him, "It means a lot, I've never been captain on a team before just assistant, pretty big deal for me now that I'm living here and it's nice to share with friends and family" said Harper.
Defense Is The Name of the Game in Adirondack
During interviews after the first day of training camp, there was one thing that was harped on consistently, and that was the defense had to be a lot better than last year. There's no question they did their part in the off-season as they added Jeff Taylor, Ryan DaSilva, Cory Dennis, and Daniel Maggio to the blue line. Taylor comes from nearby Clifton Park, NY, the same town as MacArthur, "It's fantastic; it's a great opportunity for me to play in basically my hometown. I got my family here, I know Pete from growing up in the same town, and the opportunity was perfect" said Taylor. They also brought back Ivan Chukarov, Jake Ryczek, and Rourke Russell. "Defending, we didn't defend well as a team, and we left our goalies out to dry a whole heck of a lot, and that was an emphasis this summer, you're going to see a different defensive structure this year," said MacArthur when asked about what he was going supplement the good offense with.
One name on the training camp roster that will catch a lot of eyes is Filip Bratt, younger brother of New Jersey Devils forward Jesper Bratt, "It's fun, he's doing his journey, I'm doing mine, we are different players, but I look up to him every day, and he's my idol, and I'm doing my journey here, and I'm going to do everything I can for this team to be successful and myself" said Bratt. He also said he mentioned that he hasn't had an issue with the North American ice after playing in Sweden last year, "I like it here, it's smaller, it's quicker, I think it's good for my game, it's a little bit of an adjustment, but I think it's going to fit my game well.
Four New Invites to Camp
The Adirondack Thunder invited four players to camp aside from the players they signed this offseason and players that got sent down from Utica. Those four plays are forwards Rex Moe and Matthew Barron, defencemen Jaret Kup, and goaltender Hank Johnson.
Hank Johnson– The 26-year-old goaltender spent last season at Mercyhurst University, where he put up a record of 4-6-2 with a 4.70 GAA and .872 save percentage in 13 games. He also spent three games in the SPHL with the Macon Mayhem of the SPHL, where he went 1-2 with a 3.03 GAA with a .911 save percentage. Adirondack opened camp with two goaltenders who are on AHL deals and Jake Theut, who is on an ECHL contract. As Thunder fans know, it never hurts to have too many goalies.
Jaret Kup- The Adirondack Thunder have re-vamped their blue line, and Jarret Kup is another name they are looking at. Kup has spent five seasons in the SPHL, spending time with the Macon Mayhem and Fayetteville Marksmen. In those five seasons, he's appeared in 168 games, putting up 14 goals and 56 assists.
Tyler Barrow– The 24-year-old forward is coming off a solid senior year at Wilkes University, where he put up 15 goals and 25 assists for 40 points in 24 games and would spend three games with the Marksmen putting up a goal throughout those three games. There's a lot to like about Barrow especially seeing his numbers from last year. The Thunder have a lot of goal-scorers, and hopefully, Barrow can add to the mix.
Rex Moe– The 23-year-old from Adrian College fits the kind of players Adirondack has been signing this offseason, and that's big forwards, and Moe stands at 6'4, 216lbs. He spent a little over three years at Adrian College, putting up 45 goals and 39 assists in 91 games. In his last two years with the Bulldogs, he put up 31 goals and 30 assists for 61 points in 54 games.
The boys are back after a long break but have plenty to talk about as the playoffs are in full swing. We go series by series, looking at how teams have fared so far and who will come out on top. Thanks for listening! Please rate and review our show on your favorite listening platform. Check out our partner's website at www.insidetherink.com for all your latest hockey news.