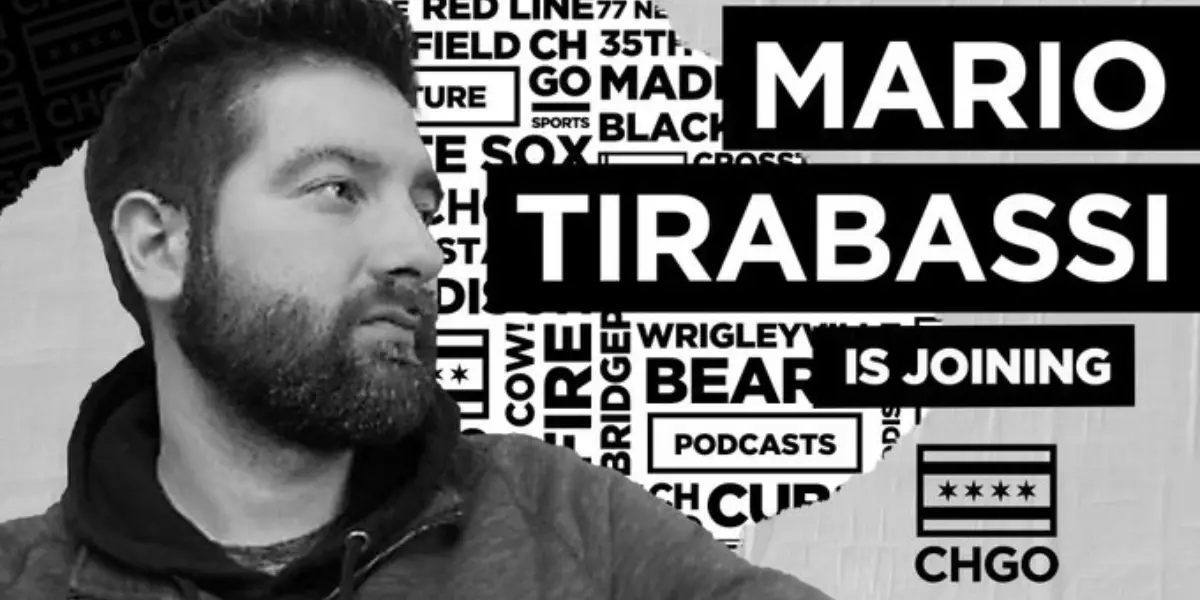 There is a lot of excitement going into this year's NHL campaign, not just because hockey is back, but because of the players that we all get to watch and follow all season long.
One of those players is Chicago Blackhawks rookie Connor Bedard. After being an absolute MONSTER in junior hockey, Bedard has a chance to become one of the great ones in the NHL.
I figured now would be as good a time as any to talk to a Blackhawks writer/personality who will be covering him this season. This person is the great Mario Tirabassi of CHGO.
Related Article: Blackhawks Prospect Samuel Savoie Suffers Injury Against Wild
While Mario was kind enough to share his thoughts on both Bedard and the rest of the Blackhawks squad going into the season, he also spent some time telling us about how he got into hockey, how he became a Blackhawks fan, how he got into hockey media, and much more.
I hope you enjoy this!
PH: Growing up, how did you get into hockey?
MT: I got into hockey later in life, when I was about nine years old. I wanted to play on an organized team, but by the time I learned how to skate, everyone else on the team was way ahead of me, so I decided it was not as fun being the very clear worst player on the team.

From there, I grew to like the game through watching on TV, playing the EA NHL video games, and watching my cousin play at Notre Dame and get drafted into the NHL.
PH: How did you become a Chicago Blackhawks fan? Who were/are some of your favorite players?
MT: I became a Blackhawks fan back when they were not on TV, but because I grew up in Wisconsin, they were the closest team to me in proximity, so I figured they would be fun to follow. Thankfully, I stuck it out through the mid-2000s.
Some of my favorite players back when I first started watching hockey were guys like Paul Kariya, Martin St. Louis, and Joe Sakic. I loved guys who were on the smaller side, being a short-king myself.
My favorite players to watch now are Cale Makar, Connor McDavid, Cole Caufield, and, of course, Connor Bedard.
PH: At what point in your life did you realize that you wanted to get involved in sports media?
MT: My senior year in high school, when I took a hard look at what I wanted to do with my life, I knew I wanted to be involved in sports in some fashion. Writing and talking about sports was what I was best at and still is what I am really only qualified to do.
Through college, I was able to continue writing and work for my school's radio station and TV station. Doing those things only grew my desire to make a career in sports broadcasting and media work.
PH: Prior to joining CHGO, what outlets did you cover the Blackhawks for?
MT: Along The Boards, Pucks and Recreation, BlackhawkUp, Second City Hockey, The-Rink, Bleacher Nation.
PH: Tell us about how you got the gig at CHGO.
MT: I was working as the leader of the Blackhawks coverage for Bleacher Nation when I was approached by the higher-ups at the ALLCITY Network about the opportunity to make the jump to working with CHGO on the Blackhawks coverage team. After talking it over, I felt the chance to join something new and promising was a big opportunity that I did not want to pass up.
When I learned who was also joining CHGO at the time across all of the teams we cover, I was even more sure about making the jump because of the caliber and quality of who was joining the team.
PH: How is CHGO different from any other outlet you have covered the Blackhawks for?
MT: I feel like CHGO is different in that I am in a position to have access to the team directly, being able to attend practices games, and have access to talk with coaches and players, but I am still able to be a total fan of the Blackhawks. It has taken time and discipline to not be a complete meatball Blackhawks fan in those settings like I would have been a decade ago, but CHGO is different in our approach as it bridges the gap between the teams we all love and the fan communities we are all a part of.
PH: What do you try to bring readers/listeners on a daily basis?
MT: Engaging, informative, entertaining coverage of the Blackhawks that, if I was not a member of the diehard Blackhawks fanbase, I would want to hear and would reel me into becoming a fan of the team.
PH: What are your thoughts on the team heading into the season?
MT: Connor Bedard changed a lot of the expectations the Blackhawks were going to face in the 2023-24 season. They will still fall short of the playoffs and likely pick in the top ten of the draft, but they are going to surprise a lot of teams this season, not just because of Bedard, though he will be the biggest reason.
They will also surprise a lot of teams this season because of Luke Richardson's coaching style and system, as well as what I think across the board, the Blackhawks have a better 18/23-man roster this year than they did last season.
PH: What are your expectations for Bedard this season?
MT: Rational: 30-ish goals, 70-ish points
Irrational: 45-ish goals, 100-ish points
PH: Is there anything else you would like to share with us hockey fans?
MT: HOP ON THE RIDE!