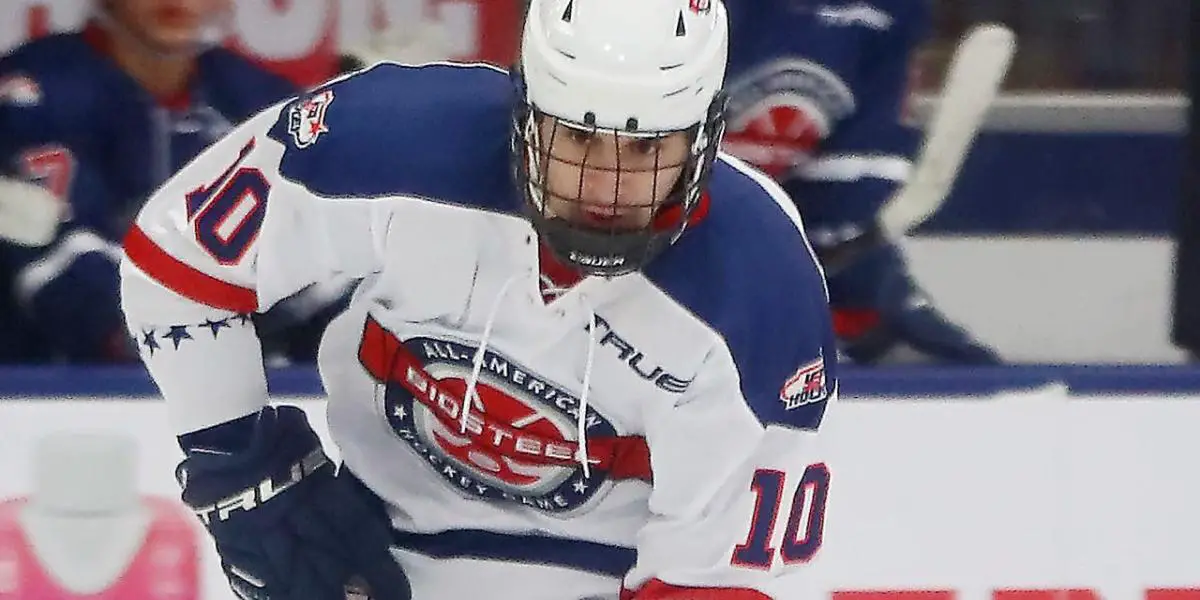 The hottest team in the National Hockey has a veteran team that is seemingly taken one last shot at a Stanley Cup. Patrice Bergeron and David Krejci could be playing their final games in Boston this season. The status of unrestricted free agent David Pastrnak is up in the air. The Boston Bruins will need to develop some young talent to fill any voids left by the departures of their current core. Only one draft pick the Bruins have made since 2018 has scored an NHL goal (Jakub Lauko). Many of those picks are still toiling in amateur hockey. The 2022 NHL Draft saw the Bruins select six players. Here is an update on all six:
Second-round pick (54th overall) Matt Poitras (Center)
The 5-foot-11, 170-pound center is having a great start to the season offensively for the Guelph Storm of the Ontario Hockey League. Poitras has 6 goals and 20 assists in 21 games and is showing the skilled playmaking ability that Boston found attractive in the Brooklin, Ontario, native before the NHL Draft. The scrappy forward has also shown a bit of an edge with two different slew footing penalties this year that caused a suspension. Poitras is currently unsigned.
Fourth-round pick (117th overall) Cole Spicer (Center)
The 5-foot-10, 180-pound center is offensively off to a slow start at Minnesota-Duluth University. The Grand Forks, North Dakota native has just one goal and two assists in 15 games for the Bulldogs. The pre-draft scout on Spicer described the left-shot forward as hard-working and potential to be a middle-six forward in the NHL. The 18-year-old is still getting acclimated to the college game as a freshman after totaling 39 points in 58 games for the United States U-18 National team last season.
Fourth-round pick (119th overall) Dans Locmelis (Center)
Obviously, the Bruins went heavy at the center position in the draft, with Patrice Bergeron and David Krejci nearing the end of their brilliant careers. Locmelis was chosen just two picks after Spicer and is playing another season for Lulea HF in the Swedish Junior League. The 5-foot-10, 155-pound forward has been terrific so far, with 11 goals and 18 assists in 24 games after totaling 34 points last season. Locmelis played for the U-20 Latvian team in the World Junior Championships last season as well. The Jelgava, Latvia native has a shoot-first mentality and potential to play in the NHL, with his slender size being an obstacle. Locmelis will turn 19 in January and plans to play college hockey next season at either UMass-Amherst or Northern Michigan University.
Fifth-round pick (132nd overall) Frederic Brunet (Defenseman)
Brunet is an intriguing pick with an excellent offensive skill set for a defenseman. Currently playing for Rimouski Oceanic of the Quebec Major Junior Hockey League, Brunet is showing is producing at an impressive rate with 3 goals and 21 assists in 27 games. The 6-foot-3, 190-pound blue liner totaled 46 points last season in 63 games. The 19-year-old is described as a smooth puck-moving defenseman with a good frame who will fill out. The Gatineau, Quebec native is still a work in progress defensively but has made big strides in the last year. Keep an eye on Brunet, who could be a late-bloomer type of defenseman who surprises people in the coming years.
Sixth-round pick (183rd overall) Reid Dyck (Goaltender)
The 6-foot-4, 190-pound goaltender is in his third season with the Swift Current Broncos of the Western Hockey League and is improving. Dyck was drafted based on his athleticism and potential to be a late-round steal if he continues to learn the position. The Winkler, Manitoba native has a knack for spectacular saves but needs to work on consistency. The numbers are not impressive (3-8-0 with a 3.77 goals against average and a .889 save percentage), but they are slightly better than the past two seasons. Dyck is a long shot to play pro hockey but has some of the tools that intrigued the Bruins enough to draft him.
Seventh-round pick (200th overall) Jackson Edward (Defenseman)
The left-shot defenseman is in his second season with the London Knights of the Ontario Hockey League and is already showing massive improvement from last season. The Newmarket, Ontario native has 3 goals and 13 assists in 24 games after totaling just 6 points in 54 games last year. Edward is 6-foot-3 and 191 pounds and has the frame to be a big, physical defenseman who is not afraid to play physically and idolized Zdeno Chara as a youngster. Edward is a Bruins-type of player who could endear himself to Bruins' fans with his willingness to hit and fight. But now it seems that Edward is developing some offensive skill as well and turns just 19 years old in February.
Season 2. Episode 38. Special Guest Terrence Wallin
–
Bruins Benders Podcast
Maine Mariners Coach Terrence Wallin makes a return visit to recap the season. Should the Bruins make room for Tyler Bertuzzi? Will the Bruins move some core pieces? I guess there is more time for golf and more!