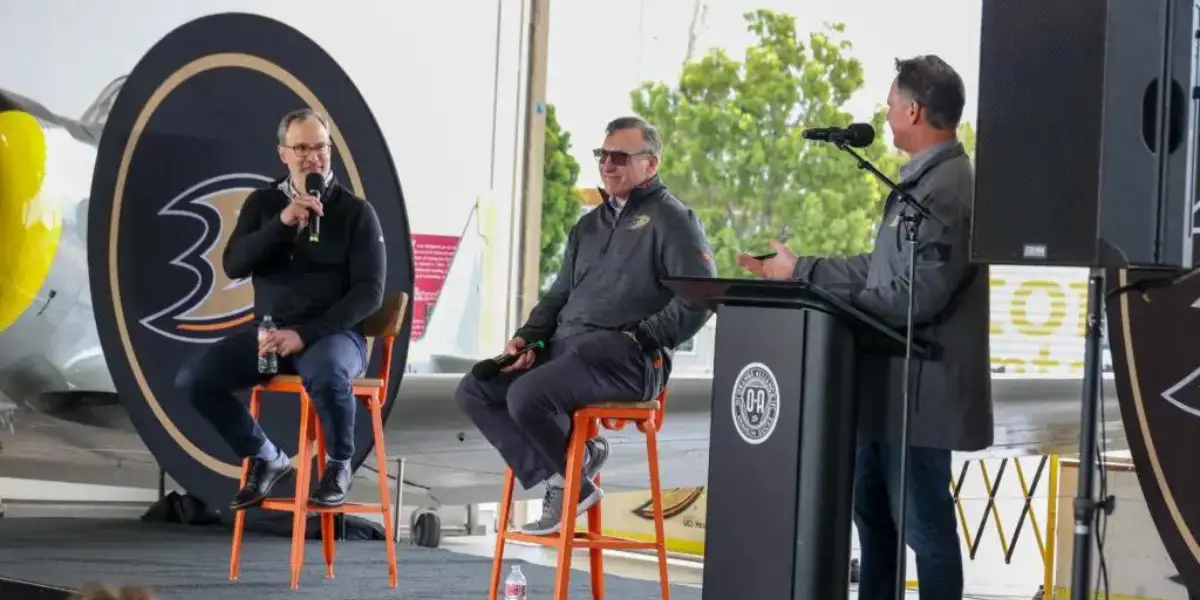 As the final horn sounded at the end of Thursday night's finale against the Kings, I sat on my couch and breathed a sigh of relief. They had done it; The Anaheim Ducks' season had finally reached its conclusion, and the mission had been accomplished. Thursday night's loss and some other external factors officially locked Anaheim into 32nd place in the NHL. With that, Anaheim now holds the best odds for drawing first overall in May 8th's Draft Lottery at twenty-five percent. While the shiny prize of this year's draft class isn't a guarantee, holding the best odds going into the lottery is something we Ducks fans have been wishing for since the season began.
At the time of this article being written, General Manager Pat Verbeek has wasted no time and has already begun his offseason work this Friday morning. The club announced that head coach Dallas Eakins would not be returning and thanked the coach for his efforts with both the big club and as the first head coach of the San Diego Gulls after their return to San Diego. The decision to let Eakins go was a long time coming to be quite frank. Verbeek's insistence on giving Dallas a fair shake at things this year is commendable for sure, but it was an indication that this was a challenge for Eakins to prove he was the man for the job going forward. At the end of the day, things were very much the same for the Eakins-led Ducks this season, making today's news of his dismissal the least bit shocking. So why is this important? Firings like this happen all the time once the regular season is over.
The Road Ahead and Its Significance
Pat Verbeek spoke with local reporters this afternoon about the season and how he plans to fill the new vacancy in the months leading up to the draft in late June. Ideally, Verbeek would like to make a hire between now and June 28th, when Round One of the NHL Draft kicks off in Nashville. His comments can be found here, cut down for brevity, via the Ducks Twitter account.
From a fan's perspective, I am elated to hear that the work isn't done despite the team's season being over. The offseason is not a full twenty-four hours old, and our fan base has been prepared for busy days ahead. Transparency goes a long way when your team is rebuilding.
My thoughts and opinions on how things have been handled during The Verbuild are not going to be shared by everyone. That's okay, that's the nature of sports fandom. We all are different. Personally, management being open and honest makes stomaching seasons like this one easier, regardless of how awful it was. I'd rather know that being historically bad in almost every facet as a team isn't going to fly going forward. I'd rather be told that the issues are being addressed instead of sitting around all offseason in a sea of buzzwords and cliches. Look what blunt honesty has done for franchises like the Rangers and Kings. Both teams saw some really rough days after being contenders for years, and in Los Angeles' case, after reaching the top of the mountain and hoisting the Cup. But having that accountability laid out on the table really paid dividends in the end. It's made becoming playoff regulars again all the more sweeter because it rewarded their respective fanbases for their patience and understanding. Sure, for every success story like Los Angeles and New York, you have your Buffalo Sabres and Ottawa Senators, who never seem to quite turn the corner enough to get out of No Man's Land. There's not a cookie-cutter, "perfect rebuild" guide out there that's going to magically fix every problem for every team that has to admit it's time for a rebuild. That's how rebuilding is sometimes, and it's the reason they suck.
The Times Ahead
For the sake of not rambling much further here, I'll wrap things up with some last thoughts. While I could be looking at all of this with rose-colored glasses, I have this unwavering feeling of hope that honestly feels weird after watching my team lose their last thirteen games. Could it be that euphoric high of knowing that June 28th can alter the course of my favorite team's history? Yeah, most likely, but who wouldn't be excited for that? In all seriousness, The fact that there seems to be some semblance of a plan moving forward is a net positive at the end of the day, regardless of how favorably the ping pong balls may reward us on May 8th. I'm hopeful that this summer will be no different, and the execution we've seen so far with The Verbuild continues to light the way for a bright, promising future. It's cliche to say, but sometimes you have to just trust the process.
On this impromptu episode of LAP, the guys talk about Pat Verbeek finding his guy in Greg Cronin. They cover some of the ideology and culture Cronin brings to the table with his 36 years of experience as a coach. They also continue to give Pat Verbeek the praise he deserves and finish things with listener questions!Follow Late Arrivals Twitter: @latearrivalspodInstagram: @latearrivalspodFollow the hostsChris: @CJKChelConnor: @91_PlutyJake: @_JRobles71Louis: @Louiex37 Intro/ Outro done by Will Rice/ @pastorwillrice