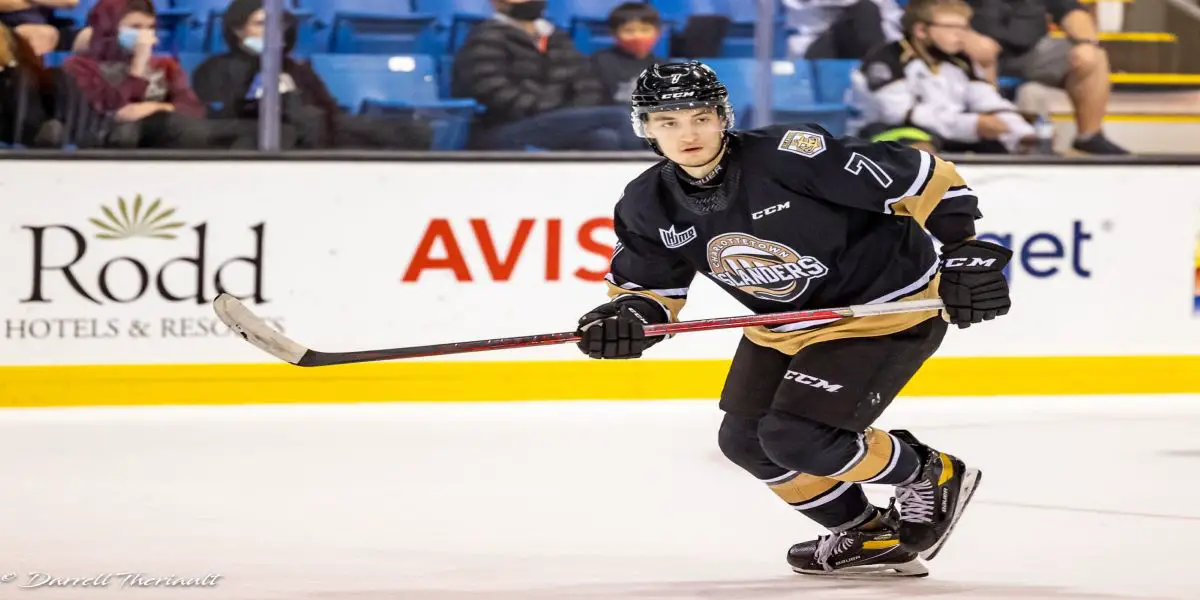 A prospect of the Detroit Red Wings has been traded for the second time in less than a week. On Tuesday, defense prospect Oscar Plandowski was traded by Charlottetown to Drummondville (QMJHL).
The Red Wings drafted Plandowski in the 5th round, 155th overall, in the 2021 NHL Entry Draft. At the time of his selection, Detroit's general manager described Plandowski as a "right-shot defenseman who is a very good skater with a good shot."
The Trade
Oscar Plandowski was trade by Charlottetown Islanders to the Drummondville Voltigeurs. Drummondville lost 3-1 in the first round of the QMJHL playoffs against Blainville-Boisbriand, Armada. In the deal, Charlottetown receives Drummondville's 2nd round pick in 2022 and 4th round pick in 2024.
Plandowski was a 1st Round PIck in the QMJHL Draft in 2019
Plandowski was originally drafted in the 1st round of the 2019 QMJHL draft by Chicoutimi. Before his first game in the QMJHL, Plandowski was traded to Charlottetown for a 1st round pick in 2020, and a 2nd round pick in 2022.
In his rookie season, Plandowski played 60 games for the Islanders, chipping in with 12 assists, and had a -21 rating. Plandowski played for Canada White in the WHC-17 tournament, picking up four assists in six games.
In the pandemic-shortened 2020-2021 season, Plandowski played 39 regular-season games, scoring five goals, 12 assists, 17 points, and a +22 rating. In nine playoff games, Plandowski scored one goal, one assist, two points, and had a -3 rating.
This year, Plandowski continued to play for the powerful Islanders, who lost out in the league finals 4-1 to Shawinigan. Plandowski played 64 regular-season games, scoring four goals, 13 assists, 17 points, and had a +12 rating. In 15 playoff games, Plandowski scored one goal and had a +3 rating.
The trade to Drummondville will allow Plandowski to play top-pairing minutes on defense for the Volts. His offensive production should increase with this role.
NHL Rights
The Red Wings own Plandowski's rights until June 2023. He will have to have an excellent year if he wants to avoid becoming a free agent next summer. If Plandowski does sign an entry-level contract with Detroit, he will likely play in the AHL with Grand Rapids in 2023-2024.
In this episode, we recap the World Championships, highlighting Kubalik, Seider, Mazur. Next, we take a long look at the 2023 first round and which players will be available at 9th and 17th.