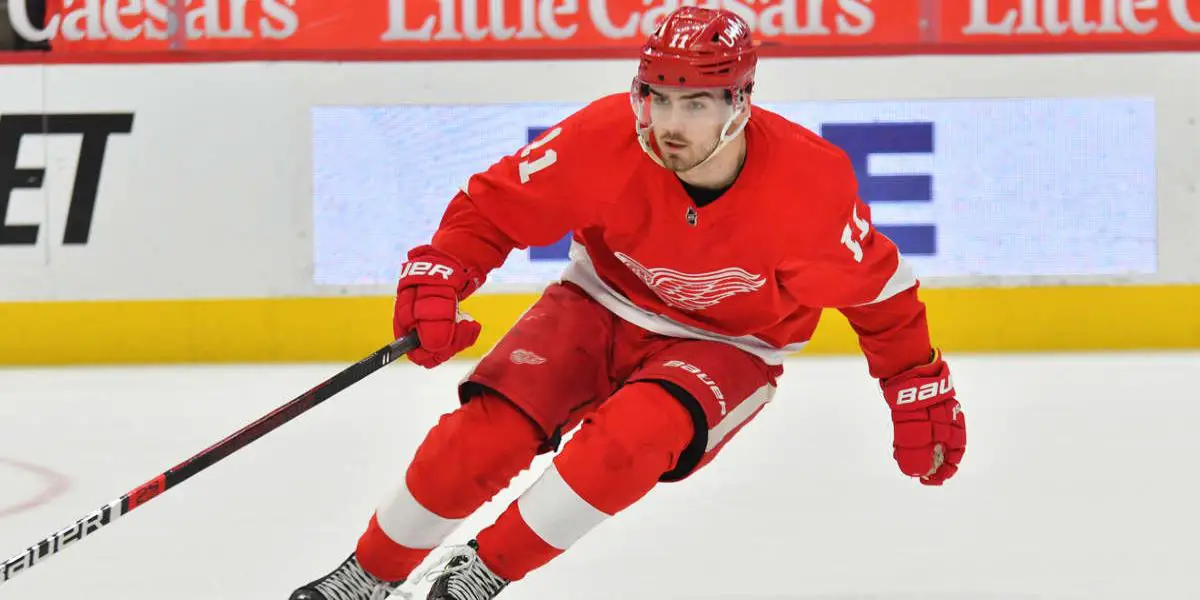 With the conclusion of the regular season, Filip Zadina is now a restricted free agent (RFA). Detroit General Manager Steve Yzerman will now have to decide if he will trade Zadina or sign him to a contract extension.
At this juncture, trading Zadina will likely not be an option. Zadina has only scored 25 goals and 61 points in 160 regular-season games. Zadina just finished his three-year entry-level contract. This past season, Zadina had a cap hit of $894,167. What would Zadina's new contract extension look like?
Compairing the contract extensions of 2018 Ist Round Draft Picks
Zadina was picked 6th overall in the 2018 draft. From his draft year, Zadina is currently 9th in scoring. Zadina is 6th among his peer draft class out of all the forwards.
Andrei Svechnikov is the highest-scoring player from the 2018 draft. In 282 games, Svechnikov has scored 209 points. Before this past season, Svechnikov signed an eight-year extension with Carolina that carries an annual cap hit of $7.75M.
New Jersey forward Yegor Sharangovich was selected in the 5th round, with pick #141. He is the top-scoring player drafted outside of the 1st round. In 130 NHL regular-season games, Sharangovich has almost identical statistics as Zadina. Sharangovich has scored 40 goals, 36 assists, and 76 points. Sharangovich just finished the first year of his post-entry-level extension. Sharangovich signed a two-year bridge deal worth $2M annually.
What should Red Wings fans expect?
Comparing Zadina to the rest of his draft class, he is actually playing better and scoring more than most of his peers. At this point in his career, Zadina has been outscored by forwards Svechnikov, Brady Tkachuk, Joel Farabee, Jesperi Kotkaniemi, and Sharangovich. He has even been outscored by defensemen Rasmus Dahlin and Noah Dobson. The remainder of the 2018 draft picks remain behind Zadina.
More was expected out of Zadina because he was such a high goal scorer when he played in the high-scoring QMJHL. Maybe the expectations were too high, and Red Wings fans should have been more patient. Some players take longer to excel in the world's greatest league. Some 1st rounders never score at the levels that they achieved in junior.
Contract Extension is Likely
There is no doubt that Yzerman is being patient with Zadina. Even though he has been given opportunities on the second power-play unit, Zadina and the second unit have been primarily held off the scoresheet more often than not.
Zadina will likely sign a short-term bridge extension with Detroit at this point in his career. If they sign him for one or two years, he will still be an RFA at the end of his contract. At that point, Red Wings management will have a better idea of their type of player. This option will be similar to what Tyler Bertuzzi signed when his entry-level deal expired after the 2017 season. Bertuzzi signed a two-year bridge deal for $1.4M annually.
Zadina will most likely also sign a deal in the $1.5-2.0M range. This will give both the player and the Red Wings a chance to work out a longer-term deal similar to what Bertuzzi received after his entry-level contract expired.
Final Thoughts
I still believe that Filip Zadina can be an important part of the Red Wings future. At this point in his career, Zadina is a middle-six winger who can chip in with the odd goal and possibly be a 15-20 goal scorer. With the right mix of players, Zadina has the skill-set to be even more productive.
With a change in the coaching staff and a new philosophy, maybe this is exactly what the younger players on the Red Wings were looking for. It should be exciting to see young players like Lucas Raymond, Joe Veleno, Jonatan Berggren, and Zadina hopefully flourish with a new voice behind the bench.
Please rate and review our show on your favorite listening platform. Check out our partner's website at www.insidetherink.com for all your latest hockey news.