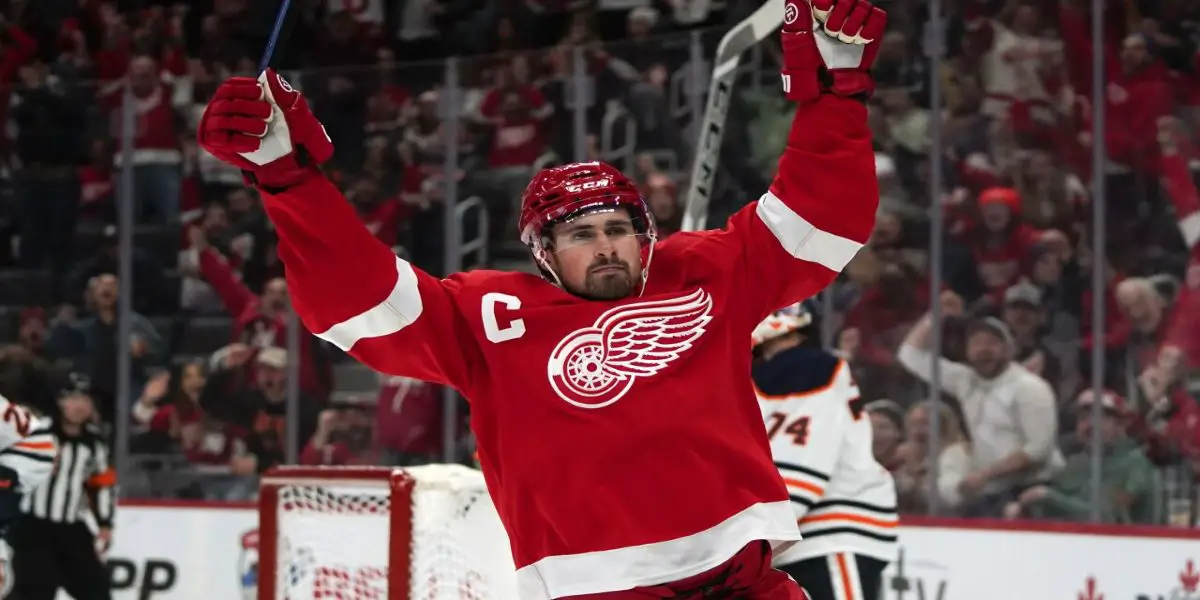 The Detroit Red Wings will have seven new players in the lineup when they begin the new season on Friday night. After much speculation, the 23 players who make up the roster include 16 players from last year, five free agents, one player acquired by trade, and one player acquired through the draft.
Here is a look at the opening night roster for the Red Wings.
Opening Night Goaltenders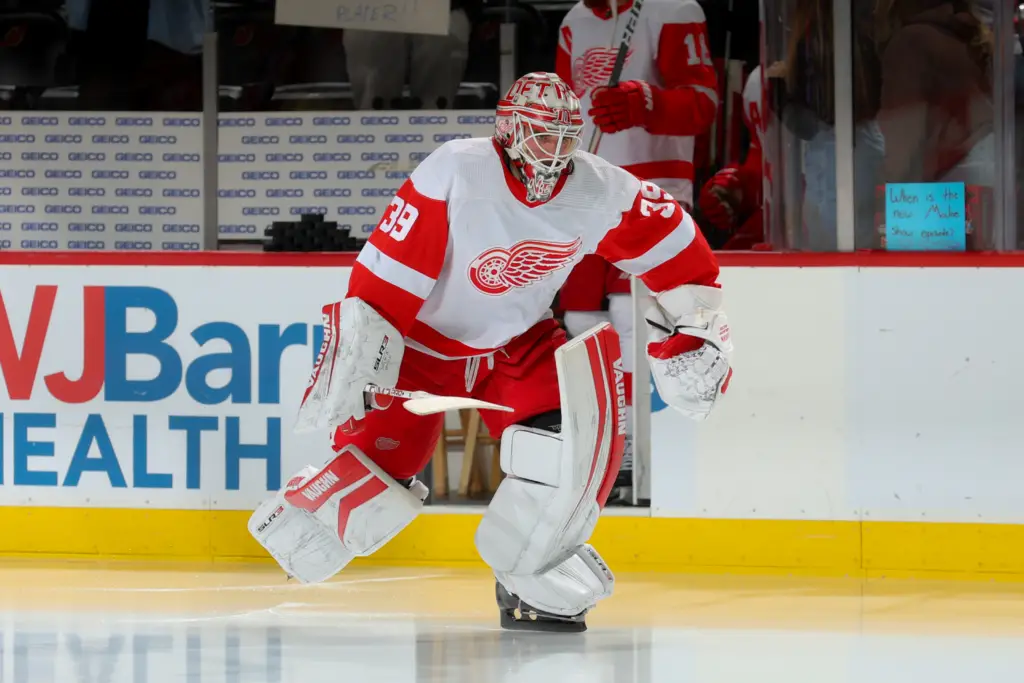 On July 8th, the Detroit Red Wings acquired Ville Husso from St. Louis. Husso had a record of 25-7-6 last year with the Blues. In 40 games, Husso also had a 2.56 GAA and a .919 SV% last year. The trade to Detroit has further solidified the goaltending position in Detroit.
Husso signed a three-year contract with Detroit that carries a cap hit of $4.75M per year and includes a modified no-trade clause for the duration of the deal. If he establishes himself as the goalie of the future for the Red Wings, he will likely help mentor 2021 1st-round draft pick Sebastian Cossa when he is ready to make the jump to the NHL.
Husso will share goaltending duties with Alex Nedeljkovic.  To start the season, both goaltenders should see plenty of action until one claims the job as the #1 goaltender on the team.
Nedeljkovic is a UFA at season's end and will be 27 when his contract expires with the Red Wings. There is a strong possibility that Nedeljkovic will either sign an extension or be traded prior to the deadline in March.
This tandem should provide Detroit with excellent goaltending throughout the season.
Opening Night Goaltenders: Ville Husso, Alex Nedeljkovic
Opening Night Defensemen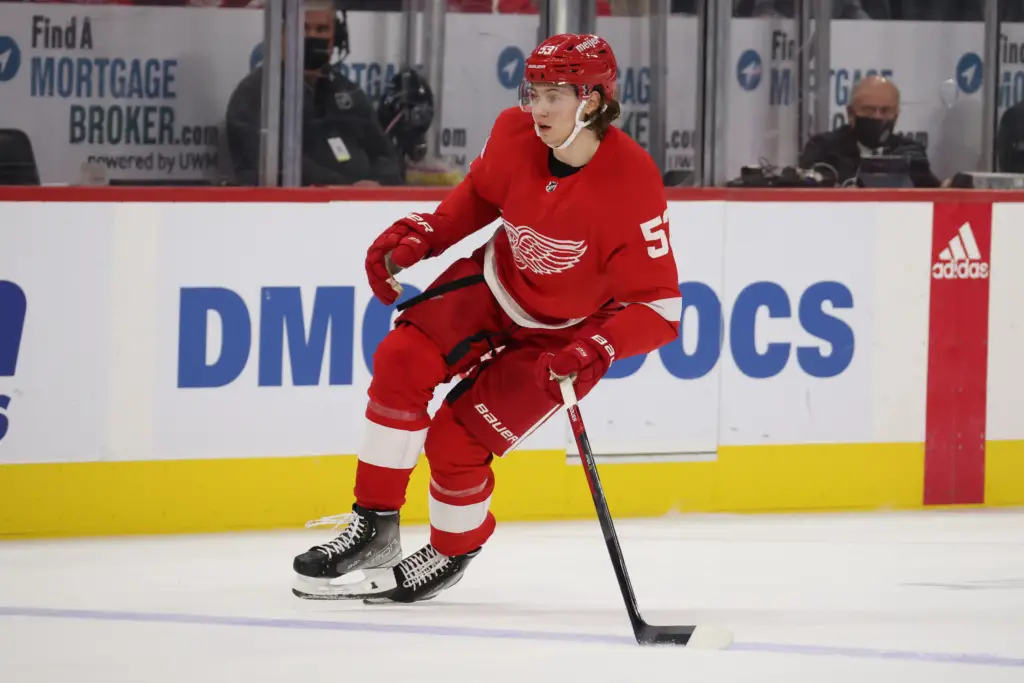 The top two defense pairings have been set since the beginning of training camp. At the start of training camp, General manager Steve Yzerman indicated that the Red Wings would carry either seven or eight defensemen on the 23-player roster.
To start the year, newcomer Ben Chiarot will likely play with last year's Calder Memorial Trophy winner Moritz Seider. Chiarot signed a four-year deal with the Red Wings and should help stabilize the blueline. Seider will be looking to build on a terrific rookie season where he scored 50 points while playing all 82 games for the Red Wings.
Filip Hronek will return to play on the second pair and help man one of the power play units. Hronek will likely play with recently signed veteran Olli Maatta. Maatta signed a one-year contract with a cap hit of $2.25M.
The third defense pair will likely be fluid throughout the season. For now, Jordan Oesterle will return to play with Gustav Lindstrom. The seventh defenseman in the group will be free-agent signee Robert Hagg.
Jake Walman and Mark Pysyk will start the year on injured reserve. Walman (shoulder) should be ready for game action in November. Pysyk (Achilles) will likely be ready at some point in January.
Waiting in Grand Rapids (AHL) are top defense prospects Simon Edvinsson, Albert Johansson, Jared McIsaac, and Donovan Sebrango. Each of these prospects will likely see time in the bottom pair of the Detroit defense this season.
Opening Night Defensemen: Ben Chiarot, Moritz Seider, Filip Hronek, Jordan Oesterle, Gustav Lindstrom, Robert Hagg, Olli Maatta
Opening Night Forwards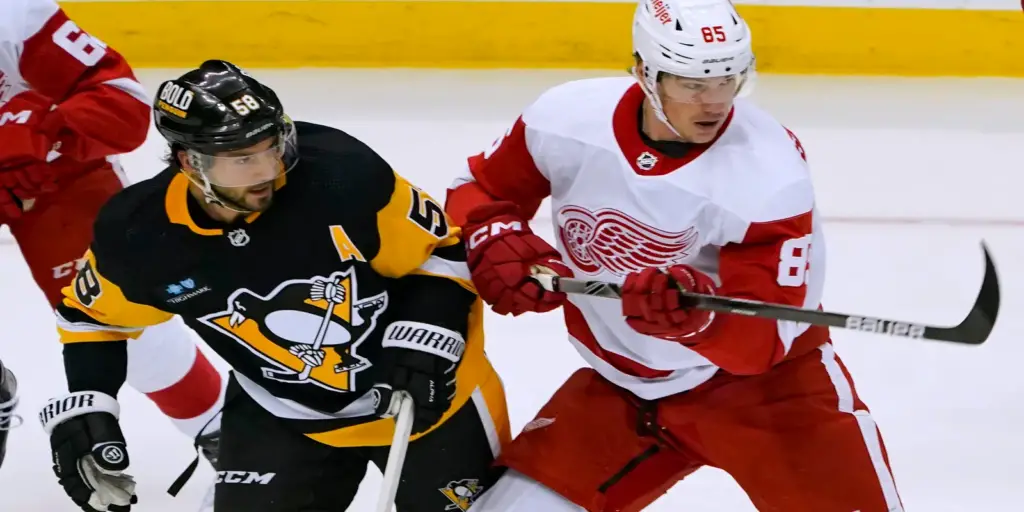 Most of the preseason has been focused on what 13-14 forwards will represent the Red Wings on opening night. The season-ending knee injury sustained by Robby Fabbri last season opens up a spot on the roster until mid-January.
With Givani Smith, Taro Hirose, Chase Pearson, and Kyle Criscuolo placed on waivers; the forward unit is now set.
On Sunday, Pontus Andreasson and Cross Hanas were re-assigned to Grand Rapids (AHL). They should receive plenty of ice time playing in the top six with top forward prospect Jonatan Berggren.
All these issues presented Red Wings management with important decisions regarding opening night.
Centers
Captain Dylan Larkin will center the top line to start the season. Larkin will be playing as an impending UFA if he can't come to an agreement on an extension with Detroit.
Free-agent signee Andrew Copp missed the entire preseason but should be ready to assume the responsibility of playing behind Larkin. Copp set career highs in goals (21), assists (32), and points (53) last year.
This year, Pius Suter will continue to provide depth at the center ice position. Suter is also an impending UFA next summer.
Michael Rasmussen made huge strides in becoming an important member of the Red Wings last year. He will start the year as the fourth center but could move up on the depth chart as the season progresses.
Opening Night Centers: Dylan Larkin, Andrew Copp, Pius Suter, Michael Rasmussen 
Left Wingers
Tyler Bertuzzi will play on the top line with Larkin and Lucas Raymond. Bertuzzi is a pending UFA at the end of the season. If he is not re-signed by the deadline, expect the Red Wings to move their top left winger.
Jakub Vrana is a top goal scorer and should fill the net with an entire season of playing with Copp and David Perron. Vrana has two years remaining on his current deal with a cap hit of $5.25M annually.
Free agent signee Dominik Kubalik will play left wing on a line with Suter and rookie winger Elmer Soderblom. Kubalik is looking to continue his impressive play from the preseason.
Adam Erne will play on the fourth line with Rasmussen and Oskar Sundqvist. Erne is a UFA at the end of the season and will likely be moved to another team before the deadline in March.
Opening Night Left Wingers: Tyler Bertuzzi, Jakub Vrana, Dominik Kubalik, Joe Veleno
Right Wingers
Lucas Raymond will again play right wing on the top line with Bertuzzi and Larkin. Raymond was excellent as a rookie last year and is looking to build off a season where he placed fourth in the Calder Memorial Trophy balloting.
David Perron was signed to a two-year free-agent contract by the Red Wings. Perron will slot into the second line and provide depth and leadership to a young Red Wings team.
Elmer Soderblom will be the only rookie in the Red Wings' opening night lineup. He had a tremendous Rookie Tournament and preseason and deserved a spot in the Detroit lineup. Soderblom will likely start the year on a line with Kubalik and Suter.
Oskar Sundqvist looks healthy and ready to play a role on the fourth line. He will likely start the year with Erne and Rasmussen. Sundqvist is also a UFA at the end of the season and will likely be moved to another team before the trade deadline.
Opening Night Right Wingers: Lucas Raymond, David Perron, Elmer Soderblom, Oskar Sundqvist
Opening Night Lineup Prediction
Here is my prediction for the line combinations to start on opening night.
Forwards (12)
Bertuzzi-Larkin-Raymond
Vrana-Copp-Perron
Kubalik-Suter-Soderblom
Erne-Rasmussen-Sundqvist
Defense (6)
Chiarot-Seider
Maatta-Hronek
Oesterle-Lindstrom
Goaltenders (2)
Ville Husso
Alex Nedeljkovic
Extras (3)
Robert Hagg
Joe Veleno
Filip Zadina
Injured Reserve (1)
Robby Fabbri (knee, mid-January)
Injured Reserve Non-roster (3)
Jake Walman (shoulder, mid-November)
Mark Pysyk (Achilles, mid-January)
Seth Barton
Up Next
Montreal Canadiens @ Detroit Red Wings, Friday, October 14th, 7:00 PM ET Little Caesars Arena, Detroit, MI
With five picks in the top-50 of the 2023 NHL Draft, the Red Wings are in prime position to make a trade for a top-six forward. We breakdown fits of players that are potentially on the trade market and what a potential package could look like. We also start with how Red Wings at the World Championships are performing, focusing on Dominik Kubalik, Carter Mazur, and Lucas Raymond.