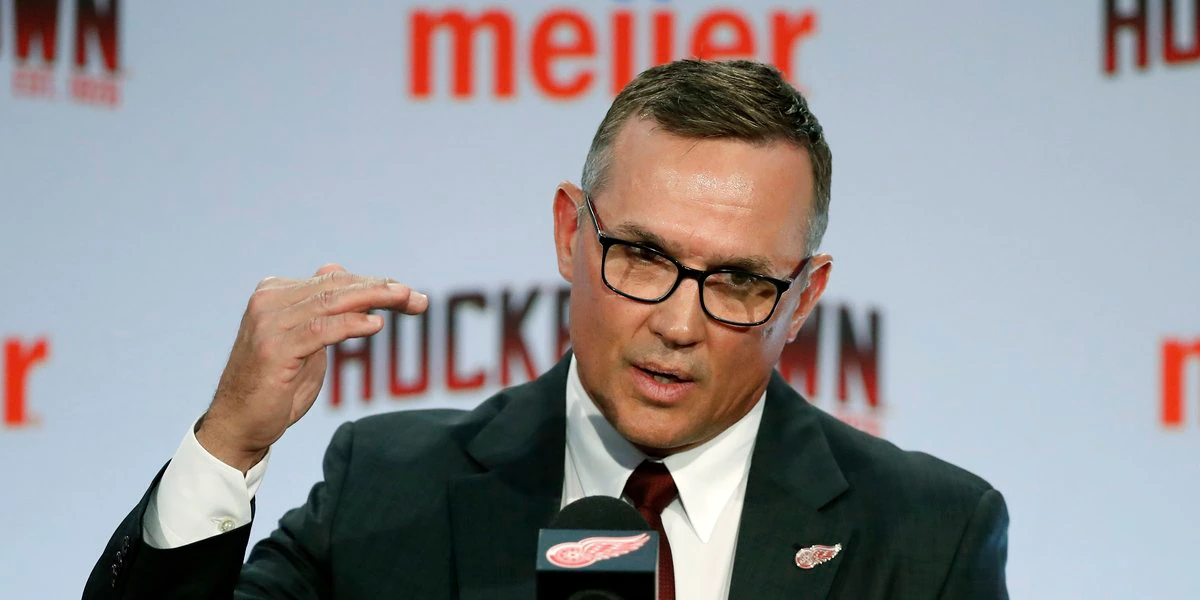 The week entering the 2023 NHL Trade Deadline, it seemed as if the Red Wings, for the first time in seven seasons, wouldn't be actively moving players off the NHL roster for draft capital. On Saturday, February 25th, Detroit held on to the final Eastern Conference Wildcard position and had games on teams such as the New York Islanders, Washington Capitals, and Florida Panthers. But two ugly losses at the hands of the red-hot Ottawa Senators made the picture of the 2022-23 Red Wings very clear for Steve Yzerman.
In his post-deadline media availability, Steve Yzerman admitted that the team would never be a buyer this season and that the Red Wings' Western Canada trip "delayed things."
Yzerman also said that he believes fellow rebuilding clubs in the Buffalo Sabres and the Ottawa Senators are likely ahead of the Red Wings in the process of becoming contenders but also have had more swings at the top of the draft board. With that in mind, Steve Yzerman made the decision to move out four roster players, two of them being core pieces of the team for the past several seasons (Filip Hronek and Tyler Bertuzzi).
The Red Wings are still playing the long game, and while it may have been a tough pill to swallow, acquiring future pieces was the right move for the organization at this time. Here are the four trades the Red Wings made last week.
Filip Hronek to Vancouver
It feels like for years now, the Vancouver Canucks have been in the market for a right-shot defenseman who can complement Quinn Hughes. To everyone's surprise, that defenseman was Filip Hronek, who hadn't reportedly been on the trade market.
Hronek has had a career season after struggling to find consistency in 2021-22. In 60 games, the 25-year-old has nine goals and 29 assists and has improved his defensive game immensely playing alongside Olli Maatta.
It feels as if the Red Wings took advantage of a hot market on right-handed defensemen and sold high on a player in the midst of a career season. Trading Filip Hronek leaves a substantial hole on your right side, but with the Red Wings being deep at defense in the prospect pool (albeit on the left side), Hronek was an expendable piece at that price.
Tyler Bertuzzi to Boston
This move felt inevitable but also the most heart-wrenching for this group, whether that be Dylan Larkin's heartfelt media availability or the team's lackluster performances following the Bertuzzi move.
With Yzerman building the Red Wings for the future, the team would likely not be among the Stanley Cup contenders in the NHL while Bertuzzi was under 30. With that and the likelihood that the team and Bertuzzi wouldn't reach an agreement on a contract extension, trading Bertuzzi made the most sense. Boston always felt like a natural fit for Bertuzzi. The injuries to Taylor Hall and Nick Foligno brought the Bruins to the table, outbidding the Carolina Hurricanes, according to NHL insider Pierre LeBrun.
Bertuzzi struggled to find consistency in his game early this season due to suffering two different wrist injuries and was constantly playing catchup in a brand-new system under Derek Lalonde. But in the weeks leading up to the trade, Bertuzzi was one of the Red Wings' best players most nights and was a key piece to them being in the hunt for a Wild Card spot.
The Bruins get the luxury of placing a recent 30-goal scorer onto their third line in Bertuzzi's first game in Boston, which gives them as deep of a playoff team as we have seen in recent years. The Red Wings can add another 2024 first-round pick, and for a Bruins team with "last dance" energy surrounding this season, it will likely be a lot more valuable than this year's first-round pick.
Jakub Vrana to St. Louis
On Friday morning, the Red Wings announced that Jakub Vrana had been traded to the St. Louis Blues.
From being acquired by the Red Wings to the time of the trade this year, Vrana appeared in only 42 games with Detroit due to injury and joined the NHLPA's Player Assistance program this season. When available, Vrana is one of the most efficient scorers in the NHL at even strength.
Yzerman didn't shed light on Vrana's situation during his media availability.
Whether it would be via trade or during the summer, it felt as if Jakub Vrana would not be a Detroit Red Wing come the start of next season. The Red Wings made that apparent when they decided to waive Jakub Vrana in December, as there was the potential of losing him for nothing.
The Red Wings were in a tough spot, and with the trade relationship with the Blues, since Yzerman began his tenure, it made sense these two would make a deal together. Although the Red Wings are still retaining half of Vrana's $5.25 million cap hit for this season and the next, it avoids having dead money in 2024-25, which would have been the case if Vrana had been bought out this summer.
The Blues are in a retool and looking for top-six scoring help, and if Vrana can re-discover his scoring touch, this will be a tidy bit of business for the Blues' general manager, Doug Armstrong.
Oskar Sundqvist to Minnesota
The going rate for defensive bottom-six wingers at the deadline seems to be a fourth-round pick: the return from Minnesota for pending unrestricted free agent Oskar Sundqvist.
The Wild earlier on Friday moved defensive forward Jordan Greenway to the Buffalo Sabres and were in need of a similar type of player.
Sundqvist was productive in his time in Detroit; he brought energy and was 1/3 of the infamous "Redwoods line" alongside Michael Rasmussen and Elmer Soderblom. In 70 games with the Red Wings, Sundqvist scored 11 goals and 18 assists, nearly the pace of his career-best of 31 points in 2018-19.
With Sundqvist's play this season and his current cap hit of $2.75 million, it was likely he would have been making the same on his next contract, which doesn't make sense where Detroit is currently at. Sundqvist provides more value to a team ready to contend as he can play both special teams and has the pedigree of a playoff performer, as he was an integral part of the St. Louis Blues' 2019 Stanley Cup.
Minnesota is in their playoff contention window, and adding a player like Sundqvist could be beneficial as the games get tighter.
What does this mean for the future?
As appealing as making a big splash and using one of the four first-round picks the Red Wings have over the subsequent two drafts in a package to acquire an elite player, that type of player rarely becomes available.
At the 2022 NHL Entry Draft, the Ottawa Senators used the 7th overall pick in a package to acquire Alex DeBrincat, who is among the best scorers in the NHL. Ahead of the deadline this season, the New Jersey Devils used a first, a conditional first, and a recent first-rounder to acquire 26-year-old Timo Meier. While it can happen, it's unrealistic to plan a team's roster construction around the hope of an elite player hitting the trade market.
Right now, the Red Wings are building around the timeline of Moritz Seider and Lucas Raymond. While gutting, trading Tyler Bertuzzi and Filip Hronek, who had been a part of this team's core, made sense for the return Detroit received.
While Detroit is behind Buffalo and Ottawa in star power, the prospect pipeline is deep with many potential NHL contributors. Top prospects Marco Kasper and Simon Edvinsson are thriving in significant roles at the professional level, and both could make an impact as soon as next season. Later-round picks such as Carter Mazur, Elmer Soderblom, and Amadeus Lombardi look further ahead in their development than most expected heading into this season.
The Red Wings haven't had the luxury of drafting first or second overall during the rebuild, whereas Buffalo, for example, has drafted first or second overall four times since 2014. Two first-round picks that will likely be in the top half of what is regarded as a deep draft class give Kris Draper and the Red Wings amateur scouting team a good chance in landing a true difference maker.
During his media availability, Steve Yzerman also seemed open to moving some of his draft capital for young NHL players, referencing the trade for Ville Husso last summer as an example. The Red Wings have three second-round picks in this draft and could end up moving or two of them for a player that can help them now.
With plenty of flexibility created by acquiring draft picks and salary cap space, this is shaping up to be a busy summer in Detroit.
The boys are back after a long break but have plenty to talk about as the playoffs are in full swing. We go series by series, looking at how teams have fared so far and who will come out on top. Thanks for listening! Please rate and review our show on your favorite listening platform. Check out our partner's website at www.insidetherink.com for all your latest hockey news.