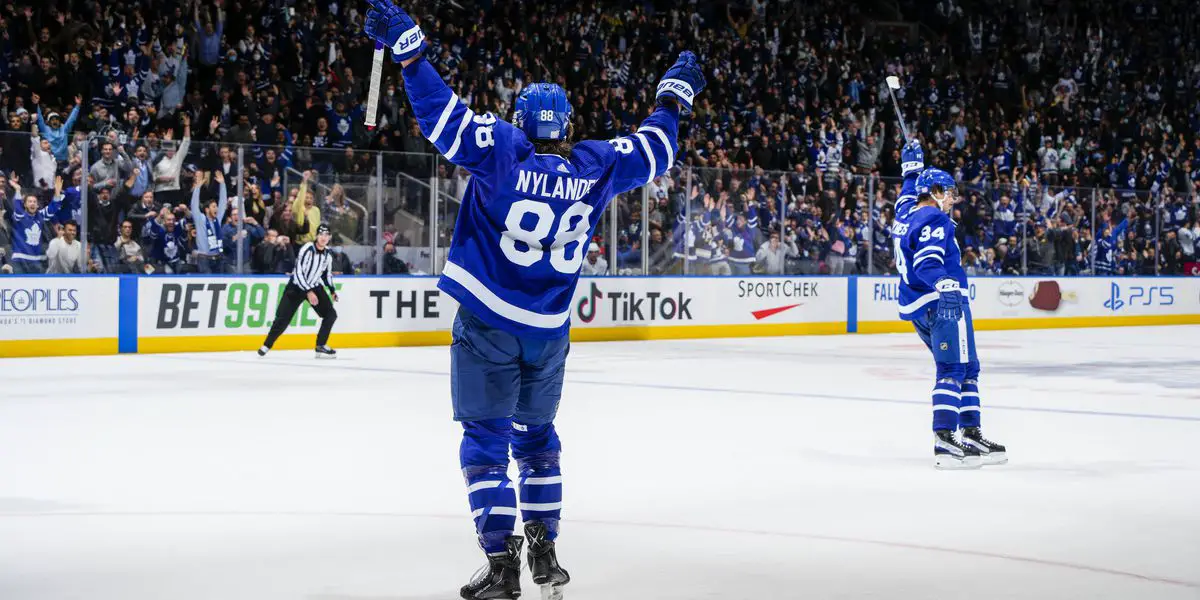 Hockey fans and Leafs Nation was treated to something special this Sunday. Fans filled Nathan Phillips square with anticipation of some hockey favorites hitting the ice. First, the Canadian National women's hockey team competed in a skills competition to get the crowd going. Friends and fans got to take in a friendly competition with Canadian sweethearts like Marie Philip Poulin, among many others.
A Traditional Commute
After COVID forced a three-year hiatus, the Maple Leafs players traditionally boarded a subway train from Union Station to Queen station. They walked to Toronto City Hall, known as Nathan Phillips Square, to attend the event. This year, members of Hockey Equality joined them on their walk to the outdoor practice. Hockey Equality is an organization that lowers financial burdens for young hockey players of black, indigenous, persons of color, female, and other equally deserving youth hockey players. The young athletes engaged in great conversations with players on the subway. Many subway riders just making their Sunday morning commute were surprised by the special guests. The subway ride would last two blocks, and the crowd of NHL players and fans would exit the subway and go into Eaton center. They would take a quick stroll through Eaton center to the other side and walk towards Nathan Phillips square. They would have a short walk over to their destination, where they would be greeted by loads of fans prepared for autographs and selfies. Once obliging with some fans and their requests for autographs and pictures, they made their way to the rink.
A crowd was waiting patiently for the show to begin. Once everyone hit the ice, and opportunities were taken for team pictures, etc., it was time to organize the tournament. Three teams would round Robin and play each other for a championship. The teams were; "team Europe" with players like Rasmus Sandin, Timothy Liljgren, Calle Jarnkrok, David Kampf, and William Nylander. "Team North America" had Justin Holl, Morgan Reilly, and Alexander Kerfoot. The third team was "team Ontario" with captain John Tavares, Mitch Marner, Mark Giordano, Wayne Simmonds, and Michael Bunting. After a series of round Robin four-minute games, "Team Ontario" reigned victoriously.
After the game, All-Star Mitch Marner and captain John Tavares got to address the crowd and thank everyone for their support, fandom, and attendance at their annual outdoor practice. As practice was wrapping up, some players were able to invite family members, pets, and their children onto the ice for some fun and pictures. Even the team dog, Bud, was in attendance on the ice at the end of the day. On their way out, then some players took more opportunities to take some time with fans posing for pictures in signing jerseys. They were soon picked up by a coach bus to take them back to Scotiabank arena, where they would get out of their practice gear and into street clothes and head home to enjoy Super Bowl Sunday.
This annual outdoor practice was presented by SportsChek, Tim Hortons, Yeti, Canadian Tire, Milk, and Ford. Ford Fanatics gave away prizes all weekend, including tickets to Marlies and Toronto Maple Leaf games.
The Maple Leafs will have a couple of days break and will face the Chicago Blackhawks on Wednesday at Scotiabank arena. The Blackhawks have a record of 16-30-5 with one more game to play against the Montreal Canadiens tomorrow before they face the Maple Leafs on Wednesday night. Maple Leafs current record stands at 32-14-8 going into Wednesday.
The anticipation for next year's outdoor practice has already begun.
https://feeds.transistor.fm/leafs-late-night