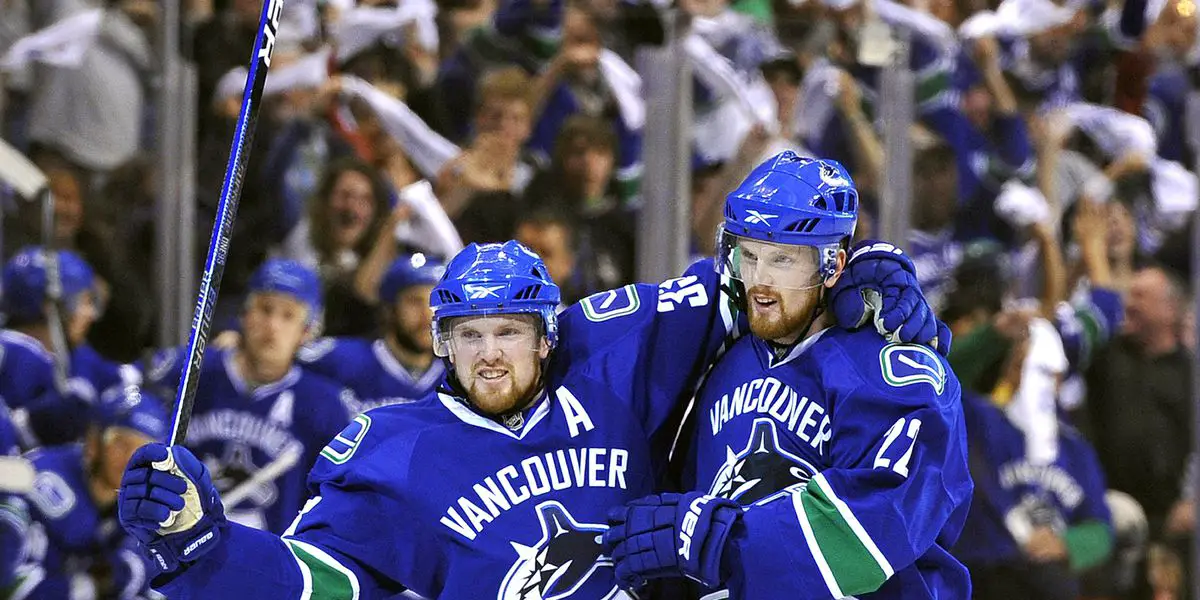 Canucks fans of all ages can most likely name their favorite era of the club with ease, an iteration of the roster that they have the fondest memories of. Maybe it was the '94 Cup run with Linden, Bure, McLean, and that group. Perhaps it was the West Coast Express years, while not attaining the most success for the franchise, providing some joyful offensive seasons. Who knows, maybe it's a hope for the future with Hughes, Horvat, and Pettersson. 
However, it would not be a surprise if a large portion of the fanbase felt an affinity towards the 50th-anniversary club, the group that dominated the regular season and made the best run at Lord Stanley's Cup the Canucks ever had. Sadly, all the goals, saves, or wins in the world couldn't overcome a Bruins-shaped freight train (or a decimated blue line, but I digress). Still, it's hard not to feel a little romantic (love and heartbreak in equal parts) for that team. 
For that reason, Canucks fans have their eyes on the Hockey Hall of Fame 2022 induction class, which will be announced Monday, June 27, by the HHOF selection committee. Up to four male players can be inducted in a year, and the ballot this year contains former Canucks stars Roberto Luongo, Henrik Sedin, and Daniel Sedin. Can all three get their name announced on Monday?
With a canceled induction class last year because of COVID, the pool of first-year eligible players is even more competitive in 2022. The Canucks' greats compete against stars like Henrik Zetterberg and Daniel Alfredsson for the limited spots. When it comes to the hall of fame, the argument for many players up for induction remains the same: did they win a Cup? Will falling short in game seven rob the trio of their chance to be inducted into the 2022 class?
Daniel and Henrik Sedin
For the Sedins, even without that one big victory, their resumes are too extensive to ignore. Hart, Ted Lindsay, and a couple of Art Rosses between them. It should be enough to cement their status in the Hall (however, as twins, there should be a rule on the books somewhere, some obscure line near the end of the script, that says they can't be separated and must be inducted together. Maybe it's called the Burke clause, named after the wonderful maneuvering that got them drafted 2nd and 3rd overall in 1999). They are twin pillars of the hockey community – I do NOT apologize for the pun – and certainly worthy of being first-ballot Hockey Hall of Famers. 

Roberto Luongo
For Roberto Luongo, the path is a little trickier. Despite seasons with the Panthers and Canucks where it felt like he started 96 of the 82 games, had 1.272 save percentages, rescued cats from trees mid-game, and defused a nuclear bomb at center ice once (unconfirmed), the goalie was essentially "Brodeur-blocked" from winning the Vezina during some of the prime years of his career. While he still sits just behind Brodeur for several stats (saves, shots faced, and total games played) and has the fourth most wins by a goalie in NHL history (with no active goalies currently holding positions 5 through 20), fans can only hope a lack of hardware doesn't stop him from receiving his induction in his first year of eligibility.
We'll see if the three Canucks will join Pavel Bure on Monday night in the Hockey Hall of Fame.
The boys are back after a long break but have plenty to talk about as the playoffs are in full swing. We go series by series, looking at how teams have fared so far and who will come out on top. Thanks for listening! Please rate and review our show on your favorite listening platform. Check out our partner's website at www.insidetherink.com for all your latest hockey news.