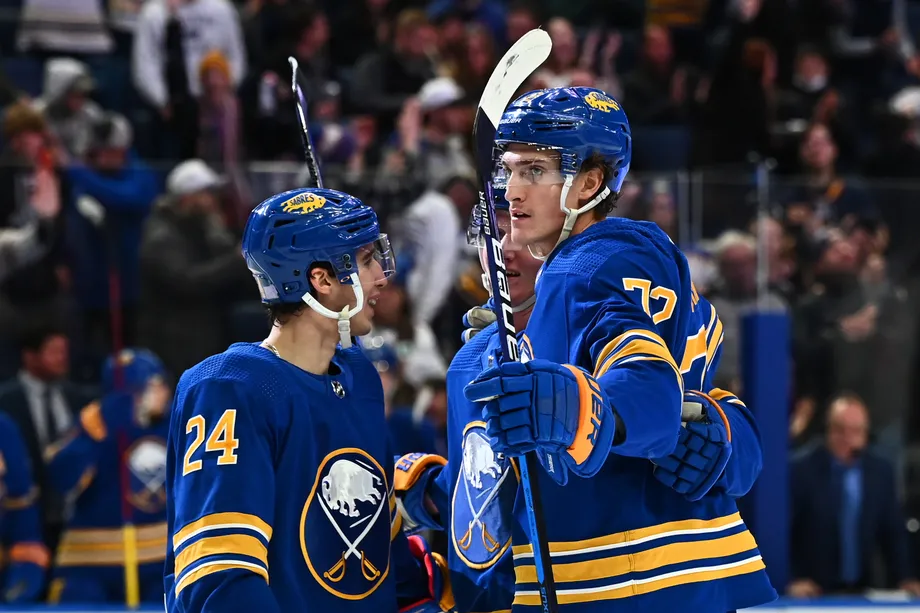 Don't look now, but after years of being a fledgling organization that wasted more than a few draft picks and conducted even worse trades, the Buffalo Sabres are finally an exciting team to watch with a very bright future. Much of this has to do with the development of up-and-coming stars Tage Thompson and Dylan Cozens. Are they the NHL's next dynamic duo?
Connor McDavid-Leon Draisaitl, Patrice Bergeron-David Krejci, Sidney Crosby-Evgeni Malkin, Auston Matthews-John Tavares/Ryan O'Reilly, and Nico Hischier-Jack Hughes. When you look around the National Hockey League, you'll notice most of the teams at or near the top of the rankings have a great one-two punch down the middle. If you want to dig even deeper, look at past Stanley Cup Champions, and you'll see the same trend; I don't believe this to be a coincidence. I also think you can now add Thompson and Cozens to this list of one-two punches.
Thompson, the 25-year-old native of Phoenix, Arizona, was originally drafted 26th overall by the St. Louis Blues in the 2017 NHL Entry Draft. He was then shipped off to Buffalo as part of the package that brought Ryan O'Reilly to St. Louis in 2018. O'Reilly, of course, would go on to win a Stanley Cup and a Conn Smythe with the Blues, making the trade very much worth it in their eyes. Now with Thompson amid a monster of a breakout season, the Sabres are also finding the trade very much worth it.
In 62 games this year, Thompson has 42 goals and 41 assists for 83 points with a ridiculous 17.7 shooting percentage. This, of course, is a career year for the young man, as his previous career high was last season, during a mini-breakout in which he recorded 68 points in 78 games. Unless something goes wrong, Thompson should have no problem hitting the 100-point plateau this year. Being on the top power-play unit along with Cozens doesn't hurt his chances, either.
Thompson is a big boy at 6'6″ and 220lbs, but he can fly and is very smooth on the ice. To go with that, he has some silky mitts and a wicked wrister, that shot also tends to open up plenty of passing lanes, and he's become quite adept at playmaking with the ability to make those around him better. The only knock on Thompson that I can see is he needs to work on his defensive game and get a little better at faceoffs, where he currently wins about 43% of his draws. That said, the sky is the limit for Thompson, and if he keeps on his current trajectory, the Sabres have a franchise first-line center on their hands.
This brings us to the second half of the dynamic duo, Dylan Cozens, whose road to Sabres stardom has been a little different than Thompson's, and if not for Thompson, Cozens could easily be the first-line center in Buffalo. Instead, the 22-year-old drops to the second line, which causes all sorts of matchup problems for opposing teams, one of the many benefits of the one-two punch. This is the kind of roster-building Sabres fans have been craving for years, and boy, do they deserve it after dealing with what they've dealt with in recent years.
The 6'3″, 195lbs Cozens was drafted by Buffalo with the 7th overall pick in the 2019 NHL Entry Draft, and with that came the usual lofty expectations associated with being a top-10 pick. It took an adjustment, but the Sabres are now reaping the benefits of being patient and staying the course. This season, the native of Whitehorse, Canada, has 24 goals and 30 assists for 54 points in 61 games; talk about a gold rush (yes, that's a Yukon Territory reference).
While Cozens may not be as dominant or imposing as Thompson, Buffalo doesn't need him to be, and he just has to be the complimentary piece that so far he has proven he can be. Also, in my not-so-expert opinion, he is already a more complete two-way player than Thompson and is better in the faceoff dot while winning almost 50% of his draws.
What's even more incredible, the Sabres were able to get out in front of these breakout seasons and have both players locked up until the end of the 2029-30 season for just around $7 million. Considering the money being thrown around the NHL, both players will be absolute bargains and should allow Buffalo the flexibility to build around them appropriately. Let's hope they do; this team is already fun and should only improve.
The boys are back after a long break but have plenty to talk about as the playoffs are in full swing. We go series by series, looking at how teams have fared so far and who will come out on top. Thanks for listening! Please rate and review our show on your favorite listening platform. Check out our partner's website at www.insidetherink.com for all your latest hockey news.