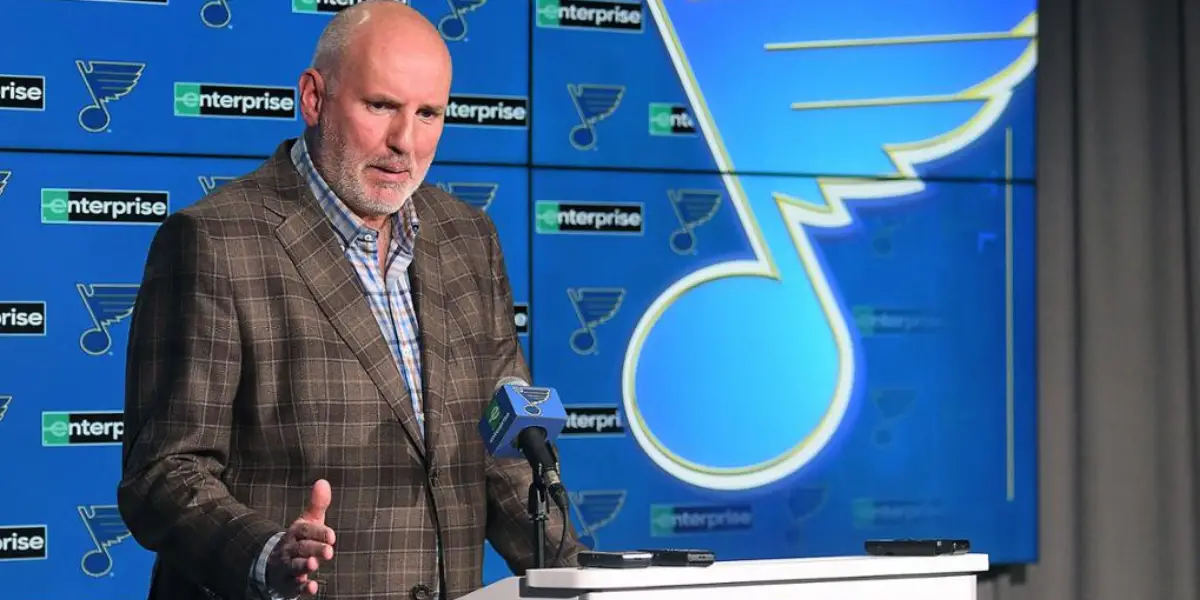 Unless you've lived under a rock for the past couple of years, you've probably noticed the St. Louis Blues aren't the same team they were in 2018-19. The 2022-23 Blues didn't rally from last place to make the NHL playoffs, advance to the Stanley Cup Final, and ultimately win their first-ever Stanley Cup.

Blues general manager Doug Armstrong referred to the team's process as a "retrench" instead of a "rebuild" during a press conference on February 18, 2023. Armstrong held a press conference to discuss the team's trades of Ryan O'Reilly and Noel Acciari to the Toronto Maple Leafs. He said: "We need to retrench with players in their… 25, 26 [year old seasons] and under that have [term] on their contracts so they can grow with that next core of players that we have."

From what I've seen on social media, some Blues fans assumed that Armstrong would turn the team around in a few weeks instead of a few seasons. I beg to differ, as I think the Blues are heading towards a rebuild and not a retool. They're having a down season, and a rebuild can take a long time, but it's a good idea to look to the future. I think they should keep goaltender Jordan Binnington and develop the draft picks this spring and beyond. After all, this year's draft class is reportedly one of the deepest draft classes in history.

I chatted with some staffers and fans and asked them if they thought the Blues were rebuilding or retooling. Here's what they had to say.

Staffer #1: "I'd say rebuild, but I feel like [Jordan] Binnington isn't helping that rebuild."

Staffer #2: "I thought a retool at first, but now, I think they need a rebuild."

Staffer #3: "On April 6, 2023, Bernie Federko was on SiriusXM morning skate to talk Blues. It was a good listen about where the Blues are. I believe it's a retool, and I wouldn't be surprised to see them flip picks into more established players this summer."

Staffer #4: "Whether it's a retool or a rebuild, they'll probably be done sooner than the [Vancouver] Canucks."

Blues fan: "Retool … Retool is what [Doug] Armstrong said, and we are keeping most of the players, only four left. Armstrong also called it a retool … They've [The Blues] improved after trading away four players. [Brandon] Saad, [Brayden] Schenn, [Jordan] Kyrou, [Robert] Thomas, and [Pavel] Buchnevich are the core. [Sammy] Blais, [Kasperi] Kapanen, and [Jakub] Vrana are also great additions … The [Blues] defense remains primarily unchanged. [Which is why] I believe the mastermind [Doug] Armstrong when he says retool."

Stars fan: "Rebuilding, and it might take them two centuries."

If you have a good sense of humor, you probably laughed at the final thought as I did. Now, think a little bit, and let me know if you think the Blues are rebuilding or retooling.
The boys are back after a long break but have plenty to talk about as the playoffs are in full swing. We go series by series, looking at how teams have fared so far and who will come out on top. Thanks for listening! Please rate and review our show on your favorite listening platform. Check out our partner's website at www.insidetherink.com for all your latest hockey news.