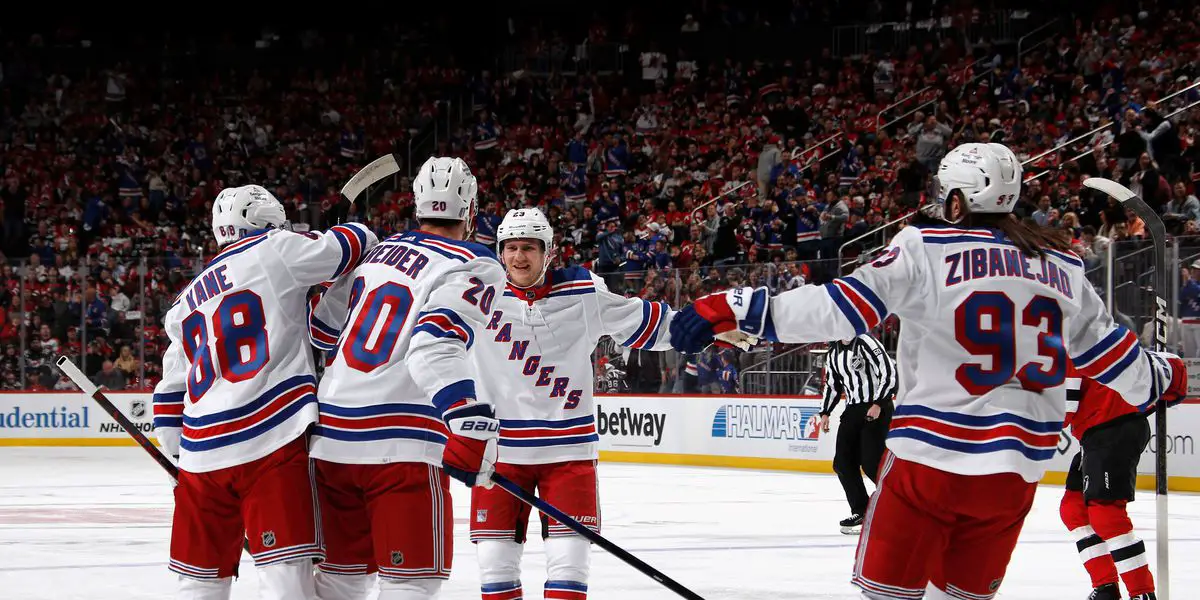 So much of the discourse leading up to this Rangers-Devils series was centered around experience. Not that the Rangers are this playoff-grizzled team, but surely, this was an upstart year for the Devils. Would the fact that they collectively were new to the playoff scene matter, or would their style and speed, which seemed to bother the Rangers during the season, overcome their lack of experience?   
Well, it's only one game, of course, but indications are you can throw out all that has happened before; this series is a different animal.
The Rangers played a well-rounded offensive and defensive game, were the much better squad on special teams, and got stout goaltending. All were the ingredients needed for a commanding 5-1 victory.
As usual, there was the good (a lot of it), the bad (not much), and everything in between, so let's break it down.
THAT'S GOOD!
ALL HANDS ON DECK
Regarding skaters, it's tough to single out just one effective player in their own category. It would be a very long list, and that's an element for the Rangers that bodes very well.
You could single out Adam Fox with a franchise-tying playoff record four assists (FOUR!), showing Norris form. How about vintage Chris Kreider getting two deflection goals in his office on the power play to become the franchise's all-time playoff goal scorer? (Side note: Any time franchise records are being broken in games and series, it usually means positive things are happening.)
They weren't alone, though. Tarasenko immediately validated why the Rangers went out and acquired him with the beautiful first goal of the game off a pass from K'Andre Miller. Ryan Lindgren, arguably the heart and soul of the team, even went top-shelf on a beautiful shot to make the game 3-0 late in the 2nd.  
Players didn't even have to fill up the stat sheet to show their worth. The Kid Line was buzzing all night, and while it wasn't a super productive night (although Chytil did get an empty netter at the end to go with his assist), they were a formidable presence.
I'm burying the lede as you could make a strong case that one of the best players for the Rangers last night was Barclay Goodrow. He was a monster presence on the PK and in general. Blocking shots, breaking up plays, and getting physical when needed. It was a fantastic microcosm in one game of every reason the Rangers acquired him two years ago.
All this happened, and the team didn't even get much offensive contribution from stars like Mika, Trocheck, and Kane (one assist). All that shows me is the depth of this team when it is humming. Five goals and not one point from Mika? That would deflate me further if I was on or a fan of the other team.
IGOR
Not tested much in the first period but looked solid, calm, and collected when called upon. Some really great saves when the Devils started to bring the pressure, and that's all you can ask. If the Rangers get this version of Shesterkin each night, they will be in every game at WORST.
DEFENSE AND SPECIAL TEAMS
Let's group these two together. While it's not a sound strategy to give up four power plays OR let the other team constantly live in your zone for a whole period, you can't argue with the stout results of both these units.
Even when the Devils gained the zone (and it was often in the last two periods), the Rangers did an impeccable job of hounding their skaters. There weren't necessarily big hits last night, just a perfect blend of getting bodies on skaters quickly and well-timed poke-checks, blocks, and even slides. In addition, except for some brief lapses, the Rangers were quick and decisive with the puck getting out of the zone. That even includes the approximately three-hundred-twenty-four icings (ballpark figure) they had in the third period.
More impressive was the penalty kill. The Devils barely were able to get shots off, let alone have any real scoring threats. Again, I don't expect that kind of domination to continue, so the Rangers need to be more disciplined. Still, it was a very encouraging sign to see that kind of kill, along with an effective power play on the other end of the spectrum.
THAT'S BAD!
There was not enough for an actual category here. That's how happy I was with the effort. But, of course, there will always be blemishes. There were some scary bad turnovers, including the blue-line mishap by Tarasenko that led to the penalty shot goal by Hughes. But, even there, if you're going to lapse like that, make sure you do it up four goals with the game in hand—an excellent effort last night.
CAN I GO NOW?
(Let's use this section to give out some game "awards ." Please note they could be negative awards as well )
BIGGEST GOAL/BEST GOAL: RYAN LINDGREN
Realize that these are two separate awards, but I thought Lindy's goal should sweep this category. You can make a case for Tarasenko's opening goal being the biggest, but Lindgren getting that goal at the end of the second was huge and sealed the game. Especially when you factor in we just had one disallowed (rightfully so), and Lindgren is such a popular player, it had all the intangibles for these two definitions. It was a slick goal in itself, and it made the third period a more straightforward proposition. Sweet celly too.
WORST OPPOSING GOAL: JACK HUGHES
All I'll say is I hope there's only one candidate to choose from each night. There's nothing you can do on a penalty shot from an elite player.
MVP OF THE NIGHT: ADAM FOX
Again, there are many candidates here, but I'm putting you as the MVP any time you do something in a game with the words "Franchise record" next to it. Four assists as a top-line defenseman on a top-tier defensive team effort gets you this spot.
UNSUNG HERO: BARCLAY GOODROW
This award will go to the player with the best game that doesn't appear on the scoresheet. There are others for sure, but this is no contest. See above for the reasons why, but a healthy Goodrow on a 4th line is a monster benefit. Last night was the epitome of that statement.  
See you Thursday!
In this weeks episode we have on Rangers beat writer Colin Stephenson to discuss Training camp/preseason, Laviolette, players coming back and more.Thanks for listening! Please rate and review our show on your favorite listening platform. Check out our partner's website at www.insidetherink.com for all your latest hockey news.