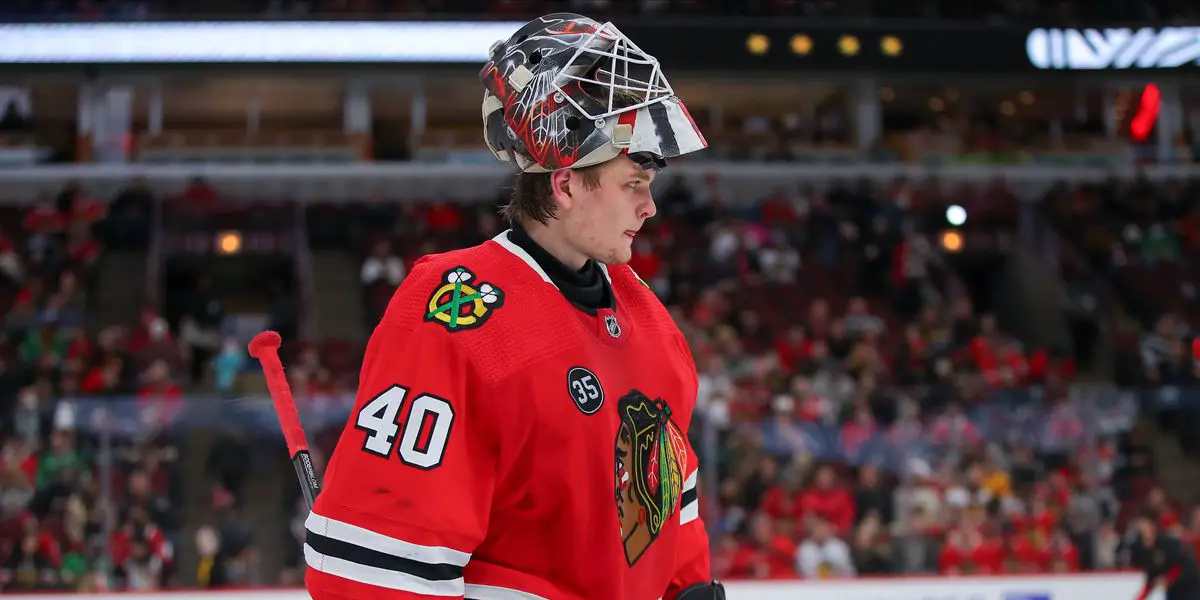 The Chicago Blackhawks have a history of finding hidden-gem goalies from across the pond, such as Kevin Lankinen and Antti Raanta. But the Blackhawks have found another diamond from Europe once again. Arvid Soderblom of Gothenburg, Sweden, went undrafted, but on May 13th, 2021, Stan Bowman would make one of his final moves as the Blackhawk's general manager and sign Soderblom to a contract.
Soderblom had a fantastic final year in the SHL, posting a .921 save percentage(SV%) with a 2.03 goals-against average (GAA). He would have a fabulous two SHL playoff games finishing with a .951 Sv% and a GAA of 1.54. Arvid would make the trip across the pond and play for the Rockford IceHogs for the 2021-2022 season. This is where Blackhawks fans would finally get to see him play in person. Arvid Soderblom has a calm, cool, collected demeanor in the net. He is a very technically sound goalie that relies on his spot-on position to cut down the angles on the shooter. Sound like a former Blackhawk? Yes, Corey Crawford. Crawford Or "Crow" would backstop the Blackhawks to two of the three Stanley Cups won in the 2010s. Since coming over from Sweeden, Arvid's path has been similar to Crawford's. Both goalies would start their careers in Rockford, While in their first season, both goalies would get in NHL games and struggle, posting save percentages under .900%.
Where they start to differ some is Arvid came into the AHL and took the league by storm posting a .919SV% and a 2.76 GAA. Crawford took longer to develop, whereas Arvid looks prime to jump to the NHL as soon as next season. The injuries to Stalock and Mrazek forced Kyle Davidson's hand, making him call up Arvid sooner than he would have liked. Arvid smelled blood and has done everything he can to prove he should stay in the NHL in four games (three started), going 1-2-1 with a 2.77 GAA and an SV% of .924. If those don't scream future NHL starting goalie, you should check your ears. But the most impressive thing is how he looked. He never loses his net or flops like a fish out of water. When a goalie is calm, it can help keep the team calm and in games. Just look back on the Stanley cup runs and the effect Crawford had. Jon Cooper, head coach of the Tampa Bay Lightning, said it best."…But it was Crawford who was the calming influence, especially in the games when we were pressing and maybe chances in the games that we could have pulled out that we didn't; it was Crawford who stopped us."
Arvid Soderblom has all the tools you want in a goalie, and the Blackhawks have the perfect coaching staff to develop Soderblom. Peter Aubry, the Rockford IceHogs goalie coach, has transitioned Arvid to the smaller-sized ice in North America and has Arvid playing at an elite level in the AHL. Kyle Davidson also has preached patience and will send Arvid back to the AHL once Stalock is healthy so that Soderblom can continue fine-tuning his craft behind a good IceHogs team. And we haven't even mentioned maybe the best goalie coach in the NHL, the LEGEND Jimmy Waite, who turns every goalie he touches into gold.
Arvid Soderblom will be the next Corey Crawford.
Season 2 Episode 10: Is Patrick Kane The Greatest Blackhawks Player Of All Time
–
Cue The Dagger
In this episode, we discuss if Patrick Kane is the greatest Blackhawks player of all-time, Lukas Reichel's one NHL game, and his unbelievable shootout goal. We also break down Seattle's chances of making the playoffs, is hitting and fighting making a comeback? and much more NHL news and topics  #Blackhawks #ALLCAPS #NHL #SeaKraken #LetsGoBuffalo