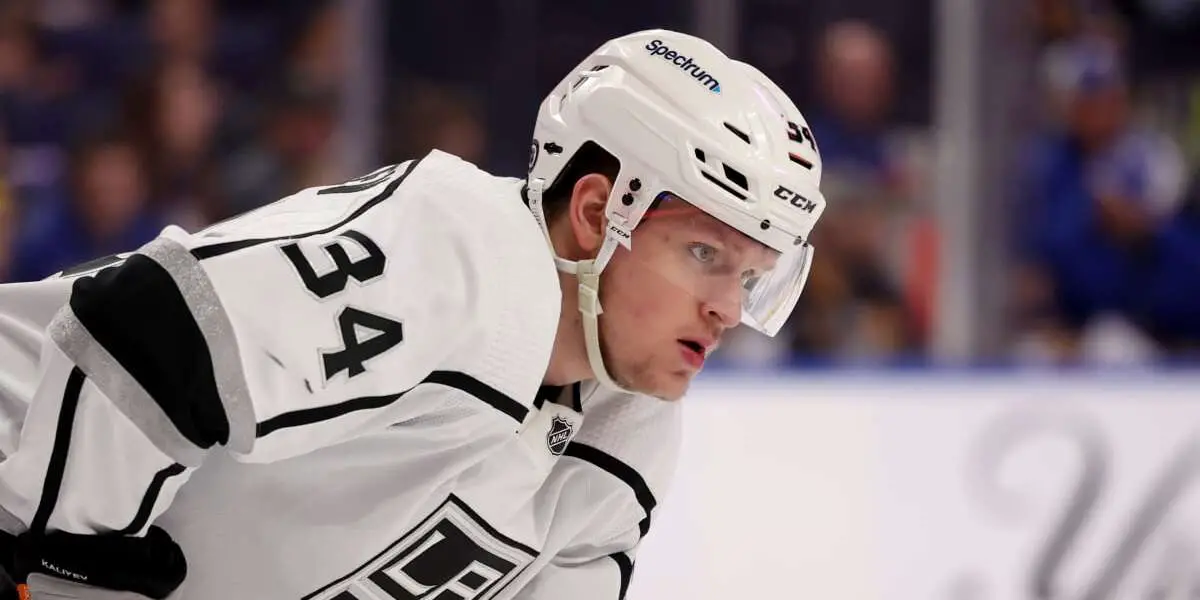 As the 2023 Stanley Cup Playoffs approach, the Los Angeles Kings could very well be without two of their top scorers: Gabe Vilardi and Kevin Fiala. Vilardi has broken out as one of the better players on the Kings, scoring career highs in goals, assists, and points this season for a stat line of 23-18-41. Fiala is the superstar the Kings needed as he was on track to become the first King to lead the team in points who wasn't named Anže Kopitar. In short, Vilardi and Fiala are dynamic offensive-producing machines that have helped the Kings secure their spot in the playoffs.
It is a huge loss to be without Fiala for at least the first game. He's missed 13 of the last 16 games with a nagging lower-body injury, and there's no clear timetable for his return. He's the best player on the Kings and one whose spot on the roster is going to be a hard one to fill. Having not skated in today's morning skate, it looks like a sure bet that the Kings will be without FIala.
As for Vilardi, what looks to be an upper-body injury is shortly coming to a close. He skated with the team today, and while that's no guarantee that he'll be back for Game 1, it's certainly a sign that'll calm the nerves. For now, however, it's a safe bet to say that both Vilardi and Fiala will be out for Game 1. With both out, the Kings lose out on two of their primary scoring threats. Fiala and Vilardi scored 23 goals this season, totals that are not easy to replace. Without the two budding stars, who is going to step up to provide the offense the Kings so desperately need?
Enter: Arthur Kaliyev. Having been in and out of the lineup all season, Kaliyev has struggled to consistently secure a spot in the roster despite putting up good numbers. He's third on the team in powerplay goals despite having only played 56 games this season. He also has 28 points in those 56 games, totals that, if he played 82 games, would have amounted to 41 points. Kaliyev is a good depth option who can provide scoring if needed, and it will be needed.
Kaliyev is known for his scoring abilities. He has an absolutely wicked shot, and with both Vilardi and Fiala absent from the Kings' power play, he's most likely to slot in. Kaliyev is also a very effective player when it comes to 5v5 play, being third on the team in expected goals percentage behind only Viktor Arvidsson and, guess who, Gabe Vilardi. Kaliyev is undoubtedly an NHL level player, and it's a bit puzzling how he's been out of the lineup so often with how good he has been. Regardless, now is his time to shine as an effective scorer and offensively-minded forward, and I believe he will shine in a role that is more demanding.
Currently, Kaliyev is slotted in Vilardi's usual spot next to Lizotte and Iafallo. In a more demanding role, the pressure is on Arthur Kaliyev. If he believes he can shine in the NHL, there's no better stage to prove it on than the Stanley Cup Playoffs. And with Fiala and Vilardi out, expectations are going to be higher than ever for the 21-year-old forward. Time will tell if he will be able to live up to those expectations.
The boys are back after a long break but have plenty to talk about as the playoffs are in full swing. We go series by series, looking at how teams have fared so far and who will come out on top. Thanks for listening! Please rate and review our show on your favorite listening platform. Check out our partner's website at www.insidetherink.com for all your latest hockey news.