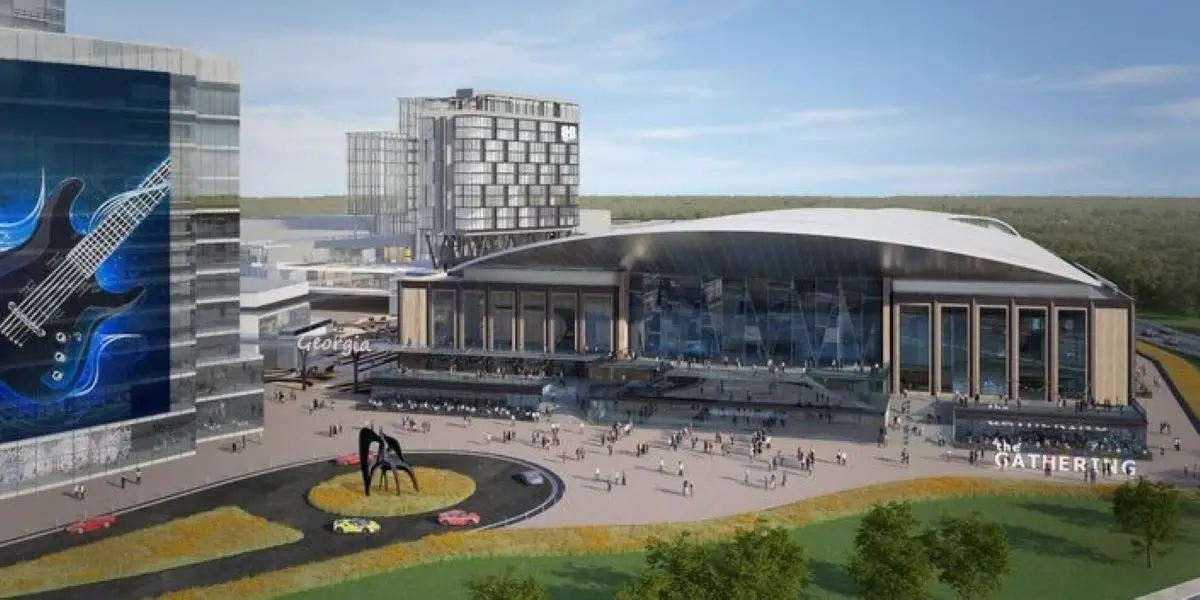 Monday afternoon, Krause Auto Group announced plans to build a world-class entertainment center in the Alpharetta area. The location, which is about 27 miles north of downtown Atlanta, would be known as "The Gathering at South Forsyth." The rumblings around the city presume that The Gathering will be used to lure an NHL franchise to the area. 
The reactions online seemed to be split 50/50 on if residents of the Metro Area want to see Atlanta with its 3rd iteration of an NHL team. Most arguments against bringing a team here center around the first two failed attempts, the latest being the Thrashers, which played in Atlanta from 1999 through the 2010-11 season. The Thrashers moved to become the Winnipeg Jets, where they still are today. There have been many articles written and talking head segments about how bad the ownership of the Thrashers was. They never engaged the community nor connected with the right sponsors to give the Thrashers a chance after buying the team from Time Warner. 
I could go on and on about why hockey failed the first time and the second time, but what's important is how to make it successful this time around if there is a "this time."
There must be competent ownership for hockey to work here. There must be someone who enjoys the sport and wants to see hockey succeed. Atlanta has a metro population of over six million people and is home to more than 15 Fortune 500 companies. These are two great prerequisites that an owner would love to walk into. A brand new arena should have no issue getting corporate sponsorship from one of these companies, and the metro area population is only getting bigger.
Bob Naegele Jr. was a businessman who grew up in Minnesota and put together a group of other hockey fans and were able to bring hockey back to Minnesota in the form of the Wild. Naegele was known to interact with fans while they were entering the arena, and he got to know his players and their families. He wasn't there to treat the team as another investment but instead became an intricate part of the team itself. This is the blueprint for sustaining a successful franchise. The Atlanta United have also been successful with this same method. Arthur Blank brought soccer to Atlanta, and it has been very successful. United has already captured a championship and continues to rank at the top of the league in attendance, year in and out, even when not competing for a championship. Location is a very important aspect of bringing in a new team. Atlanta proper, where the United play, is very diverse, and that bodes well for soccer, which is a very diverse game. The world's most popular game. The location for the new arena is in the location which saw the most season ticket holders for the Thrashers and makes the most sense where people will come see the product. 
Atlanta has plenty of passionate hockey fans in the area. I, myself, am one of the many transplants from another state that calls the Atlanta metro area home. I grew up in Detroit, Michigan. I grew up watching the greats like Steve Yzerman, Sergei Fedorov, and Nick Lidstrom winning cups and taking the league by storm. I grew up loathing anything from Colorado, making up nicknames for Sidney Crosby and going to the Joe to watch away playoff games on our jumbotron. That passion left once I left the state of Michigan because I didn't have a team to fulfill that. Just this year, I became aware of the Atlanta Gladiators, who play in the ECHL. The Glads play about 50 miles away from me in the Northeastern part of Metro Atlanta. I took my wife and four kids on a Saturday afternoon and immediately fell back in love with the game. The interactions the kids had with the players were exactly what I remember as a kid. My kids now know all the players' names and can pick them out by sight. Even my wife, who didn't know offsides from icing, gets into the games now. There are many transplants like me who would love to have a local team to call their own again. I represent the Wheeled Wing through and through, but my allegiance would definitely change if I had a team in my backyard again. 
I've been lucky to meet a lot of Gladiator fans who are lifelong Atlanta area residents who are extremely knowledgeable fans. A lot of them were even Thrasher ticket holders at one point. This part of the fan base also would love to cheer for an NHL team again. This new arena gives all of us hope that, once again, we will have a team to support.
The boys are back after a long break but have plenty to talk about as the playoffs are in full swing. We go series by series, looking at how teams have fared so far and who will come out on top. Thanks for listening! Please rate and review our show on your favorite listening platform. Check out our partner's website at www.insidetherink.com for all your latest hockey news.