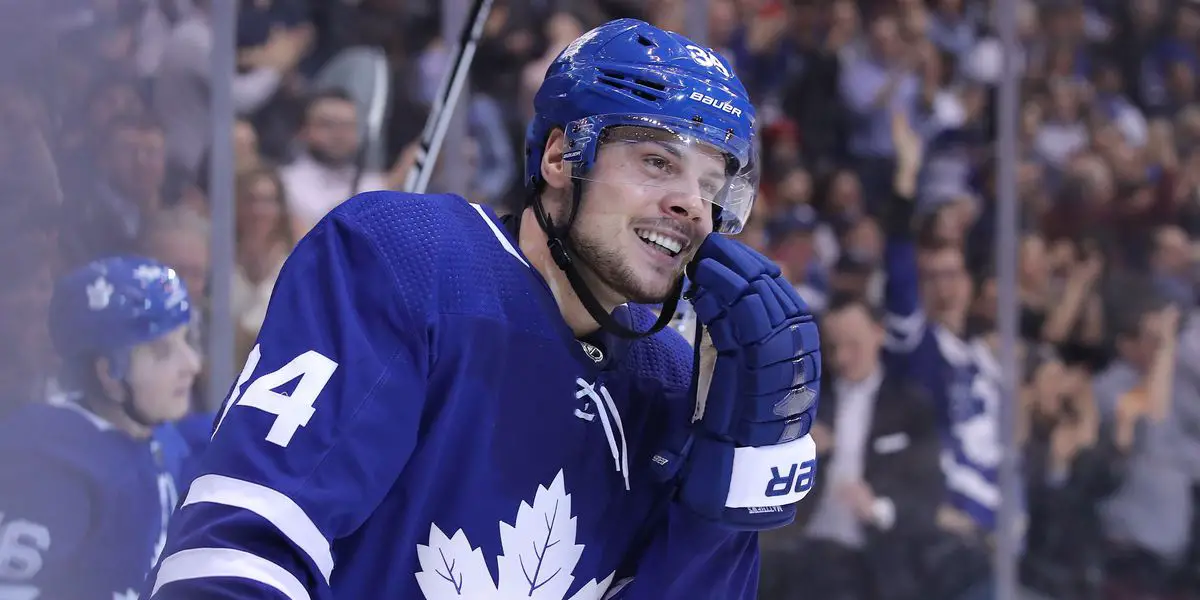 Auston Matthews has shown that he is determined to be at the top of the hockey world, and this season has proven that. Entering this season, he was coming off wrist surgery which caused him to miss the start of the season, and he still caught the league leaders in scoring. He was competing for the league leader heading into the Heritage Classic against the Buffalo Sabres, and he was served a suspension for two games and still came back on the same pace he was on previously. The guy never quits; he is a freak of nature and a ton of fun to watch. After tonight against the Dallas Stars, he notched his 55 and 56 goals of the year to secure the win for the Maple Leafs, and he still has 11 games to keep this pace up to score the most goals in the Salary Cap Era with 66. 
Based on his performance this season, we will discuss the awards he is eligible to win and the players he is competing with. 
Hart Trophy: Most Valuable
Auston Matthews or Igor Shesterkin is essentially the two front runners for this trophy, and it may be closer than some (including myself) seem to think. Matthews has 56 goals and 97 points thus far with 11 games remaining, which is impressive. However, Igor Shesterkin has had a fantastic season himself, with a .933 SV% and a 2.14 GAA in 46 games. Those numbers haven't been seen in the NHL in years since Dominik Hasek had a .937 SV% in 1998-99 with the Buffalo Sabres. The tricky thing about this trophy is that it is awarded to a player that is deemed most valuable to their team. Although both stats lines are insane, the voters must decide who has truly been more valuable to their team, which will be extremely difficult. My vote is Auston Matthews, and no disrespect to Shesterkin, but I feel that scoring 60+ goals in 1 season, and doing it at the pace he has, is enough to get him the Hart Trophy. It's worth noting that only 2 Toronto Maple Leafs have won the Hart Trophy in their 100+ years of history, Babe Pratt in 1943-44 and Ted Kennedy in 1954-55, but no other Leafs have won it in the last 67 years.
Rocket Richard Trophy: Top Goal Scorer
Being the reigning Rocket Richard winner and the only Toronto Maple Leaf ever to win this award, Auston Matthews knows what it takes. The grind to score almost nightly is very difficult, especially when you are in a foot race with another elite-level player in the league. That is what is happening this season, Leon Draisaitl is the only other 50-goal scorer in the NHL thus far, and in the last week, he was keeping pace with Matthews. But after this last week, Matthews has scored a hat trick and another two tonight, pushing him in sole possession of the top spot for the Rocket. Draisaitl is an elite goal scorer who can put up six goals in 1 week and claw back into the race with Matthews down the final stretch of the season, especially when you consider the players with Connor McDavid a point-producing machine. Still, Matthews has Mitch Marner, who has put up some of the best numbers since returning from covid earlier this year. This race will be one to watch, but it is Auston Matthews's race to lose as of right now. 
Ted Lindsay Trophy: Most Outstanding Player (Lester B Pearson)
Many consider this trophy the "Companion" to the Hart Trophy, which has seen 14 players win both the Hart and Ted Lindsay in the same season, most recently Connor McDavid was the winner of both last season, and it looks like there is a chance that it could happen again. The battle for this trophy is the same as the Hart trophy, in my opinion, and that is Matthews and Shesterkin. Outstanding is an understatement when you look at the numbers these two are having, but there hasn't been a double winner in this trophy's history since debuting in 1970-71. This race will also be a tight race, but I think Matthews is the front runner for this as well, and that is based solely on what he has been able to do this season and the pace at which he has done it. If Auston Matthews does win the Ted Lindsay this season, he will be the first Toronto Maple Leafs player ever to win it, and I think this adds to him being the greatest of all-time in franchise history.