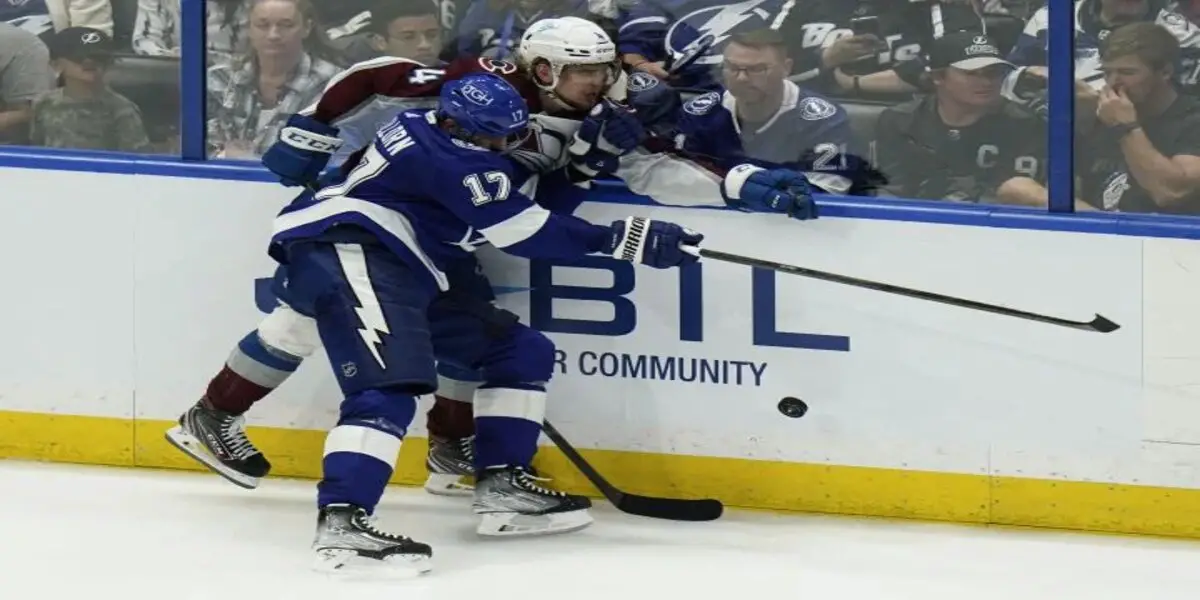 We tried to warn you.
The Lightning have been the comeback kids this postseason, having overcome deficits in the Quarterfinals and the Conference Finals to advance to the big dance for the third consecutive season. And Game 3 was no different as the Lightning defeated the Avalanche 6-2 to set up a crucial Game 4 tonight in Tampa.
Avalanche head coach Jared Bednar has a huge decision to make that could decide the Stanley Cup winner. Will he elect to start backup goaltender Pavel Francouz over starter Darcy Kuemper? Let's look at the statistics. Francouz is 6-0 in these playoffs with a .906 save percentage while Kuemper has been inconsistent at times with a .892 save percentage.
For Tampa Bay, injuries are beginning to become an issue. Lightning star Nikita Kucherov was hurt late in Game 3 after taking an awkward tumble into the boards after a cross-check from Devon Toews. The incident was reviewed by NHL Player Safety, and no supplemental discipline will be coming for the Avs defenseman. Tampa Bay coach Jon Cooper is hopeful Kucherov will be strong enough to play.
"Yes, I think so. I hope so. Let's see how he is tomorrow," he stated on Tuesday.
Brayden Point, who led the NHL with 14 goals in the playoffs in each of the past two seasons, missed Game 3 and isn't likely to play Game 4 due to a myriad of injuries, including a torn hip flexor, and a lower back injury.
What time is Avalanche vs. Lightning Game 4?
8 p.m. ET tonight
Where to watch and stream?
Channels: ABC, CBC, SN
Streaming: ESPN+, SN Now
What are the odds for Lightning at Avalanche Game 4?
Betting odds provided by BETMGM. Remember to gamble responsibly.
Avalanche vs. Lightning Game 4 preview
If the Avalanche win, they will have the opportunity to close out the series at home. If Tampa Bay wins, the series likely goes to seven games. Wednesday could very well decide who hoists the Stanley Cup at the end of the season. With that said, Game 4 is a 50-50 matchup. Although the Avalanche lost Game 3, the silver lining is that they still managed to outshoot their adversaries 39-32. This evening will come down to who can make the best adjustments. Tampa Bay clearly won that battle in Game 3 as they were able to dominate on both sides of the ice. Furthermore, star goaltender Andrei Vasilevskiy was back to his old self, stopping 37 shots. Not only did they give up less goals, but the Lightning also increased their offensive output from Game 2 to Game 3, from 16 shots to 33. Talk about flipping the script.
Reverse engineer those numbers and you can see a hint at what Cooper and the Lightning are up to. It would have been easy to say, 'Hey, we just got stomped on for seven goals, we should slow down the game and limit those shots, because if they don't shoot, they can't score.' But that's not what Tampa Bay did. Instead, they increased their own action. They sped up the game. They more than doubled their shot output from Game 2 to 3, from 16 to 33.
This is like Manny Pacquiao-Juan Manuel Marquez with skates. The Bolts may get hit with a lot of punches, but their best counterpunch is their offense, which struggled the first couple of games in the series. But when they sped up the game, the Avalanche looked vulnerable. However, Colorado is still capable of landing those blazing Pacquiao combinations. In this case, scoring goals in rapid pace.
This series is far from over and any one of these teams has the ability to land that knockout punch. Game 4 will be one for the ages.
The boys are back after a long break but have plenty to talk about as the playoffs are in full swing. We go series by series, looking at how teams have fared so far and who will come out on top. Thanks for listening! Please rate and review our show on your favorite listening platform. Check out our partner's website at www.insidetherink.com for all your latest hockey news.