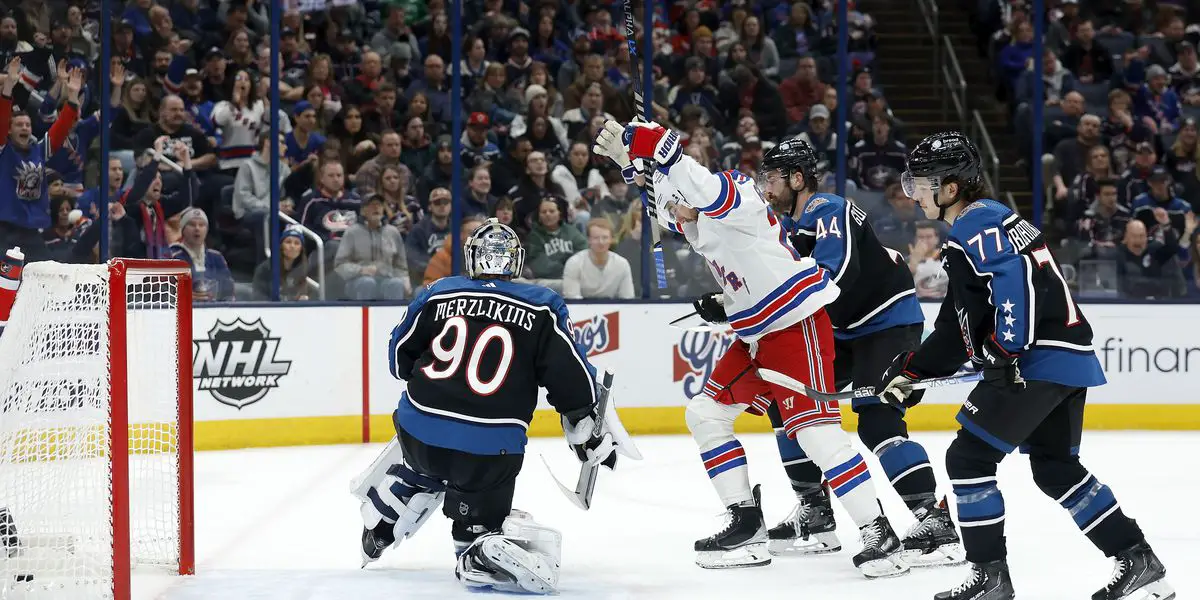 The NY Rangers bounced back from a sluggish loss to Montreal by defeating the Columbus Blue Jackets 3-1 with an uninspiring but effective triumph.
Whether it was the aftermath of a flu bug spreading through the locker room or just an emotional letdown, the Rangers couldn't waste another opportunity to defeat a lesser opponent. Instead, they took care of business, which they needed to with the tough Bruins coming into town Thursday. So, let's break down this victory.
THAT'S GOOD!
WE ARE YOUNG
Granted, one young talent did not help his cause, but for the most part, this was an excellent showcase for many of our players in their early 20s.  
Kaapo Kakko bounced back from a mini non-productive streak with two assists. Chytil had an assist and was his usual active self. That included a nifty pass to Vitali Kravtsov, who crashed the net for his third goal of the season and played a very good, overall spirited game.
Add in another assist for both Fox and Miller, and youth served us well in this contest.  
BARCLAY GOODROW
I know Goodrow is a divisive player when it comes to the Rangers fanbase. Most like him as a player for what he is but get frustrated with the perception of Gallant that he can be a top-line asset.  
However, he brings many intangibles to the ice, and when that is accompanied by production, you can appreciate why Gallant has taken that stance.
He got a power-play goal (the first of his career) with a great Kreider-Esque tip in front on our second power-play unit. He also had an assist, in addition to his all-around penalty-killing and defensive prowess.
While I agree, I believe Goodrow's best value lies in the bottom six; fans should stop worrying about where he plays and focus on what positive attributes he brings to the team.
JARO HALAK
I thought it was a great move when the Rangers acquired Jaro Halak as our backup in the offseason. Early returns, though, were not good, to say the least. Halak looked like a goalie whose best years were clearly behind him.
He didn't have much work to do at all during the first half of this game, especially. However, when Columbus made their push and Halak was called upon, he made some solid to spectacular saves. Thankfully, he has righted the ship in his past handful of starts and looks like the competent professional backup we thought we were getting. This is exactly the type of effort we'll need from him in the future.
THAT'S BAD!
PERCEPTION OF LAFRENIERE
This category title is unique because I didn't want to make it seem I was bashing Lafreniere. However, that also doesn't mean there wasn't a valid negative takeaway from this game regarding his performance.
When Chris Kreider went down, and it appeared to be short-term, a positive byproduct of that scenario was that Alexis Lafreniere would get what many had been clamoring for. That is, time on the top line and significant minutes with the first unit on the power play. This was a mini-audition of sorts. One that he seems to have failed.
After a while, the numbers don't lie. Zero points in these last three games, with two against inferior opponents. Even more damning is the second power-play unit scored last night without him. He had chances he failed to convert, including getting blocked on an empty net opportunity that Mika served up for him last night.  
That now makes sixteen straight games without a goal and little impact otherwise. So while Lafreniere has not been good and has earned criticism, the perception of him, no matter how valid, could turn this situation into a monster.
He is still young, and he obviously can bounce back from this. However, he came here with a ton of hype and supposedly an abundance of skill and talent. Unfortunately, those have only been seen in flashes throughout his Rangers' tenure, and those frustrating whispers are turning into loud and clear statements.  
For a player who lacks confidence, I worry about how that perception will affect him going forward. We NEED him to snap out of this and find his game. How he handles this adversity will be crucial to his development and future with this team. Perhaps that sounds dramatic, but I feel we are reaching an important crossroads with Laf if we're not standing at it already.
CAN I GO NOW?
That was a beautiful snipe and goal by Mika. Hoping to see more of that from him so he can get on one of his blazing streaks.
Panarin is still missing the net way too much for my liking. Perhaps this is still an aftereffect of the flu (and I know he scored the other night), but I'm still waiting for the best version of him.
I love Ryan Lindgren. We all know the warrior he is, but I think that overshadows how GOOD he is. He bleeds blue for this team, but he's an underrated stout defenseman in his own right.
A massive game is coming up Thursday as we host the best team in the NHL, the Boston Bruins. We will need our optimal lineup and best game to beat this team. I hope (and it sounds like) we will get back Kreider for this one, and that's key.
https://share.transistor.fm/s/7a73e3d9