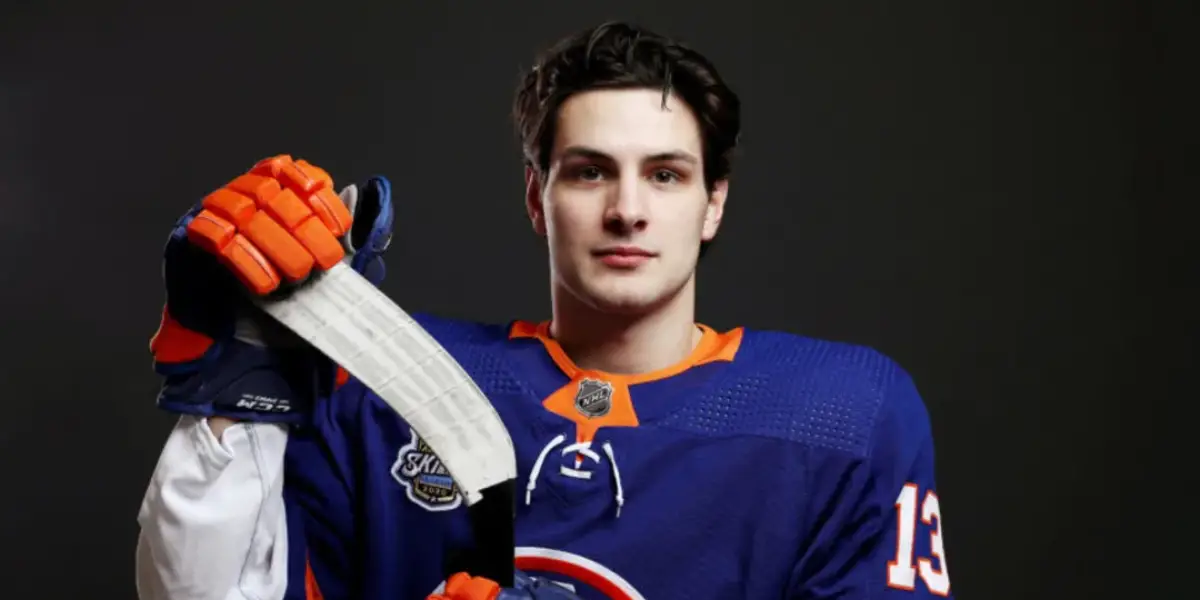 The New York Islanders have been one of the hottest teams in the league as of late, as they've now won four of their last five and nine of their last 11 dating back to October 26. Given how last season went, some might see this start by the Isles to be surprising. But to Isles fans, the surprise lies in the stat column for a player many see as a star. 
As this article is being written (ahead of the Isles' trip to Nashville on November 17), there are two ways to look at how Mathew Barzal's season has started. Let's start with getting the "glass half empty" approach out of the way: through 17 games played, Barzal has scored a total of… zero goals. No, that isn't a typo, a stat error, or anything like that. Barzal still has yet to pot one this season. Barzal is on a list of five Islanders that have yet to record their first goals of the 2022-23 season. Those players (outside of Barzal) are newcomers Alexander Romanov, Nikita Soshnikov (whom the Islanders placed on waivers on Tuesday), and longtime Islanders Casey Cizikas and Ross Johnston. 
Now that we've gone through the negatives let's look at the positives. There are a few different ways I could start with the "glass half full approach," so I'll start by saying that despite not having a goal to date, Barzal is over a point per game with 18 assists in 17 games. His 18 points have him tied for the team lead in scoring with Brock Nelson (nine goals, nine assists in 17 games).
In addition, assuming Barzal keeps up this pace, he's currently on pace for 87 points, which would be his best offensive season since his Calder Trophy-winning 2017-18 (85 points in a full 82-game slate). Of course, those numbers aren't set in stone, given the strange circumstance, Barzal finds himself. The 25-year-old has been a lock for at least 15 goals since his first full season in the league, and to be frank, he's too talented of a player to have this streak continue. The goals will come. It's only a matter of when.
It might be hard to see with the goose egg in the goal column, but Barzal's numbers should be grabbing more attention than it's getting. The 16th overall pick from 2015 is in sole possession of third place on the league's assist leaderboard, ahead of some of the league's most dynamic playmakers (Artemi Panarin, Connor McDavid, David Pastrnak, Nikita Kucherov, and Mitchell Marner, to name a few). Some might see that stat as nitpicking, but it's impressive to see, given how much Barzal's numbers the past few seasons have taken some heat (in a strict defensive-minded system, but I digress). 
Barzal will have another chance to break the goal-scoring slump on Thursday as the Islanders play their second of a four-game road trip at Bridgestone Arena against the Predators. From there, it's on to Dallas on Saturday and Toronto on November 21 before returning to UBS Arena on Thanksgiving Eve as they host McDavid and the struggling Edmonton Oilers.
The boys are back after a long break but have plenty to talk about as the playoffs are in full swing. We go series by series, looking at how teams have fared so far and who will come out on top. Thanks for listening! Please rate and review our show on your favorite listening platform. Check out our partner's website at www.insidetherink.com for all your latest hockey news.