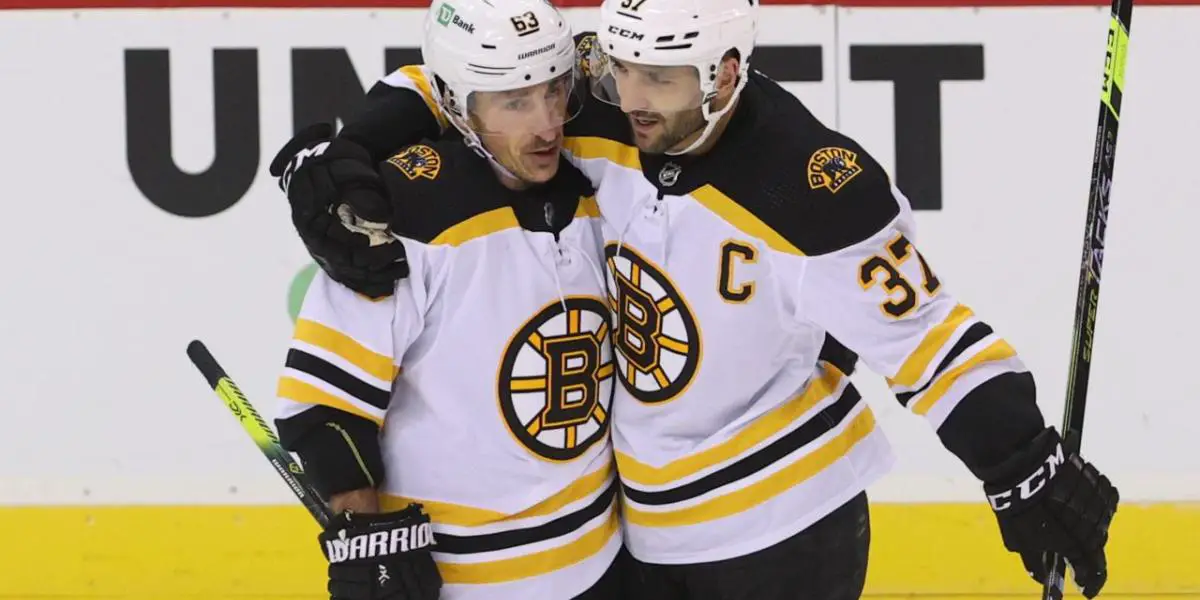 When thinking of the Boston Bruins over the past decade, three things come to mind, Brad Marchand, Patrice Bergeron, and a Winning culture. These two players go hand in hand with the word success, as season after season, they help lead the Bruins to the playoffs, including three Stanley Cup final appearances (2011,2013,2019) and one Stanley Cup Championship (2011). Even as the roster turns over, these two players remain a constant, and so does the winning culture that these two players have established in Beantown since entering the league.
The Top Line Duo Looks to Keep Climbing
As the Bruins clinched their sixth straight playoff appearance yesterday with their 2-1 win over the Pittsburgh Penguins, the duo of Bergeron and Marchand once again look to lead their team to the promised land. Since joining the Boston organization back in 2003-2004 for Bergeron and in 2009-2010 for Marchand, both players have laced up the skates and helped win some key playoff series. As they go through the process of making it back to the Stanley Cup Finals, these two players look to rewrite the Boston Franchise playoff history books as they close in on some records.
Bergeron is Closing in on First
When looking at the success that Bergeron has had, there are only two players in team history that have won more playoff series than him. Wayne Cashman (19) and Ray Bourque (17) sit ahead of Bergeron's 16 playoff series wins. Now that the Bruins are guaranteed a playoff appearance this year, Bergeron has the opportunity to tie Bourque for second place if the Bruins can advance out of their first-round series with a win. 
Marchand Not Far Behind
As for Brad Marchand, his 14 playoff series wins rank him seventh all-time in team history. For Marchand, he looks to help lead this Bruins team to victory in the first round, which would give him 15 series wins in his career, tying him with former teammate and Bruins longtime captain Zdeno Chara.
The list also includes some other impressive names for the Bruins, such as David Krejci (16), Don Marcotte (16), and Gerry Cheevers (14) also span the top of the list for most postseason series wins in franchise history.
Bruins Need to Get Healthy to Win
For the Bruins to have a chance to advance past the first round of this year's playoff series, they must find a way to get healthy first. They are still without top goal scorer David Pastrnak and top blueliner Hampus Lindholm. They were spotted skating before practice the other day but still haven't participated in any official practice. The Bruins also look to get veteran goaltender Linus Ullmark back in the coming days as he was shaken up by a puck to the cage the other night and is listed as day to day. If the Bruins get healthy and find their stride at the right time, as we have seen in the past, they should make a legitimate run at this year's Stanley Cup. This year, the Eastern Conference is full of top talent as the Florida Panthers, Carolina Hurricanes, New York Rangers, Tampa Bay Lightning, Toronto Maple Leafs, Pittsburgh Penguins, and Washington Capitals are all battling alongside the Bruins to come out on top.
Episode 51: Interview w/Jack Ahcan Episode 51 is back in action talking about the New York Paingers ITR bet, Can Buffalo Sabres make the playoffs? Is Vancouver in the wrong on the Boudreau treatment? Is Tocchet the right guy? Is Daryl Sutter the last Dinosaur in the NHL?YouTube: https://www.youtube.com/@insidetherinkTwitter: https://twitter.com/CueTheDuckBoatzFacebook: https://www.facebook.com/Cuetheduckboats/Thanks for listening! Please rate and review our show on your favorite listening platform. Check out our partner's website at www.insidetherink.com for all your latest hockey news. Also, catch all of the games in this year's NHL season by signing up for ESPN+ at Insidetherink.com/ESPN