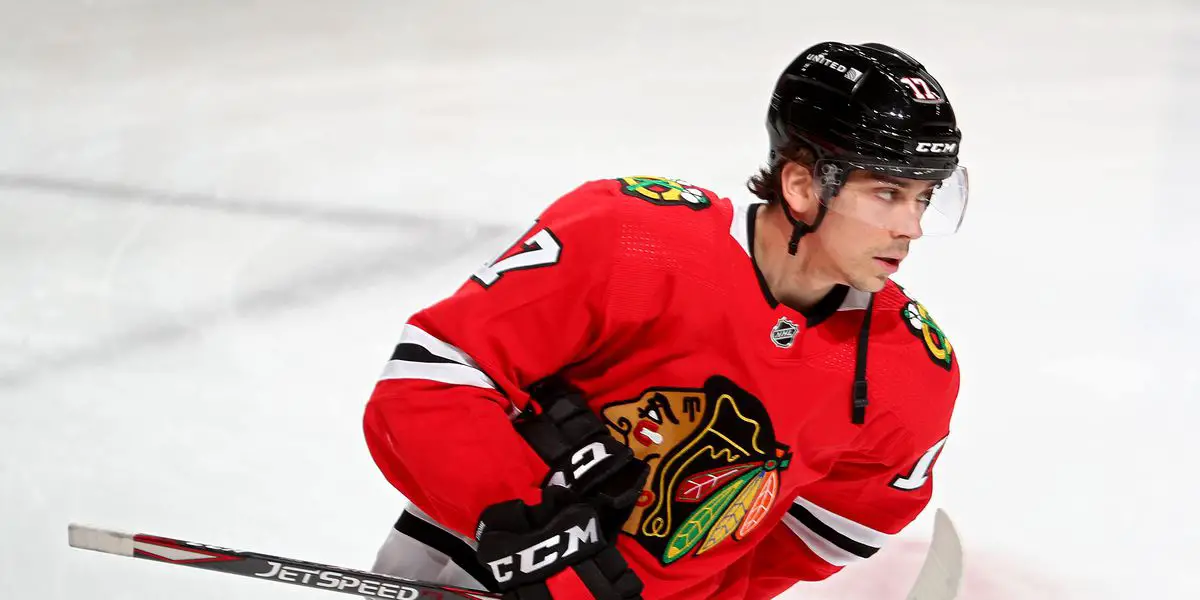 The off-season is in full swing for the Chicago Blackhawks. Chicago will not have a first-round pick this season due to it going to Columbus after not winning the NHL lottery. While the scouts are putting the final touches on their draft boards, Davidson should be evaluating his pending free agents and developing a plan of attack. The Blackhawks have nine pending free agents. Davidson has a massive amount of work in his first NHL offseason, from the coaching search to the draft, but asset management will be vital in shorting up the rebuild.
RFA= Restricted Free Agent
UFA= Unrestricted Free Agent
Forwards:
Dominik Kubalik:
Kubalik is a pending RFA with arbitration rights. In addition, Kubalik is coming off another lousy season, only scoring 15 goals, well shy of his rookie season where he had 30. Davidson was unsuccessful in moving him at the deadline proving his value is at an all-time low. Unless Davidson can talk Kubalik's value up, it's best to sign Kubalik to a one or two-year contract, and the Blackhawks could play him on a line with Kane and try to drive his value up in time to move him at the deadline next season.
Dylan Strome:
Strome is the hardest decision that Davidson has. Strome played terrific down the stretch and was just shy of a point per game over his final fifty games. He had a career-high in goals with 22. If Strome is qualified, he has arbitration rights. Davidson's recent comments about wanting to play a fast, skilled game don't fit Dylan Strome's game. Strome's weakest link has always been his speed. If Davidson can turn Strome into a second-round pick or package Strome and a pick to move up into the first round, he should make the deal. If Davidson cannot get a second-round value from Strome, he should sign him to a one-year contract and play him in a top-six role until the trade deadline. Strome is still young, at the age of 25. Davidson will need to be clever with the former third overall pick.
Kirby Dach:
Dach will be resigned. It's just a matter of how much and how long. Kirby is an RFA, and he does not have arbitration rights, giving Davidson all the cards in the negotiation. After struggling again on the offensive side, Dach will not be getting the big-ticket he wanted. Davidson should be eyeing a two-year deal around 2-3 million.
Philipp Kurashev:
Kurashev is in a similar boat as Kirby Dach. Kurashev is a pending RFA without arbitration rights. Kurashev has struggled to stay in the NHL lineup. Davidson should be able to get a one-year to a two-year deal with a cap hit in the 1-2 million range. There is a chance that Davidson looks to move on from Kurashev and trade him.
Defenseman:
Calvin DeHaan:
DeHaan has more than likely played his final games in a Blackhawks season. With the Blackhawks going into a rebuild, with seven to eight young defensemen who need to be getting looks in the NHL, the pending UFA doesn't have a roster spot in Chicago. So DeHaan will be looking elsewhere to play hockey in the NHL. This is one of Davidson's few mistakes not moving DeHaan at the deadline. Bad asset management.
Caleb Jones:
Caleb is a pending RFA with arbitration rights. Seth Jones said he would like his brother to come back for a second season in Chicago. Caleb could maybe fetch a fourth-round or fifth-round pick if Davidson looked to trade his rights. Caleb Jones had a roller coaster of a season and was in and out of the lineup. With Chicago having a lot of young defensemen in the pipeline, Caleb could be on the outside looking in.
Erik Gustafsson:
If Davidson knows hockey, he will let the pending RFA walk. Gustafsson's time in Chicago is over.
Goalies:
Kevin Lankinen:
Lankinen is a pending UFA who struggled most of the last two seasons. You can expect Davidson to look into the free-agent pool for the next goalie in Chicago.
Collin Delia:
Season 2 Episode 10: Is Patrick Kane The Greatest Blackhawks Player Of All Time
–
Cue The Dagger
In this episode, we discuss if Patrick Kane is the greatest Blackhawks player of all-time, Lukas Reichel's one NHL game, and his unbelievable shootout goal. We also break down Seattle's chances of making the playoffs, is hitting and fighting making a comeback? and much more NHL news and topics  #Blackhawks #ALLCAPS #NHL #SeaKraken #LetsGoBuffalo 
Delia is a UFA, and after being tossed to the side when Chicago brought in Fleury. So it's Likely Delia is ready to change organizations. As previously mentioned, Chicago's goalie next season will likely come from free agency.