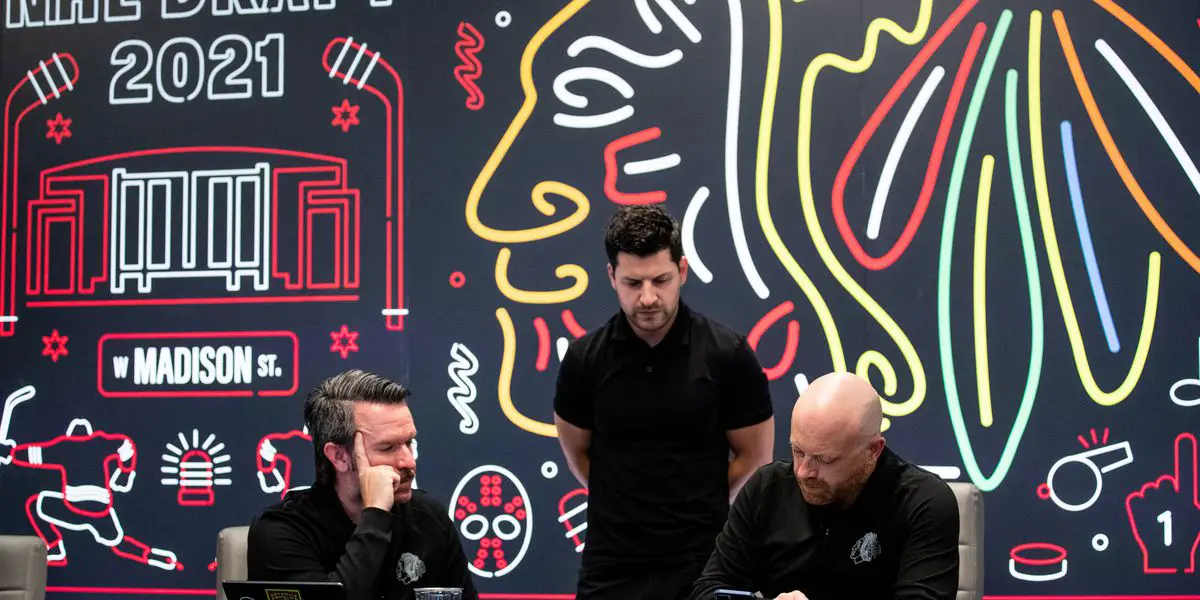 Kyle Davidson continues to impress. When he got the job in Chicago, he said he would change how hockey operations were managed. Then he went out and added the likes of Norm Maciver, who was with another organization but just left Chicago and was more of an inside hire. Davidson also surrounded himself with Brian Campbell. This had most people scratching their heads. What happened to change? Danny Wirtz said that Change was coming, then hired Kyle Davidson. Davidson said he would bring Change, then hired Norm Maciver. But then, just when it felt like it would go back to the dark ages again, late last night Marc Lazerus broke the news that Chicago and Kyle Davidson would be adding Jeff Greenberg as an associate General Manager. 
The Blackhawks would make this hiring official early this morning, A sign of a new start in Chicago. Greenberg will have a fresh new outlook on how the Blackhawks will conduct their operations. Can his past success with the Cubs boil over to West Madison Street?
What does this mean? 
This hire kind of came out of nowhere. Jeff Greenberg was previously talked about when the Blackhawks were searching for their General Manager and even got an interview for the job. After Danny Wirtz and the Blackhawks went with Davidson, the thought was Greenberg would stick with the cubs. Somehow Davidson was able to pry the wicked analytic mind of Greenberg away from the Cubs and to the Blackhawks. Greenberg has spent his last eleven years on the Northside working under Jed Hoyer. 
Why would Greenberg, a Baseball guy, leave to come to hockey? Greenberg has worked in baseball his whole career, but he's not just some Baseball analytic guy who's going to look at numbers alone. He was a college hockey player for the University of Pennsylvania. Now it was club-level hockey, but it should still take a little stress off the backs of Blackhawks fans, knowing Greenberg has played the game at a high level. Greenberg will understand how the intricacies of building an NHL team and how a roster needs to work not only on paper but also on the ice. 
This move is more significant than just the hiring of Greenberg. It shows that the Blackhawks are changing how day-to-day hockey operations run. The days of Stan Bowman are dead. It's time for the Blackhawks' new era to begin! The days of trading away Teuvo Teravainen are over! Instead, Chicago will have a plan and stick to it. No more flip-flopping every offseason. This is Kyle Davidson's Chicago Blackhawks. 
Davidson now has a great core of minds surrounding him to lean on. This offseason is massive for the outlook of the franchise. Davidson will need to navigate the Futures of Kane and Toews, Alex DeBrincat's extension, and his first NHL draft. Davidson has everything from the old hockey mastermind of Maciver, the ex-player in Campbell, and the analytic genius of Greenburg. Now it's time for Davidson to get to work, Starting with the signings of Alex Debrincat and Patrick Kane.
Season 2 Episode 10: Is Patrick Kane The Greatest Blackhawks Player Of All Time
–
Cue The Dagger
In this episode, we discuss if Patrick Kane is the greatest Blackhawks player of all-time, Lukas Reichel's one NHL game, and his unbelievable shootout goal. We also break down Seattle's chances of making the playoffs, is hitting and fighting making a comeback? and much more NHL news and topics  #Blackhawks #ALLCAPS #NHL #SeaKraken #LetsGoBuffalo