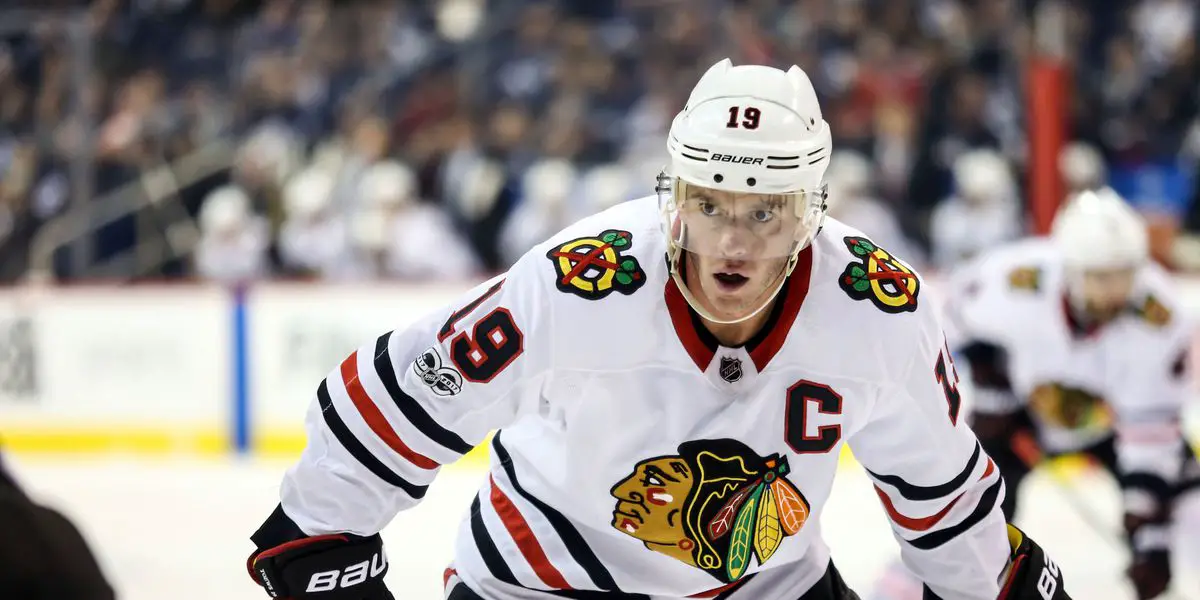 Hopefully, Blackhawks fans haven't checked out just yet. The Blackhawks have absolutely nothing to play for, but Blackhawks fans could be watching the final games of one of the most iconic players that will ever play for the Blackhawks. Jonathan Toews has had a crazy up and down season. In fact, his last few seasons have been a roller coaster ride. Toews is entertaining the final year of his eight-year 10.5 AAV contract next season. While the Blackhawks are heading towards a rebuild, that means more losing something that has been grinding on Toews's morale. Toews has voiced his frustration on and off the ice; he blew up coming back to the bench after a three-minute shift in the Kings game on April 21st 
Toews has also hinted publicly about playing for another organization. "I wouldn't say it makes me question it as much as, for the longest time, the thought never entered my mind to leave Chicago, and in this case, you can't help but picture yourself and what it'd be like to play for another team and what that experience would bring," Toews said when being asked about going through a rebuild earlier in the season. Toews has consistently been ultra-competitive, earning himself the nickname "Captian Serious." The Blackhawks hadn't seen the playoffs since the 2017 first-round when the Nashville Predators swept the Blackhawks.
Toews's body is not what it once was. After battling back from health issues, he hasn't had the same energy on the ice. At times it looks like he's struggling to catch his breath. After everything, Toews could put his body and health first, meaning his career could end in the coming seasons. However, Toews may want one last kick at the can before hanging up his skates, and sadly Chicago is three to four years before they even think about making the playoffs again. With it being the final year, it's feasible to move Toews. Kyle Davidson could retain fifty percent of his contract, bringing it down to around 5.25 AAV, a more manageable number for teams to take on. The option of adding a third team to the trade is to retain another fifty percent, bringing the number even lower to around 2.62 million. 
The cards are all Johnnys to play. Toews holds a full no-move clause. If Toews decides a rebuild isn't for him and asks Kyle Davidson to trade him, expect Davidson to respect the wishes of Toews and do everything he can to broker a deal to move Toews out of the Windy City. If this is the case, don't expect to get a massive return for Toews, maybe a middle-round to a late-round draft pick. A second-round selection is the absolute most any team would pay for an aging Toews if Davidson can work his magic. 
If this is it for Toews, it's okay
It will be sad if Toews's final game as a Blackhawks is played in Buffalo on April 29th. But ultimately, it's okay to let Toews go. If Toews wants to chase a final Stanley Cup before retiring, he should! Blackhawks fans should support Toews and Davidson if they decide it's best to split ways after fourteen seasons. Toews is going to go down as the greatest Blackhawks captain. The Blackhawks will resurrect a statue one day that will include Toews. The number nineteen will be raised to the rafters joining the other Blackhawks legends. Blackhawks fans will cherish his legacy for decades to come. Toews has given Chicago more than anyone could have asked. Toews deserves the right to decide the way he finishes his career.
Wayne Gretzky was traded out of Edmonton, and Michael Jordan went and played for the Wizards. Not every great player plays for one team. In this case, if Toews wants out, it's best to part ways and move on to the rebuild. For now, we are waiting for Toews to decide his future. If you're a fan of the Blackhawks or Toews, you should tune in to the season's final two games as it could be the end of an era in Chicago. 
Season 2 Episode 10: Is Patrick Kane The Greatest Blackhawks Player Of All Time
–
Cue The Dagger
In this episode, we discuss if Patrick Kane is the greatest Blackhawks player of all-time, Lukas Reichel's one NHL game, and his unbelievable shootout goal. We also break down Seattle's chances of making the playoffs, is hitting and fighting making a comeback? and much more NHL news and topics  #Blackhawks #ALLCAPS #NHL #SeaKraken #LetsGoBuffalo