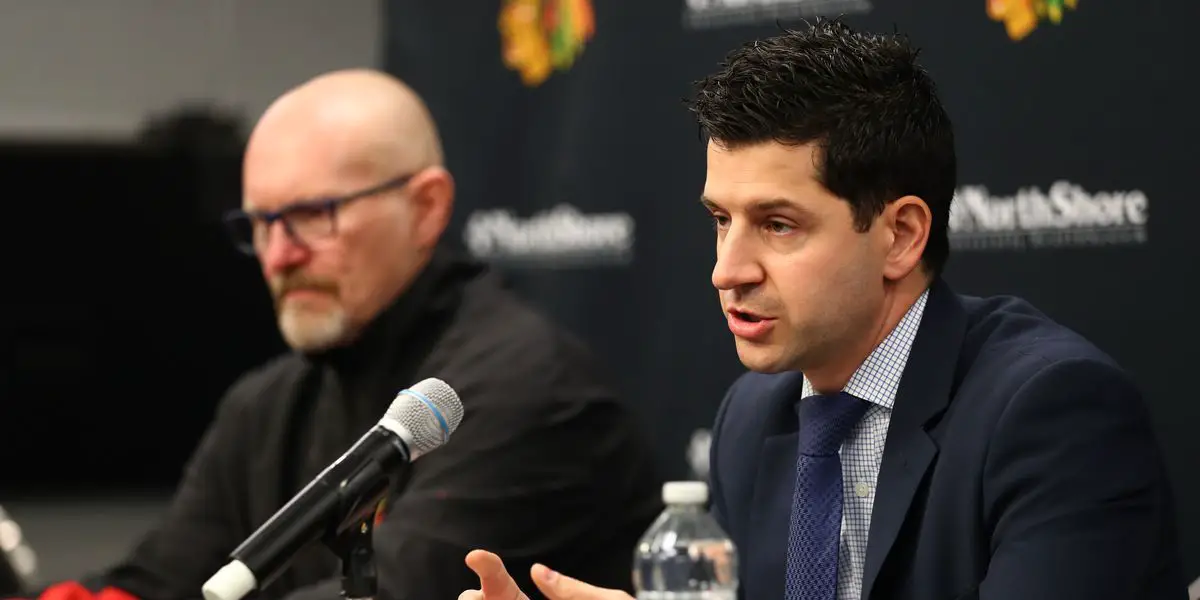 Conor Bedard.
Kyle Davidson's plan is clear, and it's a TANK JOB. But is it time for Blackhawks fans to worry? Davidson had a fantastic trade deadline moving on from Brandon Hagel and getting a MASSIVE return, including two first-round draft picks. Unfortunately, this move overshadowed the choice not to trade Calvin De Haan. Instead, De Haan will sign els were in free agency, leaving the Blackhawks with nothing.
Then the news broke that the Blackhawks would NOT qualify restricted free agents Dylan Strome and Dominik Kubalik, yet another head scratch type of move by Davidson.
Davidson also is reportedly buying out Henrik Borgstrom.
Dylan Strome has had his ups and downs in the NHL. There is zero debate about this, but the former third overall pick is still young at 25. Strome does struggle to "compete" every shift, and he's not the fastest player in the league. However, Strome was starting to produce at the end of the season. From March to the season's finish, Strome played in 28 games and scored 13 goals and 14 assists for 27 points. Strome averages .622 points per game through his short NHL career (273 GP), yet Davidson couldn't even get a fourth-round pick or later for Strome at the deadline?
Kubalik is in a slightly different boat than Strome. First, Kubalik does not have the pedigree of being a high draft pick. Although Kubalik lit the league on fire his rookie season scoring 30 goals in just 68 games, it would go downhill fast for the Pizen, Czechia native. He wouldn't break the twenty-plateau mark the next two seasons, scoring 17 and 15 goals. Davidson would have had a more arduous task getting value out of Kubalik, but he should have been able to get something out of a one-time 30-goal scorer.
Davidson stated that he would not move a player unless he got "fair" value in return. This makes sense for a first-year GM who wants to make it known he will not get pushed around by other GMs across the league. Too bad Davidson did this by forcing the Alex DeBrincat trade and not getting the deal he should have gotten for a two-time 40-goalscorer who is only 25 years old. Davidson wanted to move on from DeBrincat to ensure the Blackhawks had the best shot at the number one overall pick next season. Davidson also knew the player he had his eyes set on in this draft (Kevin Korchinski) would be there at the seventh pick, so he left value on the table and forced the trade.
Is it time to panic?
No, Davidson has made a lot of tough calls, some riskier than the others. Yes, Davidson should have been able to capitalize on Strome, Kubalik, and De Haan. The DeBrincat trade can't be judged until Kevin Korchinski's development is finished. If Korchinski turns into this dominant number one offensive defenseman, the trade will be worth it. Davidson is going all in. But he has a plan, and this is something this organization has been missing for years. Davidson is tearing it down and starting fresh. Davidson's plan will take time, years.
If Davidson's plan works out, the Blackhawks will be prime to have a top-three pick in next year's draft, where they will be able to add a complete franchise-changing prospect in Bedard, Michkov, and Fantilli. Add one of those to a prospect pool of Korchinski, Nazar, Reichel, Commesso, Mitchell, and Rinzel, and the Blackhawk's future is starting to look bright.
The dark days make the bright days that much sweeter. This is the time to hop on and enjoy the ride back to the top. Davidson has a plan its rebuild with speed and skill through the draft. Trust Davidson.
Season 2 Episode 10: Is Patrick Kane The Greatest Blackhawks Player Of All Time
–
Cue The Dagger
In this episode, we discuss if Patrick Kane is the greatest Blackhawks player of all-time, Lukas Reichel's one NHL game, and his unbelievable shootout goal. We also break down Seattle's chances of making the playoffs, is hitting and fighting making a comeback? and much more NHL news and topics  #Blackhawks #ALLCAPS #NHL #SeaKraken #LetsGoBuffalo