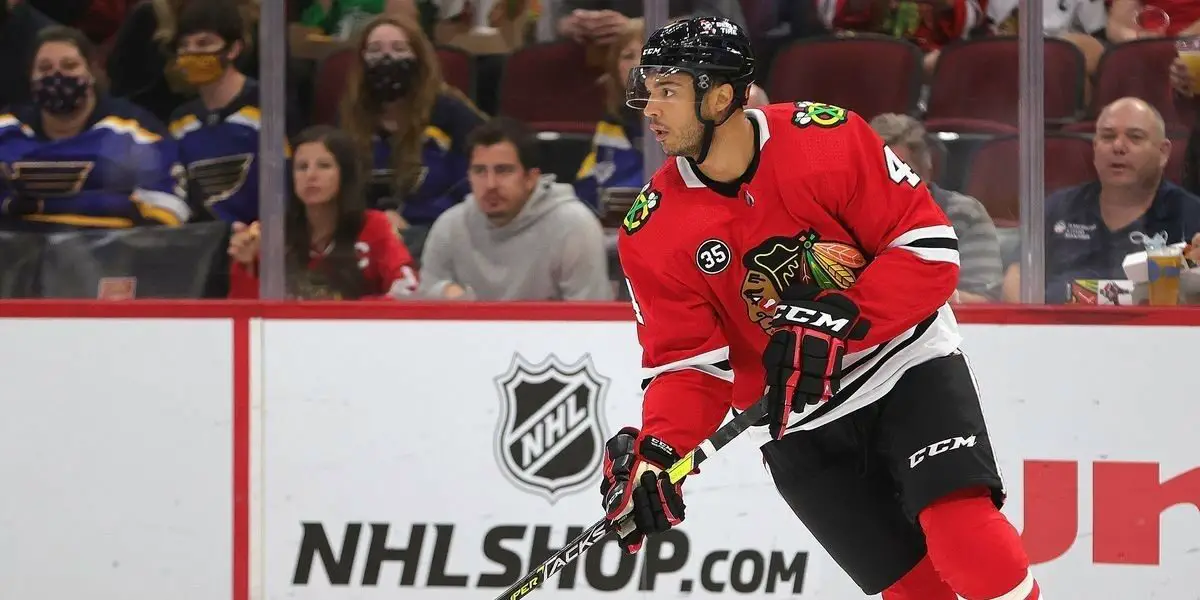 Blackhawks training camp has kicked off. Skates have hit the ice, and hockey is officially back. What better sight than a smiling Patrick Kane holding a sign like a little kid going to school again?
Kand and Toews update
We are starting with the elephant in the room. All Blackhawks fans can breathe out and relax. Kyle Davidson had this to say during his media availability "There haven't been any conversations; we're certainly not at that point. We're focused on training camp and getting into the season. As far as any player movement or anything like that, we're not anywhere near that point. We're focused on Jonathan and Patrick being here and being part of the team and competing right from the opening day. That's what we're focused on. There's been no discussion on that."
The Blackhawks will have Toews and Kane on the ice on October 21st when the Blackhawks take on their rival Detroit.
Injury update:
Ian Mitchell's season has already taken a significant blow as he will miss six weeks with w left wrist injury. Paul Ludwinski and Colton Dach are still in concussion protocol.
Breaking down Luke Richardson's Comments
Luke Richardson had a lot to say to the media. One of the major takeaways is who Patrick Kane will be playing with. And that answer is one Max Domi. Richardson said, "I think we're going to move things around, but tomorrow, just for Day 1, we want to see maybe some Domi speed with Kane on the same line." This could be a match made in heaven. Domi's speed and willingness to play in the nasty areas of the game, along with Patrick Kane's elite playmaking and vision, it wouldn't surprise me if Domi rebounds to his Montreal form and retrieves the Blackhawks a high draft pick when they flip him at the deadline.
If Reichel forces his way on to the NHL roaster opening night, you could find yourself with a line of Domi, Reichel, and Patrick Kane. That screams speed and goals. Behind that line, it would be difficult for the Blackhawks to score, but that line could make the Blackhawks fun to watch well, growing Lukas Reichel.
Richardson is coming in and changing the culture around the team. Last season, the Blackhawks would roll over and go to sleep whenever they faced adversity. This will not happen under Richardson. Richardson will not lose on purpose, even though that is what this roster is crafted for. Richardson went on to say, "I told Kyle right off the hop that we're going to make his job the toughest job possible and try to win as much as possible." With that said, he is not delusional and understands the blueprint that Kyle Davidson is following. Richardson also said, "But I'm an optimist, and I think we can cut that time and make it go quicker, and if we do, that's great, and I think everybody's happy because we're going in the right direction." The keyword is DIRECTION, something that the previous regime didn't have. Richardson and Davidson are on the same page, and that's an incredible sight.
Richardson also hinted at playing the young defensive prospects (Vlasic, Korchinski, Del Mastro, and the rest) with the veteran defenseman during camp to allow them to feel safe and play the game they want to play. Richardson is saying all the right things. Now time to see if it translates to the ice.
Seth Jones, Assistant Captian?
Nothing is confirmed, but after trading away DeBrincat, that left the "home assistant captain spot" open, but the answer to that question may have been leaked. During a media clip, Seth Jones can be seen wearing the "A" on his shoulder. If this is the case, it is a great choice to give the "A." Jones is a true number one defenseman who will be in Chicago for the next eight seasons, and he can help lead along the plethora of defensive prospects that the Blackhawks have.
Season 2 Episode 10: Is Patrick Kane The Greatest Blackhawks Player Of All Time
–
Cue The Dagger
In this episode, we discuss if Patrick Kane is the greatest Blackhawks player of all-time, Lukas Reichel's one NHL game, and his unbelievable shootout goal. We also break down Seattle's chances of making the playoffs, is hitting and fighting making a comeback? and much more NHL news and topics  #Blackhawks #ALLCAPS #NHL #SeaKraken #LetsGoBuffalo