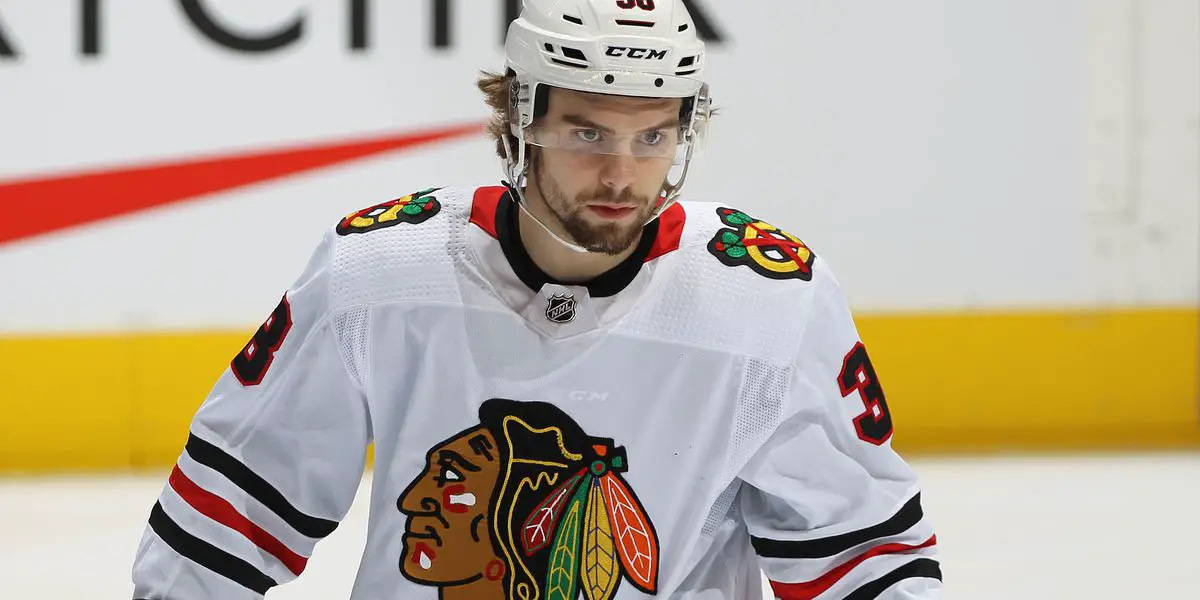 Now that the Blackhawks have Hired Kyle Davidson as the tenth General Manager in franchise history, it's time to start the heavy lifting. Davidson is inheriting a team that needs a lot of work. Davidson himself already said this would be a rebuild that would take time before the team is back to being a contender. The first steps start now, as the trade deadline is fast approaching. Davidson has until March 21st to evaluate his assets and decide who will stay and who will go. 
Players that could be on the move:
Marc-Andre Fleury:
  Fleury would easily be the player that would bring back the most value, but based on recent reports from Charlie Roumeliotis, Kyle Davidson will honor the deal that the past regime had with Fleury. So essentially, if Fleury wants to stay in Chicago for the rest of the season, he will. This stinks from a rebuild perspective. His value could have gathered the first-round pick that the Hawks lack in the upcoming NHL draft. The Flower is a future Hall of Famer and deserves the respect Davidson is giving him, but if you're not going to trade him, you might as well try to extend him for one more year, right?
Brandon Hagel:
  Everyone has seen the reports that Chicago had been offered a first-round pick and a high-end prospect for Hagel and his cheap team-friendly contract with two years on it following this season. This is insane value, most people wouldn't even hesitate to say yes to the deal, yet Davidson turned it down. He was only the "Interem" GM at the time, which could be why he didn't pull the trigger. 
  Hagel is twenty-three years young, and he's having his break-out season this season. This could put Hagel in the area to be a player the Hawks decide to build around. Davidson has the challenging task of deciding. Hagel's potential is a middle line forward that can be utilized up and down the roster if injuries occur. He brings an extraordinary amount of energy that rubs off on his teammates. But if a team like the Rangers offers Chicago a first-round pick and a guy like Kravtsov, that would be tough to turn down. The Panthers are another team that could be looking to load up for a Cup run and have the draft capital and prospects to be able to entice the Blackhawks into a trade. Davidson said he's open to anything. 
Ryan Carpenter:
  Carpenter is in the final season of his contract. Teams like Colorado, New York, Tampa, or any team that is gearing up for the playoffs could trade for him. He's a strong penalty killer and is reliable in his defensive zone, and he just has zero offense to his game. He will be "cheap" as far as trade value. If Chicago is lucky, they could maybe get a fifth-round pick for Carpenter. This is a no-brainer for Davidson to part ways with the middle-aged center as Chicago heads down the rebuild path. 
Calvin DeHaan:
  Another player in the final year of his deal. DeHaan is a solid middle pair defenseman that will eat pucks like no other. A team like Toronto, who could be looking to beef up their defensive core, could look to add the veteran d-man. Maybe if Chicago retains money, they can get the value up to a third-round pick, but you can probably expect a fourth or fifth-round pick in return for DeHaan. 
Dominik Kubalik:
  Going into the season, Blackhawks fans would have never thought they would hear Kubalik in the trade conversation, but here we are. Kubalik is having a down year; that would be putting it nicely. Kubalik has ten goals and nineteen assists in fifty-four games. Kubalik has shown the ability to score thirty to thirty-five goals in a season. He's a very streaky player and just hasn't hit that insane hot streak that he has found in the past. This will hurt his value, but he should still be able to get a second-round pick to a third-round selection or maybe a prospect and a late-round pick. Chicago should move on from Kubalik and get whatever value they can. 
Dylan Strome: 
  This will, by far, be the most challenging choice to make. Early in the season, Strome was on the outside looking in. Then King took over and made his point to Strome that he needed more effort in all aspects of his game. Strome finally figured it out and has been playing maybe his best hockey as of late. He's winning around 50% of his faceoffs, a tremendous improvement. He's getting power-play time and getting compliments from Patrick Kane. His offensive game has been improving as the season goes along. He's in the last year of his deal but is an RFA. Chicago can choose to qualify Strome for just under four million for next season if they want. 
If Strome is finally breaking out, Chicago shouldn't trade him. Dach had been atrocious in the faceoff dot and could find himself as a winger in the future, opening the door for a one-two-punch of Reichel and Strome. His value has never been lower. The Blackhawks could get the value of a middle tear prospect or a middle-round pick. With the odds of a middle-round player making the NHL, Chicago is better off qualifying Strome and evaluating again next trade deadline. Plus, next year's draft is a better draft than the upcoming draft that has been labeled as a "weaker" draft. It's 50/50 to me if Strome is moved come to the deadline.
Henrik Borgstrom:
  Borgstrom was the guy Stan Bowman wanted and got. Stan's gone, and Borgstrom has disappointed. Chicago has tried to play him everywhere up and down the lineup, and nothing works. He's had time on a line with Kane and DeBrincat and still couldn't find a way to be a productive player. There is not much of any value here, but Davidson could look to move on from another one of Bowman's projects that just never work out… Alex Nylander. 
Eric Gustafsson: 
  Now Gustafsson stinks and has no value at all, but maybe Chicago can trick a team into sending a sixth or seventh-round pick for the "power-play specialist" aspect of his game. It's time to pull up the young defenseman and evaluate where they are and not waste minutes on a guy who is a turnover machine. It's time for Gustafsson to leave the Windy City… again.