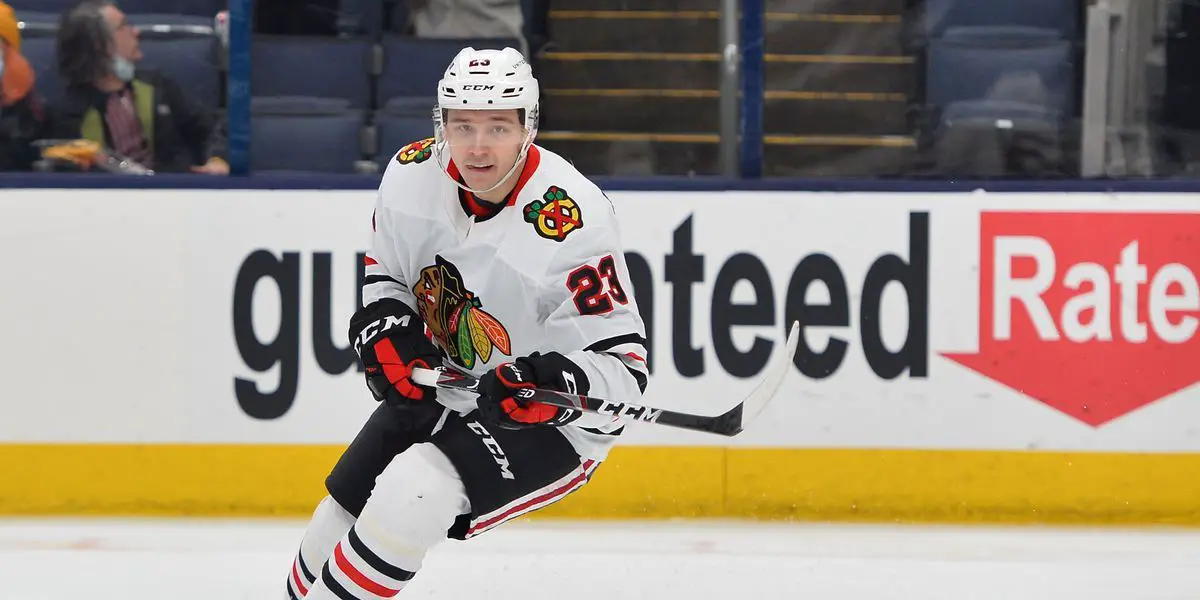 Kyle Davidson has done an admirable job so far as General Manager. However, he has more than a few areas to tend to as far as the roster goes before the Blackhawks even think about being competitive again. Davidson will have many questions in the coming offseason, from acquiring young players via the draft or trade. Down to looking into where the player stands in the active roster, none more precarious than Philipp Kurashev. Kurashev has had a bizarre season that has seen him in and out of the lineup. At twenty-two years old, Kurashev is in the prime years of his development. 
Who is Philipp Kurashev?
Kurashev is from Davos, Switzerland. Unlike most European players, Kurashev decided to come to North America before he was drafted to start adapting his game to the smaller ice. Kurashev would play three seasons in the QMJHL for the Quebec Remparts, putting up very respectable numbers. He would play 59 games in his first year and score 54 points. He would continue to raise his points over the next two seasons, 60 and 65. Chicago and Kurashev both thought he was ready to make the jump to the AHL for the last few games of the 2018-2019 season, playing in just 3 AHL games. However, Kurashev would get in 36 games the following season and looked like he was primed to make a big jump in his progression. He would score seven goals and assist on 12 more for 19 points in 36 games. 
On January 15, 2022, Kurashev would make his NHL debut versus the Tampa Bay Lightning. It would take just three games for him to notch his first NHL point beating Bobrovsky with a wrist shot just inside the blue line. Kurashev would have an up and down rookie season, playing in 54 games. With eight goals and eight assists, Kurashev showed his potential to be a top-six forward in the NHL with a few highlight-reel plays. Unfortunately, the Inconsistency would continue into his sophomore season, causing Kurashev to be sent to the AHL for a stint. As his second season is ending, Kurashev has 20 points in 61 games. 
What to do with Kurashev?
Kurashev has shown that he can produce points in a top-six role. Before being sat for the last few games, Kurashev saw himself in a top 6 position and created offense regularly. Over the three games he played on the top-six, he put up 1 goal and two assists and was an even player. But then Derek King would go on, and healthy scratch him following the three games. The problem for Kurashev is that Chicago has way too many players who can only play a top-six role, like a Dylan Strome. This makes it difficult for the Blackhawks to play him there, and Kurashev lacks the defensive side of the game and is a liability when he is placed in a checking role. 
With all that said, it's not fair or good for Kurashev's development. You can't expect Kurashev to play consistently if he gets taken out of the lineup even though he is producing offensively. This could demoralize his confidence. Kurashev's contract is up this off-season as an RFA (Restricted Free Agent), giving Kyle Davidson plenty of options. 
The Blackhawks have Kane And DeBrincat leaving four spots in the top-six. Strome, Dach, Reichel, Toews, and Kurashev would be the players looking to fill the four remaining spots. If Kurashev is not going to play in the top-six next season, it wouldn't be surprising to see him be traded at the draft or during the off-season. Davidson should be able to get Kurashev on a two-year to a three-year deal at or around the one million AAV if he sees Kurashev as part of the rebuild. Bringing him back and playing him in a top-six role with more leeway for mistakes would be best for Kurashev and the Blackhawks. 
Chicago has slim pickings when it comes to young skilled players. Kurashev has soft slick hands and is a decent skater. Kurashev could turn into a nice middle-six forward with 40-50 points with the right coaching and leadership. However, Chicago needs to find a way to get consistent effort out of him on the defensive side of the puck.