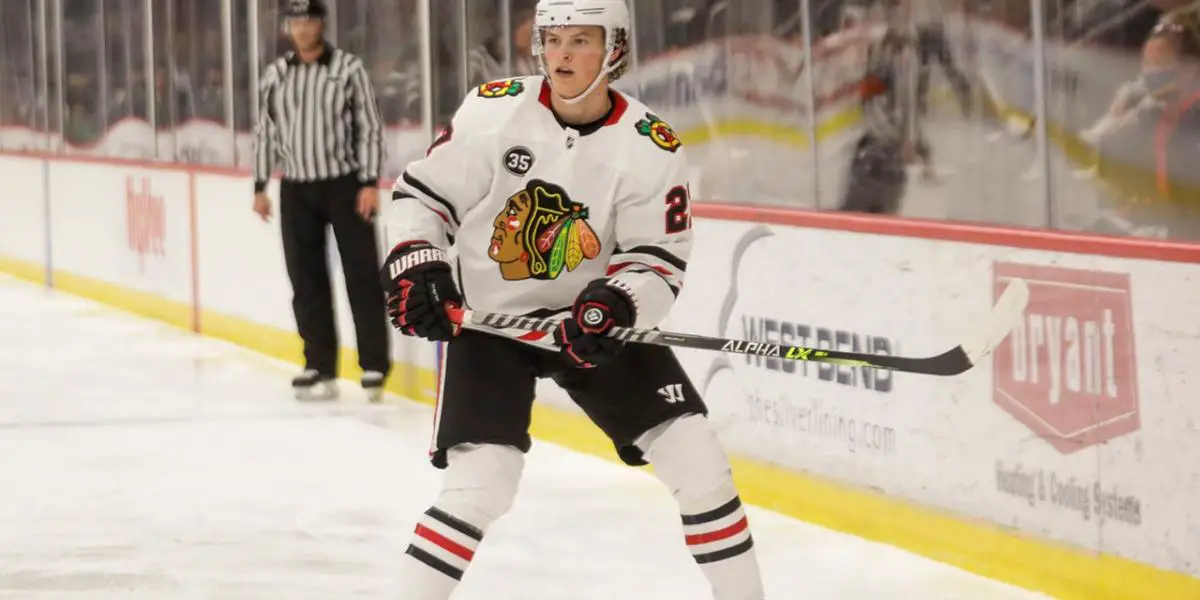 Tom Kurvers Showcase
HOCKEY IS BACK, BABY… bringing back the tradition of the Chicago Blackhawks completely collapsing. The Blackhawks would jump out to a 2-0 lead before giving up an unprecedented five consecutive goals to lose to the Wild. This would be the least of the concerns for the Blackhawks as top prospect Lukas Reichel would get boarded from behind and leave the game. Breath, Blackhawks fans. This was just precautionary and nothing serious. Even though the Blackhawks caught a lucky break with Reichel, deja vu would strike, the injury bug would hit, and Dach would get injured. This time Colton Dach, brother of recently traded Kirby Dach. The Blackhawks would announce that Dach has a concussion. Dach had the opening goal for the Blackhawks. Hopefully, Colton Dach can get healthy and ready for camp. Cole Guttman scored the second Blackhawks goal. Even though the Blackhawks lost on the scoreboard, avoiding a significant injury on Lukas Reichel is a blessing.
The Roster:
College hockey players (NCAA) will not be present at the camp. So don't panic about not seeing Frank Nazar, Drew Commesso, Wyatt Kaiser, and the other NCAA prospect.
Forwards
Colton Dach, Evan Barratt, Lukas Reichel, Paul Ludwinski, D.J. Busdeker, Cole Guttman, Gavin Hayes, Riley McKay, Jakub Pour, Samuel Savoie, Joseph Serpa, Michal Teply, and Joshia Slavin.
Defensemen
Alex Vlasic, Kevin Korchinski, Ethan Del Mastro, Jakub Galvas, Filip Roos, Nolan Allan, Louis Crevier, and Isaak Phillips.
Goaltenders
Jaxson Stauber and Mitchell Weeks
Injury Update
Heart-wrenching news broke, and Jake McCabe's injury woes continue. McCabe had Cervical spine surgery, which will keep him out 10-12 weeks. This makes the Jack Johnson signing less of a head-scratcher for Kyle Davidson. McCabe signed a four-year contract with the Blackhawks the last offseason coming off a torn MCL, ACL, and Meniscus. It took Jake McCabe all season to find his stride, but in the last few weeks of the season, McCabe was starting to assert his dominance and throw his body around like he was known to do. This news could not have come at the worst time for McCabe, who can not find a way to stay healthy and on the ice. McCabe was seen skating with the team during a captain's practice, which is an incredible sight, but Blackhawks fans can expect to start the season without the bruising defenseman. If there is one bright spot, it's that the McCabe injury opened a spot up on the roster for a younger prospect to fill the role like a Mitchell or Vlasic.
Chicago Blackhawks prospect Jalen Luypen also had the injury bug strike. Luypen will be missing the next three to four months with a rotator cuff injury. Luypen was recently acquired by the Americans and is expected to play a significant role next season. Hopefully, he can return to form for the Tri-City Americans.
Big Hoss Night
Big Hoss night is the best news that has come out of the Blackhawk organization in the last year! Marian Hossa will have his iconic #81 raised to the United Center rafters on Sunday, November 20th, versus the Pittsburgh Penguins. This is ironic as Hossa would both lose a Stanley Cup with and against the Penguins before Signing in the Windy City and winning not one, not two, but three Stanley cups. (Hossa didn't want to get carried away like Lebron James). Hossa is by far the BIGGEST free agent signing in Chicago sports history, and this is not up for debate. Sorry Julius Peppers, Akiem Hicks, Ben Zobrist, Jon Lester, Ron Harper, Steve Kerr, John Paxson, and Jose Abreu, but Hossa is the Demi-God for a reason. If only his kryptonite (The gear and his allergy to it) had not defeated him finally, he would have played forever. Hossa was the model hockey player, just an unbelievably skilled offensive forward who would score at will and was a true workhorse on defense, maybe the best defensive forward of his time. Hossa is well deserved to have his number 81 sent to the rafter first of the many from the Blackhawks dynasty of the 2010s. Who's next, Keith or Seabrook or someone else?
Season 2 Episode 10: Is Patrick Kane The Greatest Blackhawks Player Of All Time
–
Cue The Dagger
In this episode, we discuss if Patrick Kane is the greatest Blackhawks player of all-time, Lukas Reichel's one NHL game, and his unbelievable shootout goal. We also break down Seattle's chances of making the playoffs, is hitting and fighting making a comeback? and much more NHL news and topics  #Blackhawks #ALLCAPS #NHL #SeaKraken #LetsGoBuffalo